Yankees' Lail throws six hitless innings
Tampa right-hander dominates, but Manatees rally for walk-off win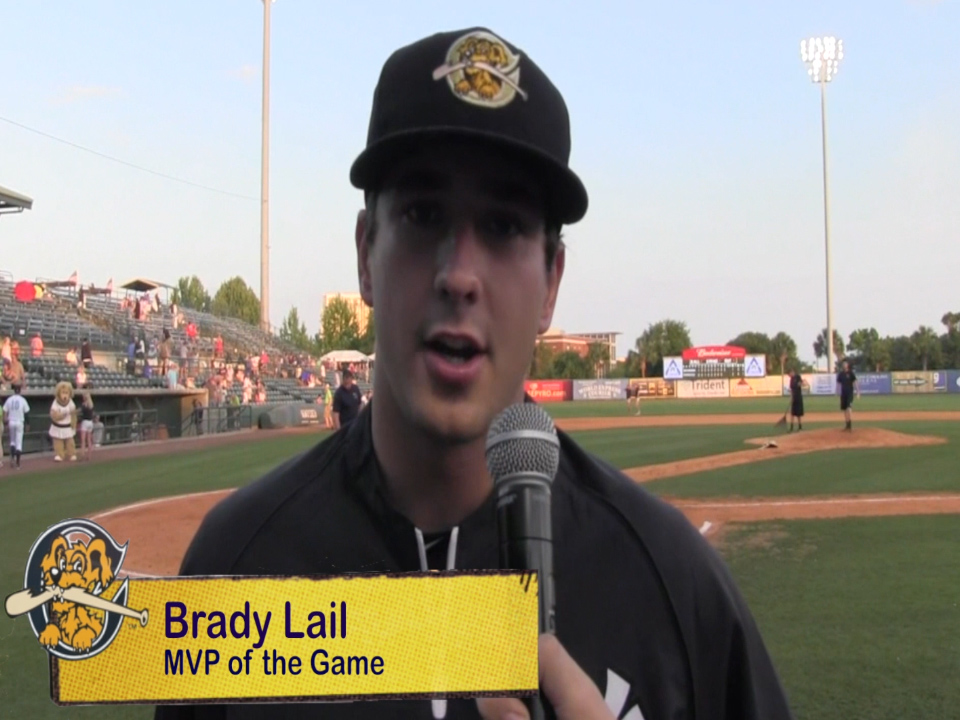 By Danny Wild / MiLB.com | August 19, 2014 10:09 PM ET
Brady Lail didn't need much help on the mound Tuesday night, but he got some advice in his final frame from an unlikely source -- umpire Charlie Ramos.
"I kinda made a gesture to the field umpire to ask what the count was," the right-handed Yankees prospect said. "And he told me not to look up at the scoreboard. It was kind of a surreal moment."
Lail, making his fourth start for Class A Advanced Tampa, found out he was up 0-2 on the batter he was facing and learned a bit later why Ramos told him to avoid the scoreboard -- he hadn't yet allowed a hit.
"I chuckled," Lail said. "He said, 'It's 0-2, just don't look up at the scoreboard.' I thought, 'Oh man, I've only gone out of the stretch two times.' That's when it hit me."
The Yankees' 18th-round pick in 2012 threw six hitless innings in his fourth start for Tampa, but the bullpen faltered late in a 2-1 loss to the Brevard County Manatees on Tuesday night. Lail struck out three and walked two before handing the gem over to his bullpen.
Reliever Kyle Haynes worked a perfect seventh, but surrendered the Manatees' only hit of the night in the eighth on Alfredo Rodriguez's single to right.
Chris Smith came on to finish off the game, but ended up taking the loss when Brandon Macias singled, Nathan Orf reached on shortstop Cito Culver's fielding error and Tyrone Taylor lofted a walk-off two-run bloop single to center.
"I have all the confidence in the bullpen and our pitching staff in general is a great staff, so it wasn't hard," Lail said. "I knew Kyle would come out and throw strikes. Chris Smith did his job and did what he needed to do. I was excited to watch the rest of the game and say I did my part. I had their back after they helped me out."
For Lail, the start was easily his best of a season that he began with Class A Charleston. The South Atlantic League All-Star earned a promotion to the Class A Advanced Florida State League on July 18. But after going 8-4 with a 3.71 ERA in 18 starts for the RiverDogs, Lail struggled in Tampa, surrendering 13 runs on 23 hits over 17 1/3 innings entering Tuesday's game, his fifth outing for the Yanks.
"I was able to command the fastball better tonight. Everything was really down and I was challenging hitters, which was nice," he said. "This week I was working on commanding the fastball, so it's really showed."
Lail struck out Taylor to end a perfect first and got Rodriguez to bounce into an inning-ending double play in the second after Victor Roache worked a one-out walk. The right-hander struck out Mike Garza to start a 1-2-3 third, got another double play to minimize a one-out error in the fourth and pitched a flawless fifth before working around a two-out free pass to Macias in the sixth.
The success came after Lail spent some time with Tampa pitching coach Danny Borrell earlier this week.
"He took me one-on-one, we slowed some mechanical things down and just worked on separating and getting the downhill angle," he said. "I didn't realize what was going on. I was getting my arm up. It paid off in my delivery tonight. It was slower than I usually have it, and I was getting my command of the lower half of the zone. I couldn't thank Danny enough for taking the time with me."
Lail said he felt comfortable moving up to Tampa last month, especially after the Yankees gave him a brief taste of the league last summer.
"Last year, it was a great opportunity, but I needed to show who I was and I needed to mature and kind grow up. They made it real easy on me," he said. "Charleston was a blast, it was a great team. I tried to get some wins and coming here, I was welcomed with open arms with Danny and all the pitchers and position players."
But Lail got off to a rocky debut. He allowed four runs in five innings in his first start July 18 and surrendered five more July 23. He worked in relief on July 7 against Brevard County and got back on track a week later, when he held Lakeland to a run over five frames in his most recent outing on Aug. 14.
"It wasn't a hard transition, but I struggled with jitters and trying to do too much," he said. "I was giving hitters too much credit. Once I realized what I was doing, commanding the fastball tonight, it opened my eyes to the kind of pitcher I am -- commanding the fastball first and feeding off the rest of the stuff."
Tampa gave its starter an early lead to protect when Mark Payton began the game with a walk, stole second and scored on an RBI single by Eric Jagielo, New York's first-round pick out of Notre Dame in 2013. Jagielo and fellow 2013 first-rounder Aaron Judge had two of Tampa's four hits in the game.
Lail, drafted out of high school in Utah, is hoping a solid end to his season in Tampa leads to another opportunity in 2015.
"He can go any time soon if they need him in Tampa," Charleston manager Luis Dorante said in June. "I think he could pitch a little bit in Double-A. He might be a little exposed in the beginning, but I think he's got a chance to pitch well at a higher level."
Danny Wild is an editor for MiLB.com. Follow his MLBlog column, Minoring in Twitter. This story was not subject to the approval of the National Association of Professional Baseball Leagues or its clubs.
View More