Yankees present donation to Pulaski County 4-H
Proceeds from Agriculture Night benefit local organization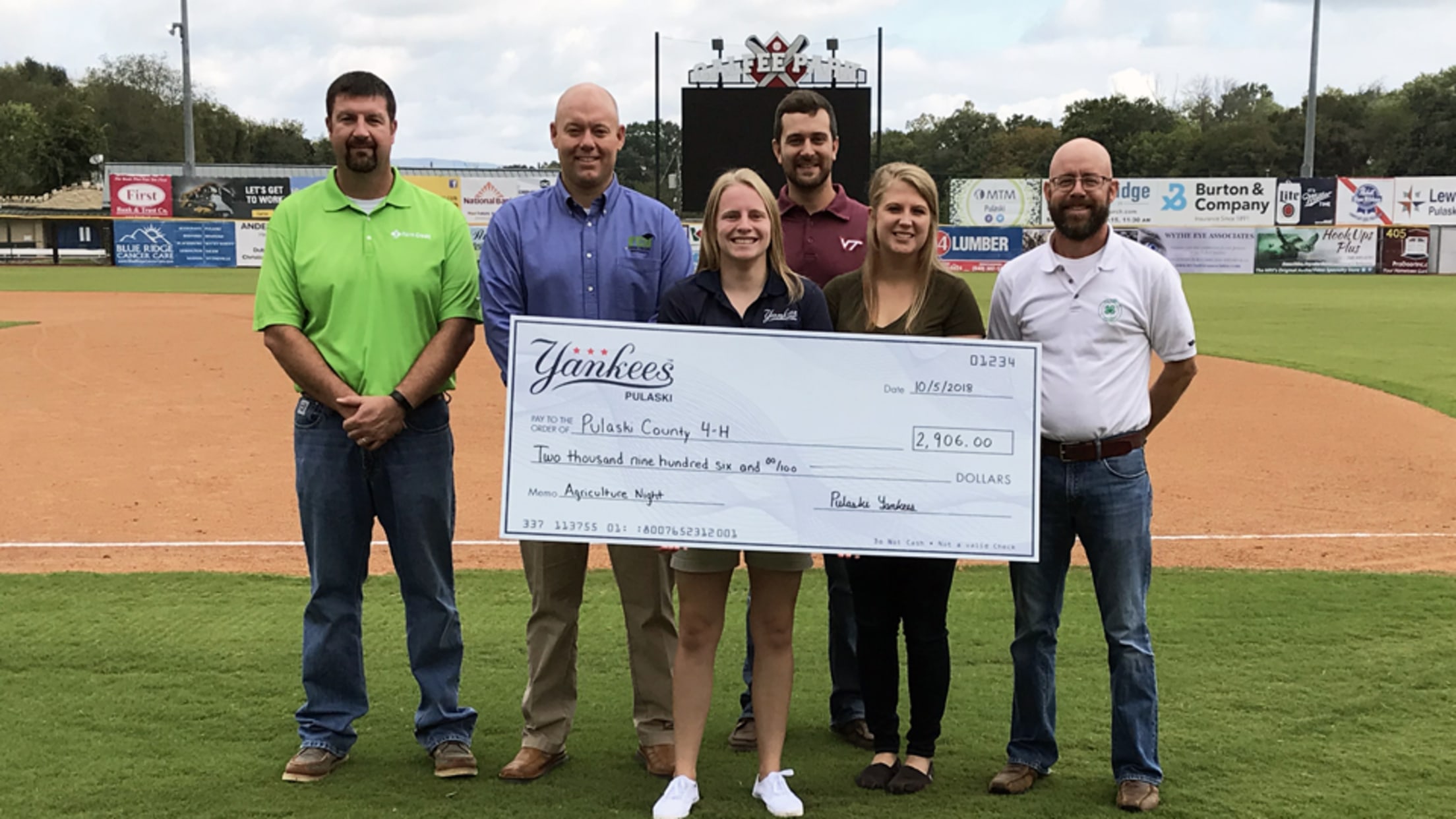 PULASKI, Va. - The Pulaski Yankees today presented the Pulaski County 4-H with a donation of nearly $3,000 in funds raised from the team's Agriculture Night presented by Farm Credit of the Virginias on August 22. The theme night featured two fundraising opportunities - a raffle to win a live cow
PULASKI, Va. - The Pulaski Yankees today presented the Pulaski County 4-H with a donation of nearly $3,000 in funds raised from the team's Agriculture Night presented by Farm Credit of the Virginias on August 22. The theme night featured two fundraising opportunities - a raffle to win a live cow and the auction of game-worn specialty cow jerseys. Through these efforts, the organization raised $2,906 to benefit the local 4-H in Pulaski County.
"Our Agriculture Night was a huge success both for the ballpark and the community," said Pulaski Yankees General Manager Betsy Haugh.

"We were thrilled by the fan support we received for this promotion and are excited to make this donation to the 4-H to help support agriculture and youth development in our area."

The Pulaski County 4-H is 100 percent community funded, with money raised going back into local operations.

"We're appreciative of this partnership and the opportunity to use the funds to put back into our local program," said Senior 4-H Extension Agent Chris Lichty.

In addition to the cow raffle and the specialty jerseys, Agriculture Night - sponsored by Farm Credit of the Virginias - featured a petting zoo at Motor Mile Field at Calfee Park and a plush mascot giveaway of the Yankees' mascot, Calf-E, for the first 250 children in attendance. The winner of the cow raffle, Adam Phillips, was given the choice of accepting the cow living or after processing, provided by Thompson's Meats.

"We appreciate the opportunity to participate in this," said Farm Credit of the Virginias Branch Manager Brian Repass. "We enjoyed it and thought it was very beneficial. We're glad we were able to help out the local 4-H, which is part of our mission."

The Pulaski Yankees, Pulaski County 4-H, and Farm Credit of the Virginias plan to partner together again in 2019 for another Agriculture Night promotion. Information about season tickets and sponsorship opportunities for the 2019 Pulaski Yankees season will be available in the coming weeks at pulaskiyankees.net or by calling the team's front office at (540) 980-1070.
The Pulaski Yankees are the Rookie level affiliate of the New York Yankees playing in the Appalachian League. Pulaski is celebrating its 53rd season in the Appalachian League in 2018. Calfee Park has won league championships in 1948, 1969, 1986, 1991 and 2013. Calfee Park opened in 1935 and was renovated for the team's first season as a Yankees affiliate in 2015. For more information, please visit www.pulaskiyankees.net.