Yelich homers twice in Suns' rout
Marlins' No. 2 prospect stays hot in May with three-hit effort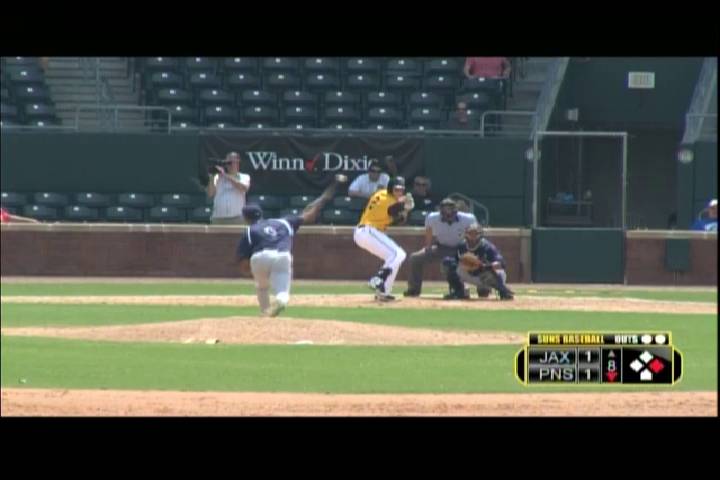 By Danny Wild / MLB.com | May 15, 2013 3:48 PM ET
After suffering three straight losses to Mobile, Christian Yelich dug into the box on Wednesday determined to change the trend.
The Marlins' No. 2 prospect led off the game by taking a 2-1 pitch from Baybears starter Anthony Meo to deep right field, and suddenly things looked a little sunnier for the Suns.
"A leadoff homer definitely helps," Yelich said. "I haven't done it before in the Minors. I did it in Spring Training, but it's good for us to get off to a quick start. After we lost the first three games, I was trying to get off to a quick start."
Yelich wasn't done, though -- the 21-year-old went 3-for-6 with two homers, a double and three RBIs before Ryan Fisher and Daniel Pertusati hit clutch homers to lead Double-A Jacksonville to a 10-4 win over Mobile.
Yelich has been on a tear since a slow start. He homered in three straight games May 4-8, went 5-for-6 on May 7 and is batting .370 this month. Wednesday marked Yelich's first two-homer game since June 28, 2012, when he went 4-for-5 with a pair of longballs and seven RBIs for Class A Advanced Jupiter.
"He kind of left it in the middle of the plate and I put a good swing on it," Yelich said of the first home run. "It ended up going out."
Two innings later, Robert Morey drew a leadoff walk and Yelich came up for his second at-bat. Meo, who is winless and has surrendered six homers this season, did not pitch around the Southern League's hottest slugger.
"He kind of came right at me again and left the ball out of over the plate," Yelich said. "I was able to get him again."
Jacksonville owned a 4-1 lead heading into the seventh, when Fisher's first homer of the season, a two-run shot, made it 6-1. Mobile scored three runs on a pair of singles and a fielder's choice in the bottom of the frame before Pertusati hit a pinch-hit grand slam in the top of the ninth to seal up the Suns' 21st win.
Yelich, of course, is enjoying his and the Suns' success in his first season at Double-A.
"It's been nice. I kind of got off to a slow start coming off the DL, and so it's nice to be in the middle of things and be able to help your team on a nightly basis," he said.
Yelich, who doubled in the fourth before a pair of stikeouts and a groundout finished his day, said it was nice to see the rest of his lineup churn out the runs for a win.
"It was awesome," he said. "Fisher had a big home run and Pertusati's in the ninth was huge because they'd scored in the bottom of the seventh. That grand slam put the game out of reach, they were both big hits."
Miami's first-round pick in 2010 is batting .316 with five homers, 21 RBIs and a .385 on-base percentage in his first 23 games this year. Last year, he became the first player in Marlins history to be named Minor League Player of the Year twice. Yelich isn't messing with that track record either.
"I'm just staying consistent, within myself, trying to play a solid appraoch in each game," he said. "If you do that, you'll see the results."
Danny Wild is an editor for MLB.com. This story was not subject to the approval of the National Association of Professional Baseball Leagues or its clubs.
View More