PaddleHeads Homestand Highlights 6/5 – 6/7
Osprey Celebration Night, Kids Free, Missoula Monday highlight return of 1st place PaddleHeads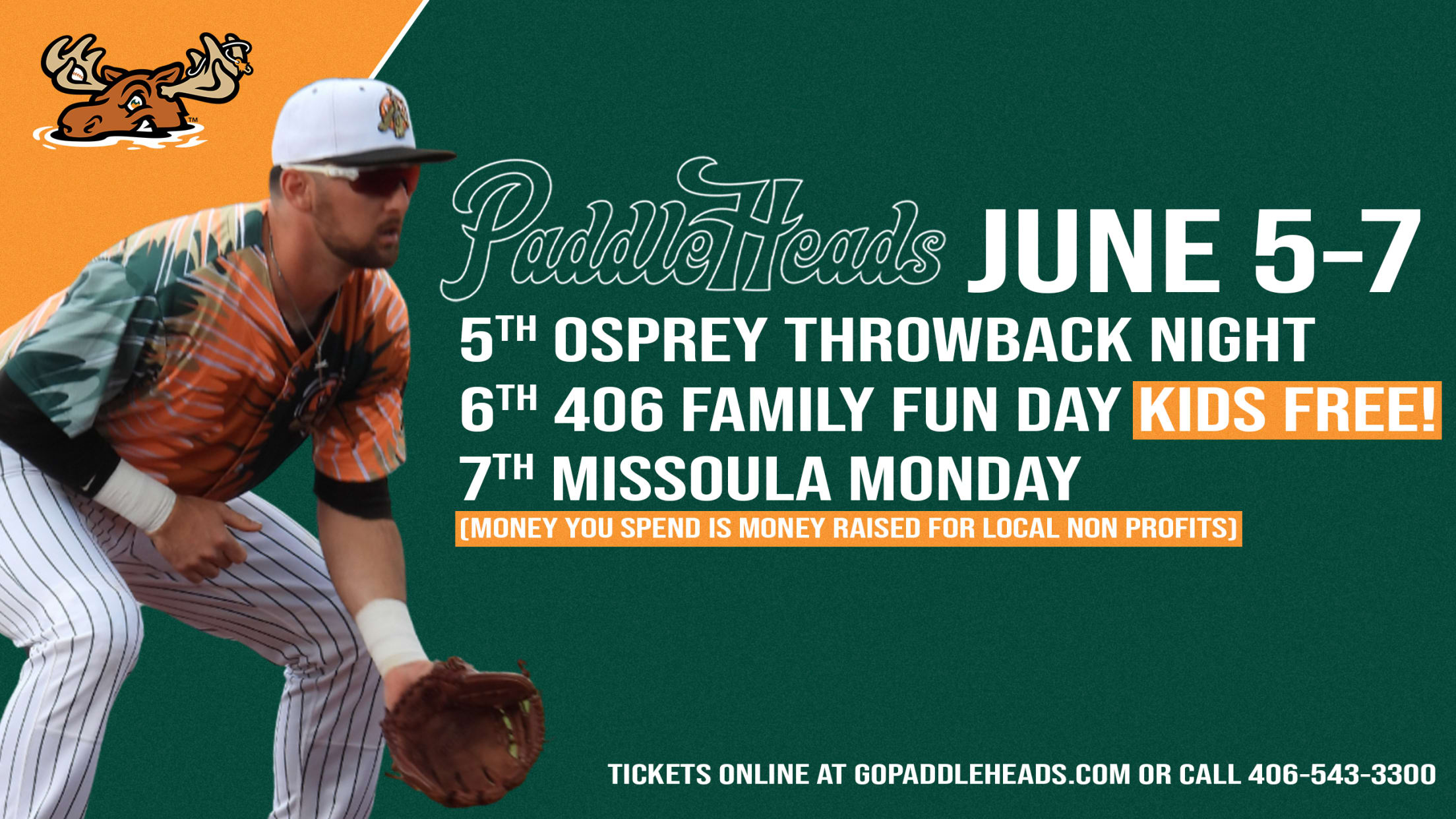 As the 1st place PaddleHeads are set to return from their first road trip of the 2021 campaign, baseball fans in the Garden City can gear up for a three-game stint – June 5, June 6, June 7 – as Missoula squares off with the Pioneer League's newest member, the
As the 1st place PaddleHeads are set to return from their first road trip of the 2021 campaign, baseball fans in the Garden City can gear up for a three-game stint – June 5, June 6, June 7 – as Missoula squares off with the Pioneer League's newest member, the Boise Hawks. Tickets available online, by phone at 406-543-3300, or at the PaddleHeads Post (140 N Higgins).
Baseball is officially back, and the PaddleHeads are HOT, having outscored the Boise Hawks 36-8 over the first two games of their current series. The home run ball has been a huge weapon for Missoula in the series with nine homers coming in that span. Over the PaddleHeads last three games, they have scored at least 10 runs in each game and are averaging 16 runs per game.
When Missoula welcomes back a sizzling hot team to the field this Saturday, they'll be greeted with a trio of fantastic promotions:
Saturday, June 5 | Osprey Celebration Night & Launch-A-Ball | 6:00pm Gates, 7:05 Start
From 1999 to 2019, Missoula celebrated the Osprey moniker. On June 5, we will continue that celebration. On-field, players will don Osprey uniforms – in-stadium, fans will take in Osprey focused highlights, promotions, and games.
Every Saturday, we play Launch-A-Ball. Experience the return of a fan favorite promotion. Buy a numbered ball for just a buck – launch your balls at targets for a chance to win HUGE prizes.
Sunday, June 6 | KIDS FREE w/ 406 Family Fun Day | 4:06pm Gates, 5:05 Start
Thanks to ATG Cognizant & Eagle 93, for every PaddleHeads' Sunday home game, kids 10 and under (with an accompanying adult) are completely FREE! Bring out the entire family and enjoy fun, family centric entertainment.
Monday, June 7 | Missoula Monday | 6:00pm Gates, 7:05 Start
In partnership with Stockman Bank, join us every Monday this season as we celebrate the local non-profit organizations that make Missoula so special. Help us, help local organizations as we donate 50% of select group sales to participating non-profits. Additionally, the PaddleHeads will match an additional 50% of all processed in form of cash donation to participating groups (total of 100%)!
After the PaddleHeads Opening Day notched the first sell-out of the season, and with the first month of games set at 50% capacity, and a limited number of season tickets available, fans are encouraged to act fast and purchase tickets online in advance, to secure their desired seating locations. Tickets are available now online at http://bit.ly/GETTIX21 or by visiting the PaddleHeads Post (140 N Higgins – 406.543.3300).
As the PaddleHeads' season is underway, the "Adopt-a-PaddleHead" host family program is still in need of area families who are interested in potentially housing a player(s) or field staff member for the 2021 season. Interested families are encouraged to contact the Missoula PaddleHeads at (406) 543-3300 with any questions – and can apply to the Adopt-a-PaddleHead program via the link below, by visiting the PaddleHeads Post (140 N. Higgins), or by emailing [email protected].
Follow the PaddleHeads on their social media platforms or at www.gopaddleheads.com to stay up to date on the latest happenings around the franchise.