Biscuits Take Care of Shuckers, 6-1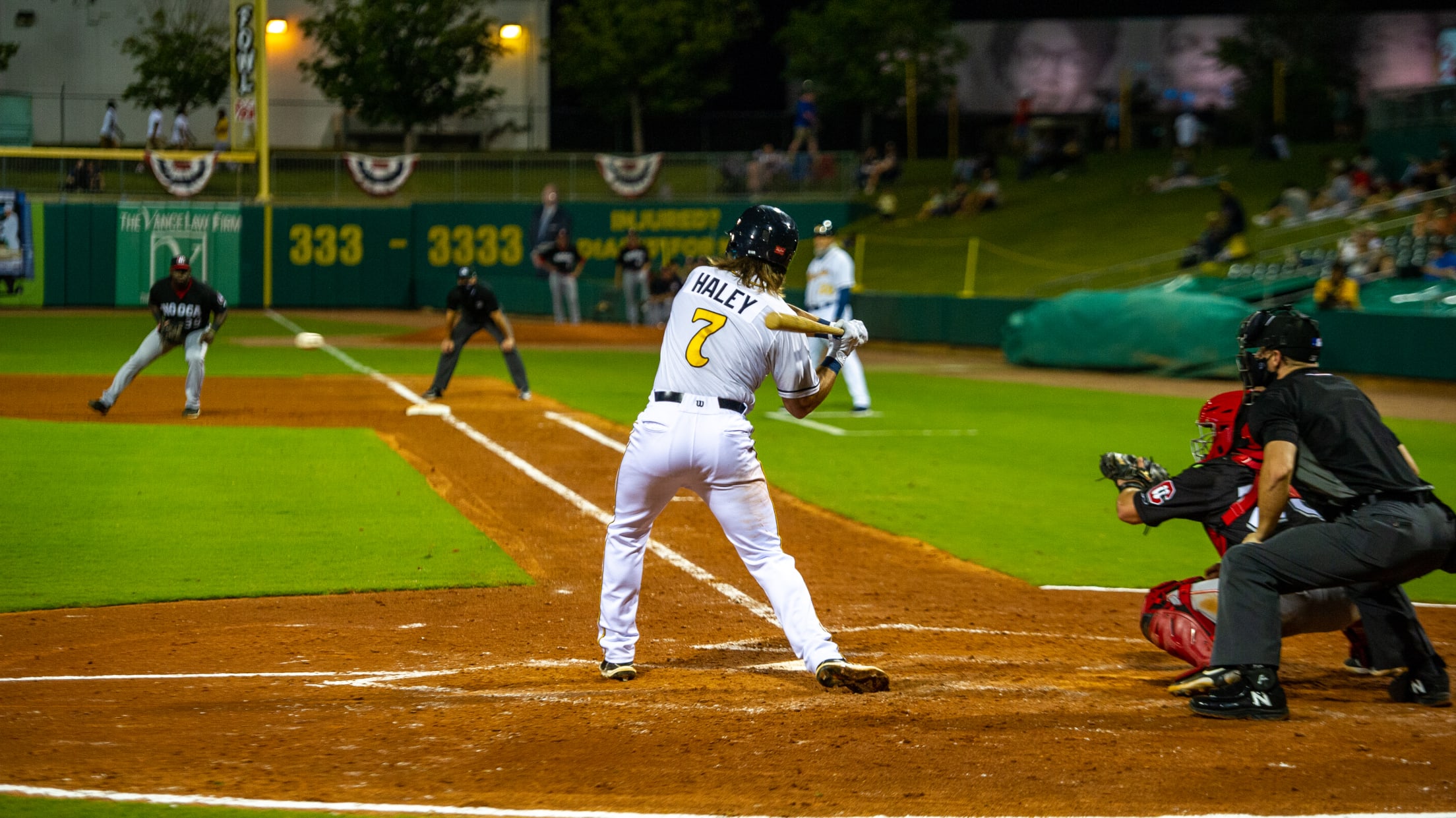 MONTGOMERY, Ala. – After falling behind 1-0 in the first, the Biscuits (11-16) scored six unanswered runs with three apiece in the third and fourth, and beat the Biloxi Shuckers (11-17), 6-1, on Friday night at Riverwalk Stadium. Easton McGee made his Biscuits and Double-A debut, and ran into some
MONTGOMERY, Ala. – After falling behind 1-0 in the first, the Biscuits (11-16) scored six unanswered runs with three apiece in the third and fourth, and beat the Biloxi Shuckers (11-17), 6-1, on Friday night at Riverwalk Stadium.
Easton McGee made his Biscuits and Double-A debut, and ran into some early trouble, serving up a lead-off triple to Tyler Friis and an RBI-single to Brice Turang that put the Shuckers ahead 1-0 before an out had been recorded. McGee would settle down, however, and ended up striking out four, including three in the second, over two innings as the opener.
Nick Bennett (1-1) was on the other side for the Shuckers, and the left-hander began his night with a one-two-three first, and a one-two-three second. In the third, Jim Haley reached on a 10-pitch at-bat single, and then Seaver Whalen singled in the subsequent at-bat. Jake Palomaki then rolled an RBI-single into right to tie the game at one. Garrett Whitley's sac fly in the next at-bat made it 2-1 Biscuits, and Palomaki would eventually score from third to make it 3-1 after Miles Mastrobuoni was picked off first.
The Biscuits would tack on three more runs against Bennett in the fourth with Jonathan Aranda's second Double-A homer—a two-run shot to right—and a solo blast by Haley to left to make it 6-1.
Michael Plassmeyer (1-1) came on as the bulk guy for the second-straight outing, and dominated, striking out six over five shutout innings, sitting down the last seven batters he faced in order. Plassmeyer has now pitched 10-consecutive scoreless innings—all in relief.
Simon Rosenblum-Larson and Joel Peguero worked a scoreless eighth and ninth, respectively, and Haley finished the game 3-for-3 for the second-straight night. Montgomery also leapfrogged the Shuckers into third place in the South Division with the victory.
The Biscuits will try to make it three in a row when RHP Tobias Myers (1-1) takes on RHP Jesus Castillo (1-0) at 6:05 PM CT when it will be 90s Night with a MAX Fireworks show after the game.
The rest of the series will include a Rays Day Poster Giveaway with Lil' Crumbs Kids Club presented by Go Fish Alabama & Bark in the Park on Sunday, June 6.