Biscuits Top Shuckers, 7-2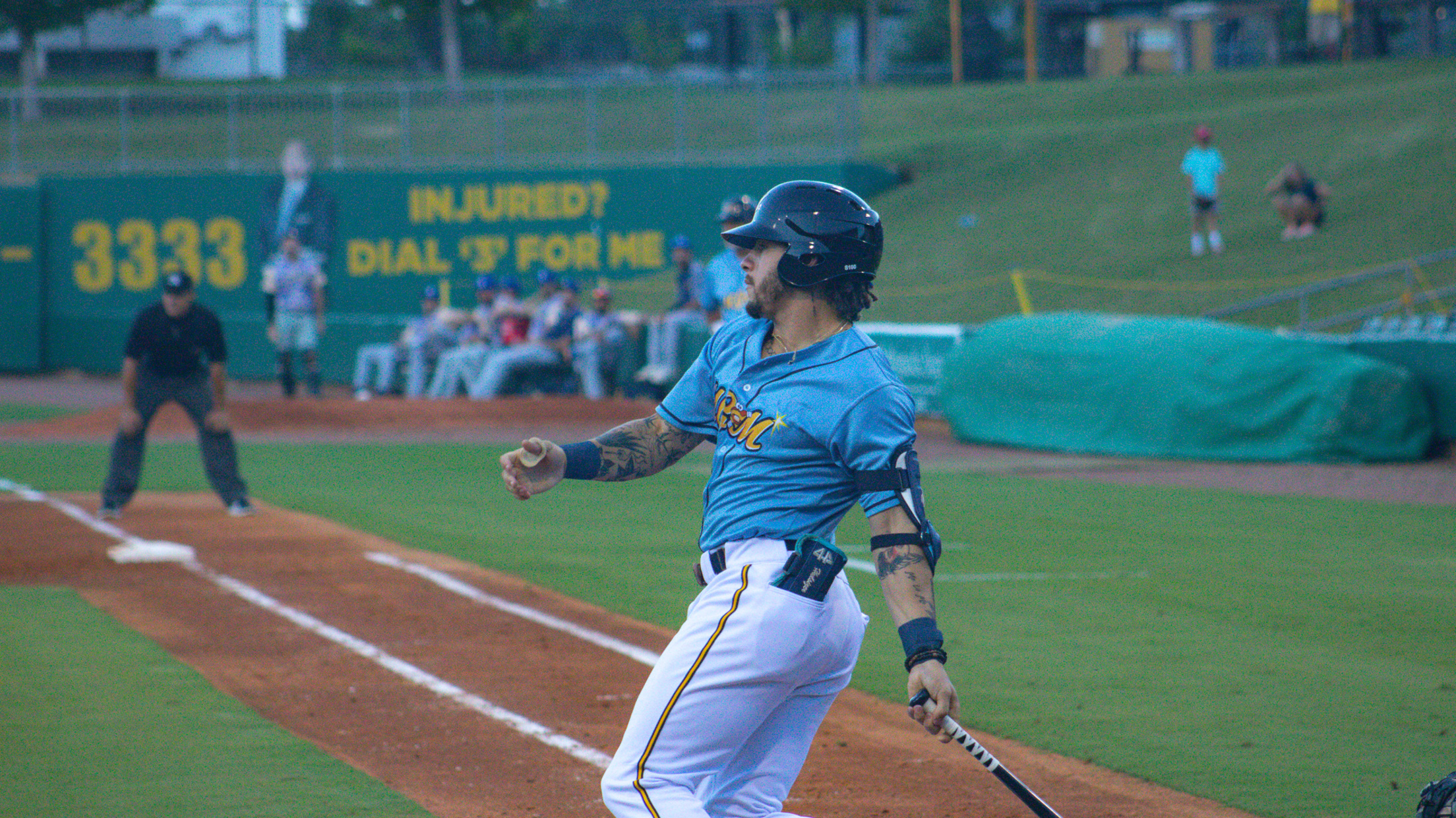 MONTGOMERY, Ala. – In what was their first game since Saturday, the Biscuits (29-29) showed little signs of rust and took down the Biloxi Shuckers (19-41), 7-2, in Tuesday night's series opener at Riverwalk Stadium. Tobias Myers (5-3) started for the Biscuits and set the Shuckers down in order in
MONTGOMERY, Ala. – In what was their first game since Saturday, the Biscuits (29-29) showed little signs of rust and took down the Biloxi Shuckers (19-41), 7-2, in Tuesday night's series opener at Riverwalk Stadium.
Tobias Myers (5-3) started for the Biscuits and set the Shuckers down in order in the top of the first. Biloxi starter Andy Otero then did the same in the bottom of the first, striking out a pair.
Myers retired the first seven batters he faced before allowing a double to Gabriel Garcia in the third. Cam Devanney was up next, and the second baseman ripped a rocket of an RBI-double off the wall to score Garcia and put the Shuckers up 1-0. Otero fanned five through the first three frames.
The Biscuits would finally crack Otero in the bottom of the fourth thanks to a two-out RBI-triple into the left-center field gap by Ruben Cardenas, and then a hustle infield RBI-single by Ford Proctor to hand the Biscuits a 2-1 edge. In the top of the fifth, Devanney was at it again, launching his fourth home run of the season—third against the Biscuits—to left to tie the game at two.
Otero was lifted for J.T. Hintzen (2-1) in the sixth when the Biscuits loaded the bases for Jim Haley. The Biscuits third baseman then walked on four pitches against Hintzen and broke the 2-2 tie with the base on balls. The next batter was Niko Hulsizer, who had just been promoted to the Biscuits from A+ Bowling Green earlier in the day, and the left fielder put a charge into one to left-center for a grand slam to make it a 7-2 game. The grand slam was the Biscuits fourth this season, and third against the Shuckers.
Jordan Brink worked two scoreless innings in relief of Myers, and then Mikey York polished off the win with a scoreless ninth, getting the Biscuits back to .500.
The Biscuits will try to keep the momentum going on Wednesday when Tommy Romero (0-0) squares off against Leo Crawford (1-5) at 6:35 PM CT on Military Wednesday presented by WOW! 1
The rest of the series will include Wizard Night with a T-Shirt Giveaway on Thursday, July 15; Korean Heritage Night with Jersey Auction supporting A-KEEP on Friday, July 16; 2K Night with MAX Fireworks on Saturday, July 17; and a Kids Jersey Giveaway presented by Hyundai Motor Manufacturing of Alabama on Sunday, July 18.