Three Pelican arms named Midseason All-Stars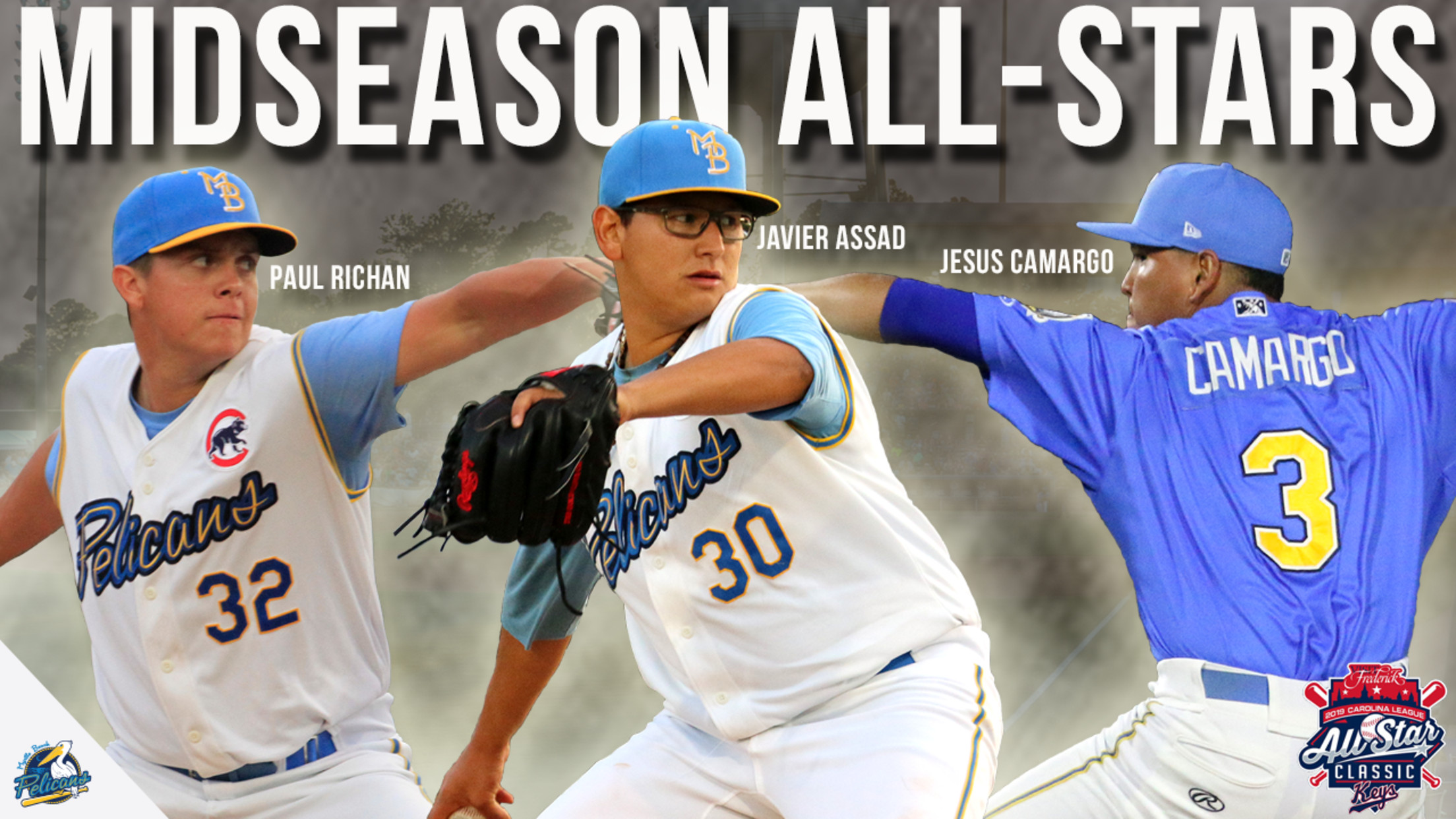 MYRTLE BEACH, S.C. (June 11, 2019) - Myrtle Beach right-handed pitchers Javier Assad , Jesus Camargo and Paul Richan were selected to represent the Pelicans in the 2019 All-Star Classic presented by Visit Frederick, the Carolina League office announced on Tuesday. The game, which is scheduled for 7:15 p.m. on
MYRTLE BEACH, S.C. (June 11, 2019) - Myrtle Beach right-handed pitchers Javier Assad , Jesus Camargo and Paul Richan were selected to represent the Pelicans in the 2019 All-Star Classic presented by Visit Frederick, the Carolina League office announced on Tuesday. The game, which is scheduled for 7:15 p.m. on Tuesday, June 18, will feature a Southern Division team against a squad made up of Northern Division players from Nymeo Field at Harry Grove Stadium in Frederick, Md.
A righty out of Tijuana, Baja California, Mexico, Assad was named to the All-Star team after one of the best months of May in the league. Including the last couple outs in his April 27 start, Assad recorded 23.0 consecutive scoreless innings from that start in April through his May 21 start in Frederick. Along the way, the 21-year-old allowed just five hits in 19 innings between May 3 and May 15 while pitching shutout baseball and striking out 17. He was named the Pitcher of the Week in the Carolina League in back-to-back weeks for those outings. As of June 11, in 10 starts, Assad is 2-5 with a 3.54 ERA and 47 strikeouts to 19 walks in 53.1 innings while holding opponents to a .220 BAA. This is the second time in Assad's career that he has been named to an All-Star team after garnering All-Star honors in Low-A South Bend in 2018.
Camargo, a native of Los Mochis, Sinaloa, Mexico, has been a staple of the Pelicans' bullpen in 2019. As of June 11, he has a 1-1 record and a 3.44 ERA in 15 appearances. In 34.0 innings, he has whiffed 30 and walked 12 while opponents are just hitting .202 off of him. From April 16 to May 30, a span of 11 outings, Camargo threw 24.0 innings, allowing just four earned runs (1.50 ERA), helped out by holding hitters to a .169 BAA. This is the second time he has been named an All-Star; the 23-year-old captured both Midseason and Postseason All-Star honors in the Northwest League as a member of the Short Season Low A Eugene Emeralds in 2017.
A former second-round selection by the Cubs in 2018, Richan earns his first-career All-Star nod. The Pelicans' leader in wins is 6-3 this season with a 4.40 ERA over 11 starts. His six wins are also tied for the league lead. Over his 57.1 innings, Richan has struck out 52 and walked 12. Over two starts from May 8 through May 14, Richan allowed just two runs in 12.2 innings while striking out 15 and not walking a batter. Since May 8, over six starts, Richan has a 26.2 percent strikeout rate and just a 2.1 percent walk rate.
The Carolina League selected its All-Stars via a voting process that involved its managers, general managers and one media vote per market. Myrtle Beach has now had at least three players represent the Pelicans in the Midsummer Classic for the past nine seasons dating back to 2011. A year ago, shortstop Aramis Ademan , pitcher Tyler Peyton and catcher Jhonny Pereda donned the Pelicans' uniform in the 2018 All-Star Classic in Zebulon, N.C.
The 2019 season is the 21st season for the Pelicans franchise and fifth as the Class A-Advanced affiliate of the Chicago Cubs. For tickets visit MyrtleBeachPelicans.com/tickets, call (843) 918-6000, or visit the Pelicans Box Office.
ABOUT THE PELICANS: The Myrtle Beach Pelicans are the Class A-Advanced affiliate of the Chicago Cubs and play their home games at TicketReturn.Com Field at Pelicans Ballpark in Myrtle Beach, South Carolina. Since being acquired by a group led by Chuck Greenberg during the 2006 season, the Pelicans have repeatedly set team attendance records and become known as one of Minor League Baseball's most innovative and creative franchises. The team and its employees have been dedicated to making a difference in the Myrtle Beach community, specifically giving back over $2 million in donations, fundraising proceeds, in-kind services and community service since launching the Pelicans Play It Forward Community Initiative in 2013. TicketReturn.Com Field at Pelicans Ballpark has ranked in the top eight in all of Minor League Baseball by Stadium Journey in six of the last seven seasons. The same publication also placed the Pelicans in the Top 100 Stadium Experiences and the best in the Carolina League for six of the past seven seasons. In June 2017, the Pelicans won the 2017 TripAdvisor.com Certificate of Excellence award. On the field, the team has won four Mills Cup Championships, including claims to back-to-back titles in 1999 and 2000, and again in 2015 and 2016. The Pelicans have made 11 postseason appearances behind 13 half-season Southern Division championships, including the first half of the 2015 season, second half of 2016 and first half of 2017. For more information on the Myrtle Beach Pelicans, please contact the Pelicans at (843) 918-6000 or email [email protected].