Fireworks Shows July 2, 3, & 4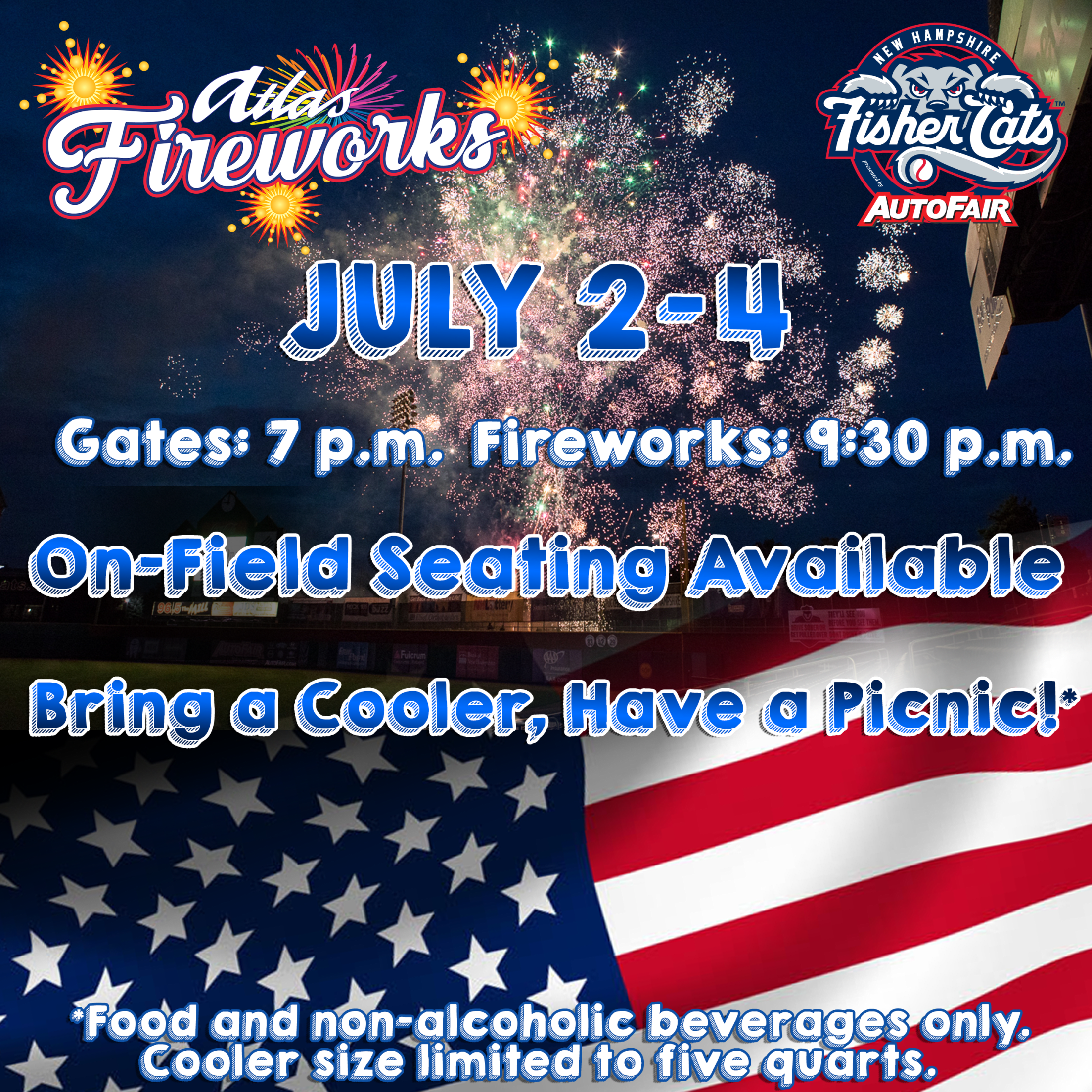 Overview
Dates: Thursday, July 2 | Friday, July 3 | Saturday, July 4
Gates Open: 7 p.m. | Fireworks Start: 9:30 p.m.
Seating Options
Seating will be available in the stands or in 10' x 10' spaces on the field. These family/group spaces seat up to six people. Both seating options will provide six feet of separation from other guests.
Food and Drink
Guests are permitted to bring food and sealed, non-alcoholic beverages in clear plastic bags and coolers no greater than 5 quarts (10.5 in. x 8 in. x 7 in). Limited concession options will be available as well.
Parking
Guests can pre-purchase $5 parking in the Fisher Cats front or back parking lot. Pre-purchased parking is strongly encouraged to promote safe social distancing.
Ticket Options
Stadium Seating (Groups of up to 4)
$40 per group / $10 per person
On-Field Picnic Seating (Groups of up to 6)
$80 per group / $13.33 per person
Includes 10' x 10' group/family space on field
Luxury Suites (Groups of up to 8)
$240 per group
Call (603) 641-2005 for pricing/availability
Guests will be given specific entry times and locations when purchasing tickets. Visitors are strongly encouraged to find their seats between 8:30 p.m. and 9:30 p.m. The Fisher Cats will provide entertainment on the video board before the fireworks begin.
Packages subject to availability and limited quantities available. Guests are strongly encouraged to purchase ticket packages online. Exact seating will be determined upon arrival - all members of parties must arrive together.
Seating Diagram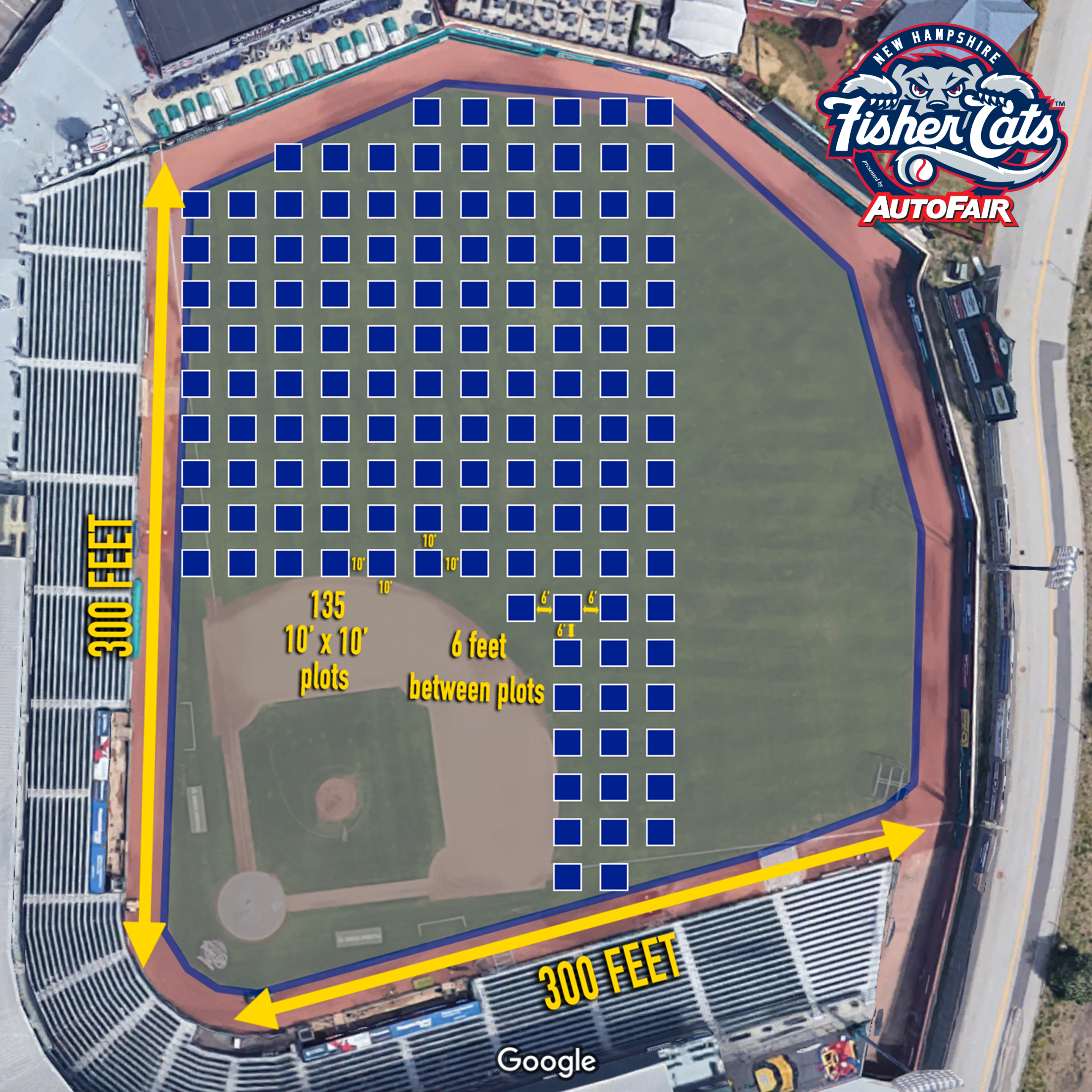 Health and Safety Protocol
Ballpark Entry
To ensure the safety of every guest at Delta Dental Stadium, the Fisher Cats have introduced the following policies:
A mask or face covering must be worn when entering and moving throughout the ballpark.
Guests must maintain six feet of social distance when standing in line and moving throughout the ballpark.
Guests must answer "no" to the following screening questions in order to enter the ballpark:
Do you have any symptoms of COVID-19 or fever of 100.4 degrees Fahrenheit or higher?
(Symptoms of COVID-19 can include: fever, or feeling feverish; respiratory symptoms such as runny nose, nasal congestion, sore throat, cough, or shortness of breath; general body symptoms such as muscle aches, chills, and severe fatigue; gastrointestinal symptoms such as nausea, vomiting, or diarrhea, and changes in a person's sense of taste or smell.)
Have you had close contact with someone who is suspected or confirmed to have COVID-19 in the prior 14 days? (Note: healthcare workers caring for COVID-19 patients while wearing appropriate personal protective equipment should answer "no" because they are not considered to have a COVID-19 exposure)
Have you traveled in the prior 14 days outside of New Hampshire, Vermont, Maine, Massachusetts, Connecticut, or Rhode Island?
Staff Procedure
Fisher Cats staff members adhere to the following protocol for the safety of our guests:
All staff members will wear masks or face coverings at all times.
Staff members must complete a brief series of screening questions before coming to work.
Seats will be wiped down and disinfected before every event.
Bathrooms will be wiped down and disinfected every 2 hours.
Certain seating sections will be marked off to maintain at least 6 feet of separation between parties.
Frequently Asked Questions
For additional questions, please call the Fisher Cats front office at (603) 641-2005.
Do I Have To Wear A Mask?
The Fisher Cats will continue to update this policy based on the guidance of the CDC as well as state and local officials. At this time, all guests are required to wear a mask or face covering in order to enter the ballpark. Guests are permitted to remove their masks when sitting at their designated seats, but must wear a mask when moving throughout the stadium.
Will Fisher Cats Staff Members Be Wearing Masks?
Yes, each member of the Fisher Cats staff is required to wear a mask in the ballpark at all times.
Can I Choose My Seat?
Field seating will be assigned to guests upon their arrival at the ballpark.
Can I Purchase Tickets At The Gate?
Guests must purchase tickets in advance online.
What About Kids Three and Under?
Kids aged three and under will be admitted free of charge.
What If I Arrive Separately From My Family/Group?
If you're planning to arrive separately, please meet all members of your group before approaching the ballpark, and enter the stadium together.
What If We Want To Sit Next To Another Family/Group?
The Fisher Cats encourage you to purchase your tickets online together, or you can call the Fisher Cats offices at (603) 641-2005 for assistance.
What If I'm At High Risk?
Please communicate any needs or concerns to a Fisher Cats staff member, and they'll be happy to accommodate.
What Other Symptoms Would Prevent Me From Entering Ballpark?
If you're experiencing respiratory symptoms such as sore throat, cough, or shortness of breath, fever, or changes in taste or smell, please come to the ballpark another day when you're feeling better.
What Additional Sanitation Measures Are Being Taken?
Fisher Cats staff members will also wipe down and disinfect the restrooms every half hour, and signs will remind visitors to wash their hands for at least 20 seconds and maintain 6 feet of safe social distance. The stadium concourse will also have several Sanitation Stations available, with portable hand-washing stations and sanitizer.
Can I Make Substitutions to My Meal?
At this time, substitutions will be limited to gluten free buns on request, and burgers with or without cheese.
Will Restrooms Be Available?
Yes, the men's and women's restrooms on the stadium concourse will be available for use.
Is there ADA seating?
The Fisher Cats will provide adequate seating either on the field or in the ADA section of the stands for this event.
What If It Rains?
If rain cancels the event, tickets will be redeemable for a future event (based on availability) or credited toward a 2021 Fisher Cats game. Guests may also request a refund.