Mahtook, Marquez powered Rays in 2014
Tampa system not what it was, but still has talent worth watching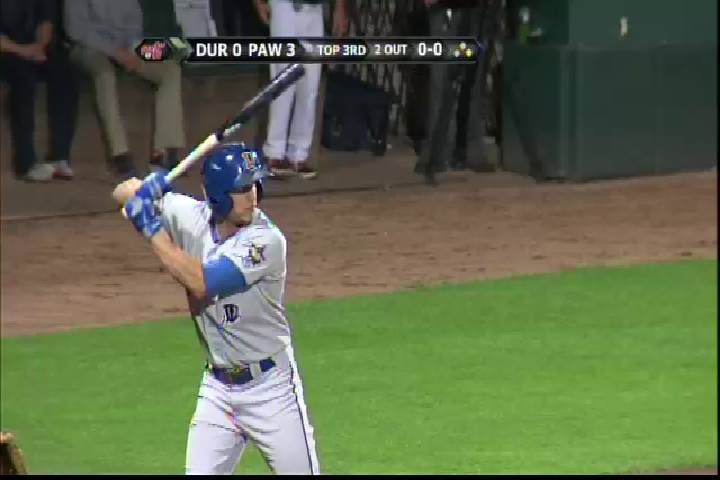 By John Parker / MiLB.com | December 18, 2014 10:00 AM
This offseason, MiLB.com will be honoring the players -- regardless of age or prospect status -- who had the best seasons in their organizations. We're taking a look at each team to determine the outstanding seasons in Minor League baseball.
As a financially constrained small-market club in one of baseball's toughest and wealthiest divisions, the Rays have long relied on their Minor League system to remain competitive, whether by supplying the big-league team or by providing fodder for trades. In 2014, the system ranked 17th in overall win percentage, though its domestic teams finished slightly over .500.
Triple-A Durham won its seventh division title in eight seasons and was twice just moments away from a Governors' Cup championship before falling to Pawtucket in five games. Rookie-level Princeton posted the top record in the Appalachian League and Class A Short Season Hudson Valley won its division, but both came up short in the first round of the playoffs. Double-A Montgomery, Class A Advanced Charlotte and Class A Bowling Green finished with losing records.
Only three organizations currently have no prospects among MLB.com's Top 100 -- the Brewers, Tigers and Rays. The system is hardly bereft and received an infusion with the acquisition of teenage shortstop Willy Adames in the David Price deal, but it's not the powerhouse of years past.
Rays Organization All-Stars
Catcher -- Justin O'Conner, Charlotte (80 games), Montgomery (21 games): O'Conner was one of the most potent bashers in the Rays system -- among Tampa Bay farmhands who played at least 60 Minor League games, only two had higher slugging percentages than O'Conner's .466 -- which is awfully nice for a backstop whom Baseball America called the best defensive catcher in the Florida State League.
Though the 22-year-old's home run total dipped slightly from 14 in 2013 to 12 this past season, O'Conner ripped 35 doubles -- up from 17 in 2013 and third-most in the Tampa system. The only red flag arising from O'Conner's otherwise splendid campaign was his .316 on-base percentage. A bit more patience at the plate -- he drew just 16 walks in 424 plate appearances -- would be a fantastic complement to his potent hitting.
First base -- Patrick Leonard, Charlotte (122 games): Seven months younger than O'Conner, Leonard had a similarly strong season. A fifth-round pick by the Royals in 2011, Leonard was part of the James Shields deal that also netted the Rays Wil Myers and Jake Odorizzi.
The Texan did a little bit of everything for the Stone Crabs, clubbing 13 homers, driving in 58 runs and drawing 49 walks to post a .359 OBP. Leonard was named the top defensive first baseman in the FSL by Baseball America and showed impressive baserunning instincts for a 6-foot-4, 225-pound slugger by stealing 14 bases without being caught. Leonard's all-around game took a big jump forward in 2014 despite playing in the depressed offensive environment of the Florida State League. The next season will be a big one for Leonard as he steps closer to the Majors.
Second base -- Ryan Brett, Montgomery (107 games): Brett has dealt with a lot of things in his brief pro career, including shoulder dislocations, hernia surgery and having a kidney removed. Double-A ball could hardly be expected to faze the 23-year-old, nor did it: Brett hit .303 with eight homers and 27 stolen bases
The 5-foot-9 Brett is continuing to learn how to get the most out of his talent. An improving fielder, he was named best defensive second baseman in the Southern League by Baseball America. This past season he began adding the bunt to his repertoire, helping him go 5-for-5 in a late April game against Jacksonville.
Third base -- Tyler Young, Bowling Green (97 games): A seventh-round pick out of Louisville in 2013, Young made a leap forward with the Hot Rods in his first full season of pro ball. The Pennsylvania native's OPS rose by 156 points over his 2013 performance and his long-ball total jumped from two in 58 games to nine in 97 games.
A left-handed hitter, Young played third base and second in college and his bat, despite the power surge in 2014, may profile better at the latter as he moves up. His defense remains a work in progress -- he posted a .890 fielding percentage with 23 errors in 85 games at the hot corner -- but his overall athleticism suggests he has the tools to improve.
Shortstop -- Leonardo Reginatto, Charlotte (94 games), Montgomery (17 games): A rare Brazilian-born Minor Leaguer -- he was introduced to the game by Japanese neighbors in his hometown of Curitiba and signed by the Rays as a 19-year-old in 2009 -- Reginatto has consistently put up solid numbers at the plate. In six Minor League seasons, he's a career .290 hitter with a .351 on-base percentage, and he hit .316/.384/.371 with the Stone Crabs in 2014 before a late-season promotion to Montgomery that did not go well (7-for-63 in 17 Southern League games).
Though almost completely devoid of power -- he's averaged about one homer per season, but did not hit one in 2014 -- Reginatto combines good on-base skills with strong defense and has experience in big games, playing for Team Brazil (and manager Barry Larkin) in the 2013 World Baseball Classic.
Utility -- Grant Kay, Hudson Valley (42 games): A storybook pro debut turned into an impressive, if truncated, first season for Kay, a 27th-round pick out of Louisville (like Young). On July 14, Kay homered on the first pitch he saw as a professional and went on to hit for the cycle in a 5-for-6 effort. The feat earned him the fans' vote for Best Individual Performance in the 2014 MiLBY Awards.
"I'm not going to cycle every day, I know that," he said after the game. "My focus right now is just getting out there ... and trying to get some more quality at-bats.
He did just that in his remaining 41 games, batting .314/.376/.491 overall for the Renegades with an .867 OPS that was best in the Rays system for Minor Leaguers with at least 40 games played. Kay split time at designated hitter, left field and third base and even filled in at second in three games. Based on his performance this past season, Kay's bat is viable at nearly any position.
Honorable mention: Cole Figueroa, Jerry Sands
Outfielders
Johnny Field, Bowling Green (82 games), Charlotte (40 games): Field ranked just behind Kay on the Rays' list of OPS leaders at .864, thanks to a monster year that got even better after his promotion to the Florida State League.
A fifth-round pick out of Arizona in 2013, Field hit just .252/.299/.370 that summer with Hudson Valley before emerging as a dominant hitter this past season. Those numbers rose to .300/.376/.488 in 2014, including .320/.396/.547 in Class A Advanced, earning him Rays Minor League Player of the Year honors.
"Obviously, I thought this was a little far-fetched, but this was a goal to try to have a huge year and put myself in this position," he told Fox Sports Florida after winning the Rays award.
Field continued his strong play into the offseason, where he's tied for second with six homers for Brisbane in the Australian Baseball League. And he's no slouch in center field, where he made this diving catch last week.
Hunter Lockwood, Hudson Valley (70 games): Lockwood isn't a huge guy -- he's listed at 5-foot-10 and 180 pounds -- but he packs a wallop. The Texas native led the Rays system with a .494 slugging percentage and ranked sixth with 13 home runs despite playing a short-season schedule of 70 games.
Lockwood was among the New York-Penn League leaders in a number of offensive categories, including homers and RBIs, and led the circuit in runs scored and total bases. His 98 strikeouts were also most in the league.
"There's still definitely things I can work on. There are strengths and weaknesses, and I need to work on my faults," said the New York-Penn All-Star. "Specifically, I want to work on pitch selection. Strikeouts are the thing I look at the most. I like to swing that bat hard and hit the ball hard."
Mikie Mahtook, Durham (132 games): A first-round pick out of LSU in 2011, Mahtook had the strongest season of his pro career in his Triple-A debut, setting personal marks in batting (.292), on-base percentage (.362), slugging (.458), homers (12), doubles (33), RBIs (68) and walks (46). A midseason All-Star for the third straight year, Mahtook did both the big and little things to help Durham win its seventh division title in eight years.
Twice in August, Mahtook broke up a no-hit bid by Norfolk's Mike Wright. He stole 18 bases while being caught just five times, and his strike-zone judgment was considered best in the International League by Baseball America despite his 137 strikeouts (second-most in the Rays system). Now 25, Mahtook seems poised to step up to the Majors after a splendid season in Triple-A.
Right-handed starting pitcher -- German Marquez, Bowling Green (22 games): Marquez is not yet among the Rays' Top 20 prospects, but expect him there soon. The Venezuelan right-hander was solid (2-5, 4.05 ERA) as the youngest pitcher in the Appalachian League in 2013 and downright impressive as one of the youngest hurlers in the Midwest League this past season. Blessed with a low- to mid-90s fastball and developing curve (the changeup lags behind the other offerings), Marquez went 5-7 with a 3.21 ERA and 1.14 WHIP for the Hot Rods, striking out 95 and walking 29 in 98 innings.
Along with nearly one strikeout per inning, Marquez has an impressive capacity to deliver ground-ball outs and otherwise keep the ball in the park -- he allowed just five all season. His strikeout rate jumped by 2.31 per nine innings this summer over last, and his FIP at 3.22 is right in line with his impressive ERA. A striking performance from a pitcher who won't turn 20 until the start of Spring Training.
Left-handed starting pitcher -- Blake Snell, Bowling Green (eight games), Charlotte (16 games): A first-round pick in 2011, Snell had a disappointing first full season with Bowling Green in 2013, going 4-9 with a 4.27 ERA and 73 walks in 99 innings. 2014 was a much different (and better) story for the southpaw, who turned 22 earlier this month.
Snell got off to a blazing start in his return to the Hot Rods, posting a 1.79 ERA over eight starts while holding Midwest League hitters to a .184 average. Following his promotion to the Florida State League, he threw Charlotte's first no-hitter on Aug. 2, fanning nine over 5 1/3 innings in a rain-shortened win. Though his ERA jumped to 3.94 on that circuit, fielding-independent stats suggest he was much the same pitcher, going from a 3.14 FIP in Bowling Green to a 3.19 mark in Charlotte.
Currently ranked as the Rays' No. 16 prospect, there's no doubting Snell's stuff -- he struck out more than a batter per inning and allowed just two homers all season. His command, while significantly improved over 2013, remains problematic at 4.36 walks per nine innings.
Relief pitcher -- Adam Liberatore, Durham (54 games): The Rays farm system had a number of strong candidates for top reliever, but Liberatore's statistics really leap out. The 27-year-old lefty went 6-1 with a 1.66 ERA, held International League hitters to a .187 average, and struck out 86 while walking just 15 over 65 innings.
The numbers are even more ridiculous following the Triple-A All-Star break: 3-0, 0.40 ERA, .113 average against in 18 appearances. Liberatore, a 21st-round pick out of Tennessee Tech in 2010, was just as effective against righties as lefties, though he was far more likely to induce ground balls from the latter. A key contributor to Durham's success, Liberatore was dealt to the Dodgers in November.
Honorable mention: Matt Ramsey, Kirby Yates
John Parker is an editor for MiLB.com. This story was not subject to the approval of the National Association of Professional Baseball Leagues or its clubs.
View More