Yanks' Stephan hurls four more hitless frames
Staten Island falls two outs shy of second no-hitter in three weeks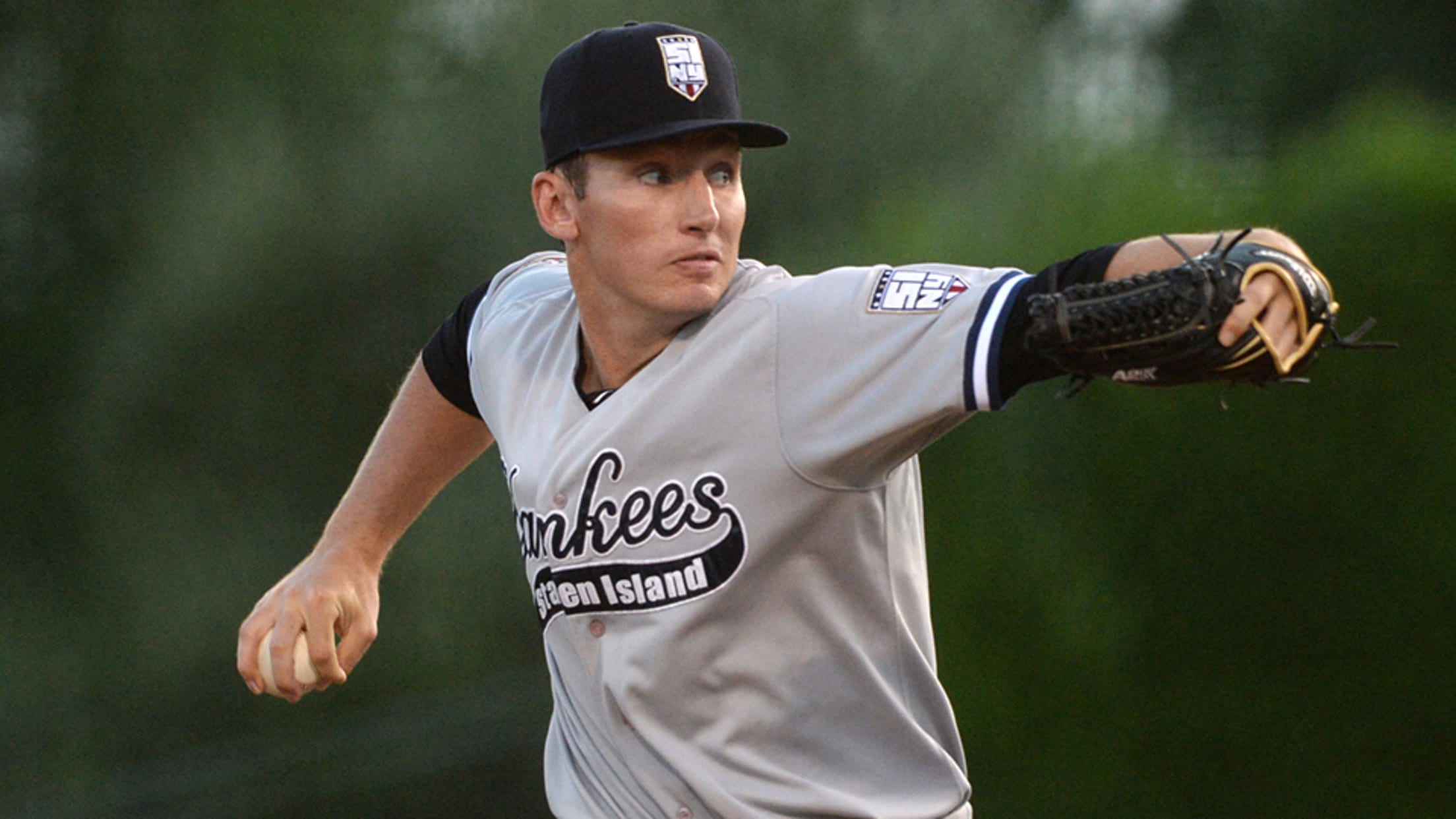 Trevor Stephan has not allowed a run in six of eight appearances with Staten Island this season. (Kevin Pataky/MiLB.com)
If Trevor Stephan isn't careful, he's going to forget what it's like to pitch out of the stretch.The Yankees' No. 30 prospect fired four hitless innings for the second straight start and Class A Short Season Staten Island fell two outs shy of its second no-hitter in three weeks with a
If Trevor Stephan isn't careful, he's going to forget what it's like to pitch out of the stretch.
The Yankees' No. 30 prospect fired four hitless innings for the second straight start and Class A Short Season Staten Island fell two outs shy of its second no-hitter in three weeks with a 5-0 win over Lowell on Saturday night at Richmond County Ballpark. The 21-year-old right-hander struck out six.
Michael Osinski's one-out single to left off Josh Roeder spoiled the no-no. Four hurlers combined to throw the third no-hitter in Staten Island history on July 29 against Tri-City.
Stephan retired the first six batters before hitting Tanner Nishioka leading off the third. The Magnolia, Texas, native struck out four of the last six batters he faced and threw 34 of 40 pitches for strikes. After allowing three earned runs and five hits over 1 2/3 innings in a loss to Connecticut on Aug. 5, Stephan has 11 punchouts and two walks in eight hitless innings.
"So far, the transition [to the Minors] has been pretty smooth. I've just had to make some minor adjustments here and there," said Stephan, who hasn't yielded a run in six of eight appearances for Staten Island. "It's been good so far, and about what I figured.
"I'm glad I was able to experience playing in the Southeastern Conference [with the University of Arkansas], which I feel helped prepare me for this. Just being able to face some really good hitters, including a few first-rounders, was a great challenge and has made things easier."
Gameday box score
Glenn Otto (2-0) walked one and struck out four in three innings of hitless relief for the Baby Bombers.
Roeder retired Alexander Martinez to start the ninth, thanks to a spectacular catch by center fielder Andy Diaz. before Osinski's singled on the next pitch. Garrett Benge added another single before Roeder completed the Yanks' third consecutive shutout and their New York-Penn League-leading ninth this season. They have tossed 26 straight scoreless innings and lead the circuit with a 2.60 ERA.
"It's really great to pitch with these guys," Stephan said. "We compete with each other and feed off one another. We almost got that second one tonight, but those last three outs are always the hardest to get. It was unfortunate in that sense, but we got the 'W' and that's what matters most."
The third-round pick in June's Draft tossed two scoreless innings in the Rookie-level Gulf Coast League before joining Staten Island on July 1. Stephan has a 1.75 ERA with 33 strikeouts over 25 2/3 innings in eight NYPL appearances, including seven starts.
"I've been limited on a pitch count. Knowing that, I wanted to establish the tone early and attack the zone," the 6-foot-4, 210-pounder said. "I had everything working tonight from the first pitch. As a competitor, you want to stay out there and keep going, but I understand. I've thrown a lot of innings this year and you can only do so much. I'm glad how things have turned out so far."
Timmy Robinson collected three singles, while Jason Lopez and Ryan Krill had two hits and two RBIs apiece for Staten Island.
• Get tickets to a Staten Island game »
Jake Thompson allowed one hit and a walk with one strikeout in two scoreless innings for Lowell. The No. 21 Red Sox prospect and fourth-round pick in June has a 3.00 ERA in four starts.