ValleyCats fan 17 in dominant opener
Astros righties Dubin, Rivera, Gonzalez, Freure toss shutout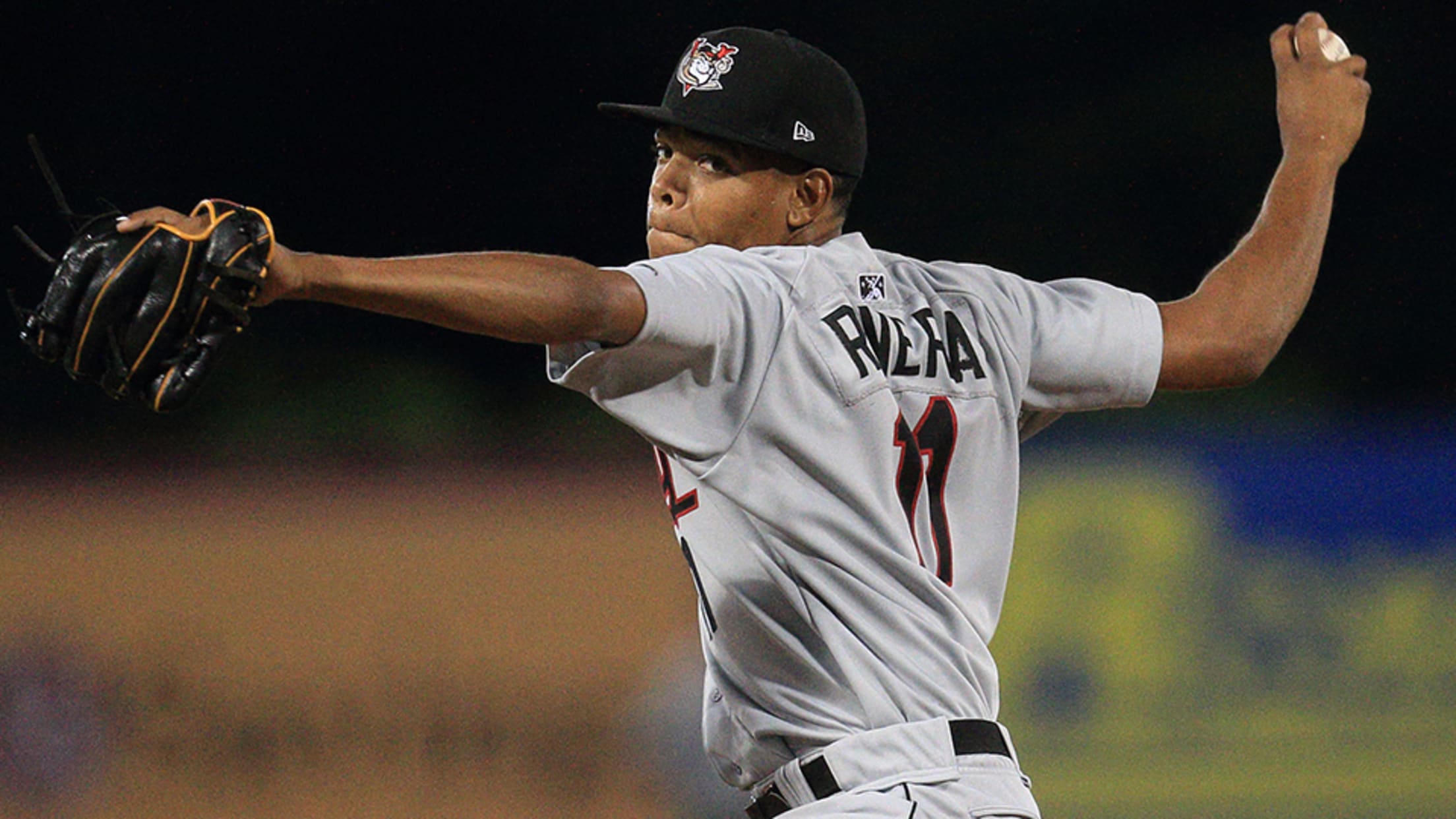 Jose Alberto Rivera had 53 strikeouts over 49 innings across two Minor League levels this season. (Sandy Tambone/MiLB.com)
With a pitching staff that topped the New York-Penn League in strikeouts, Tri-City made the simple discovery that good things happen when you prevent the opposition from putting the ball in play, even if the punchouts are accompanied by walks. That was the case on a chilly night at Joseph
With a pitching staff that topped the New York-Penn League in strikeouts, Tri-City made the simple discovery that good things happen when you prevent the opposition from putting the ball in play, even if the punchouts are accompanied by walks. That was the case on a chilly night at Joseph L. Bruno Stadium in Game 1 of the best-of-3 Championship Series.
Astros right-handers Shawn Dubin, Jose Alberto Rivera, Joey Gonzalez and R.J. Freure combined to fan 17 as Tri-City blanked Hudson Valley, 3-0, on Saturday.
The ValleyCats worked around eight walks, five hits and two hit batters, and the 17 whiffs fell one short of their season best, set on July 24 against Auburn.
"It was a game of not a lot of contact, overall," Tri-City manager Jason Bell said. "Sometimes, that's what you have to do to fight to win a game. ... In the end, I think the difference was, we made the pitches when we really needed."
Bell was particularly proud of the way his staff dealt with runners on base. Dubin, the ValleyCats starter, yielded three hits and a walk while punching out five over two innings. Rivera walked three, plunked a batter, surrendered one hit and struck out six in 2 1/3 frames. Gonzalez entered in the fifth with two runners on and walked the bases loaded but got out of the jam.
"The first pitch [Gonzalez] threw was a perfectly executed breaking ball, really helped set the tone for the rest of that inning," Bell said. "[Pitching with runners on] takes a lot out of you and can sometimes make your pitch counts a lot higher, but [it's] also more stress on your mind."
Gameday box score
The strikeouts remained paramount. The ValleyCats whiffed at least two batters in six different frames and had a pair of three-punchout innings. Both Dubin and Rivera recorded all but one out by strikeout. Freure fanned four and Gonzalez added two more.
"There was a lot of 3-1, 3-2 pitches that were executed really well by our guys, which helps us escape a lot of those jams and, in turn, get us a lot of strikeouts," Bell said.
• Complete postseason coverage »
Carlos Machado jump-started the Tri-City offense, lifting the first pitch from Hudson Valley starter Zack Trageton out to right-center for a leadoff homer. The 20-year-old also had a base hit and scored on a wild pitch in the seventh.
"We've been trying to get him to hit the ball hard and in the air," Bell said. "That paid off instantly. He's starting to hit more home runs than he has in the past in his career because there's home-run ability in there, and it was awesome for him to start the game off in that manner. It helped give us a little bit of a push from the get-go."
Ramiro Rodriguez knocked in a run for the ValleyCats with a second-inning single, while Oscar Campos and Enmanuel Valdez each chipped in a pair of hits.
The series moves to Hudson Valley for Game 2 on Sunday at 4:30 p.m. With a victory, Tri-City will secure its first championship since 2013.
Gerard Gilberto is a contributor to MiLB.com. Follow and interact with him on Twitter, @GerardGilberto4.