Dodgers Rebound in El Paso with 7-2 Win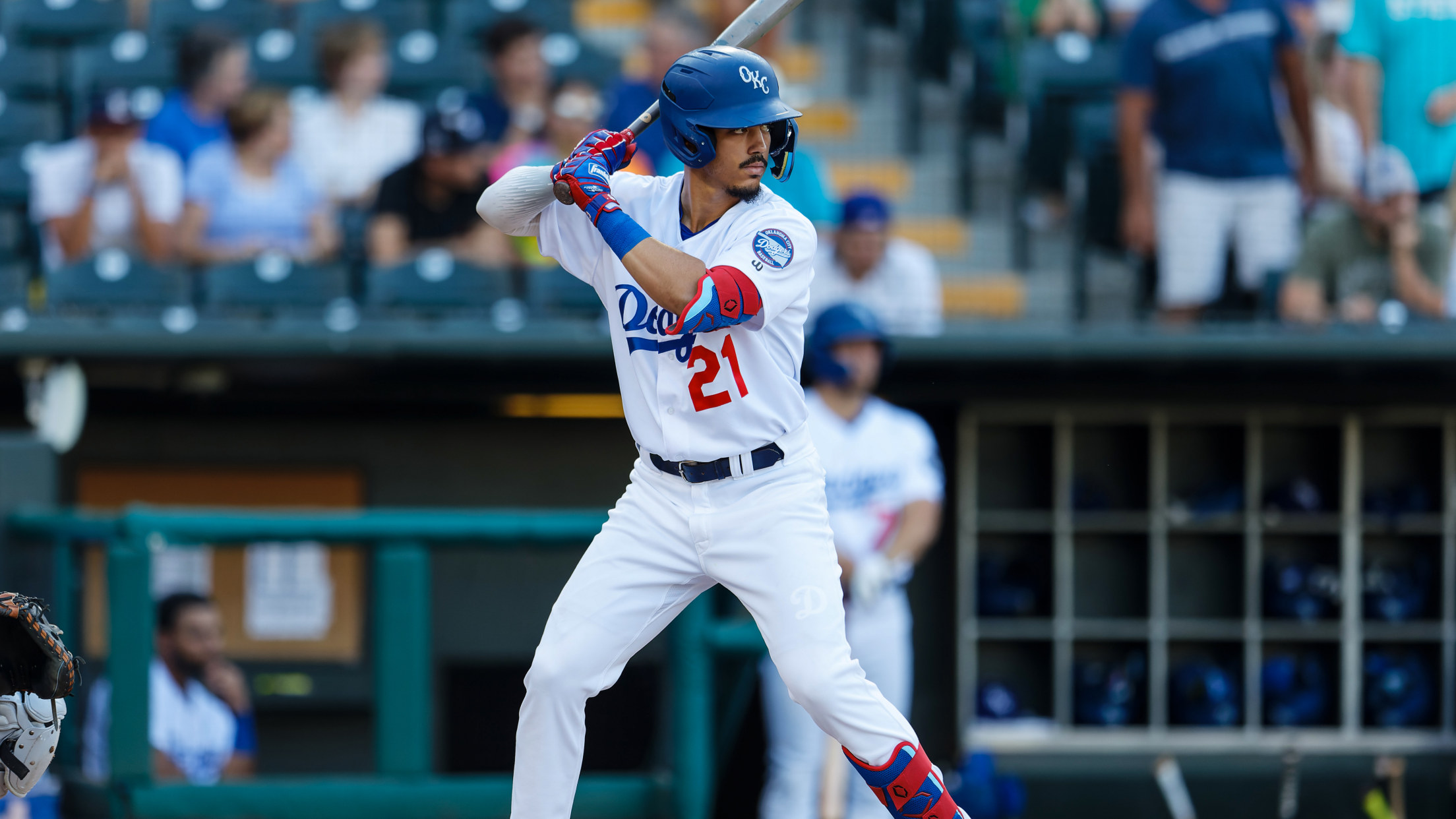 Miguel Vargas extended his hitting streak to 12 games with two doubles Thursday. (Eddie Kelly/ProLook Photos)
Oklahoma City Dodgers – 7 El Paso Chihuahuas – 2 Thursday, June 30, 2022 – Southwest University Park – El Paso, Texas Game Summary: Following an 11-run loss Wednesday, the Oklahoma City Dodgers bounced back with a solid all-around team effort during a 7-2 win over the El Paso Chihuahuas
Oklahoma City Dodgers – 7
El Paso Chihuahuas – 2
Thursday, June 30, 2022 – Southwest University Park – El Paso, Texas
Game Summary: Following an 11-run loss Wednesday, the Oklahoma City Dodgers bounced back with a solid all-around team effort during a 7-2 win over the El Paso Chihuahuas Thursday night at Southwest University Park. A day after being held to three hits, tying their season low, the Dodgers (47-28) tallied 13 hits Thursday, including five doubles. The pitching staff limited a potent Chihuahuas (41-34) offense to two runs and four hits just one game after allowing season highs with 14 runs and 19 hits. Both teams scored two runs in the second inning. The Dodgers took the lead with a RBI single by Jake Amaya and RBI double by Tomás Telis, but El Paso's Eguy Rosario responded with two-run homer in the bottom of the inning. Still tied in the fifth inning, OKC strung together three straight doubles, including RBI doubles by Miguel Vargas and Michael Busch. A James Outman RBI single pushed the lead to 5-2. In the seventh inning, Outman and Amaya each added two-out RBI singles to make it 7-2.
Of Note:
-Oklahoma City improved to 47-28, tying their season high at 19 games above .500. With a win over the second-place Chihuahuas, the Dodgers also matched their largest lead in first place in the PCL's East Division this season at 6.0 games. The Dodgers have won 10 of their last 14 games, 12 of their last 17 games and 16 of their last 22 games. They also improved to 12-5 in their last 17 road games and 5-1 in their last six games in El Paso. Since a three-game losing streak in late May, the Dodgers have followed up each of their last nine losses with a win in the next game.
-The Dodgers finished June with the best record among Triple-A teams at 18-8. It also set a new team record for highest winning percentage in June at .692, besting last season's 17-8 mark. The Dodgers led the PCL with a 4.17 ERA throughout the month and limited opponents to a .229 batting average.
-The Dodgers entered Thursday's game batting just .195 over their previous seven games but went 13-for-39 Thursday. OKC was 6-for-13 with runners in scoring position after going 6-for-39 with RISP during the same seven-game stretch. Although the Dodgers were held without a home run for just the second time in 17 games, they racked up five doubles for their highest total in a nine-inning game since May 12 at Round Rock.
-Five players collected multi-hit games. James Outman went 2-for-5 in his Triple-A debut, hitting two-out RBI singles in the fifth and seventh innings. Jake Amaya went 2-for-5, also with two, two-out RBI singles.
-Miguel Vargas went 2-for-5 with two doubles, two runs and a RBI, extending his hitting streak to a season-best 12 games. During the hitting streak, Vargas is 18-for-47 (.383) with 10 RBI, seven walks and 10 runs scored. For the third time in the team's last four games, Vargas provided a go-ahead hit in the fifth inning that gave the Dodgers the lead for good.
-Drew Avans went 2-for-5 with a double and a run scored. He's now reached base in 16 straight games as well as 30 of his last 31 games. Avans wrapped up June by hitting .326 (30x92) with 12 extra-base hits and a team-leading 24 runs scored.
-Ryan Noda reached base four times with two hits and two walks. Over his last six games, Noda is 8-for-20.
-One night after allowing 14 runs, 19 hits and nine-extra base hits, the OKC pitching staff allowed just two runs and four hits Thursday. It's the seventh time in the last 11 games they've allowed three or fewer runs and the seventh time in the last nine games they've allowed six or fewer hits. The bullpen pitched 5.0 scoreless innings, allowing two hits. Justin Hagenman retired all six batters faced between the sixth and seventh innings to earn the win.
What's Next: The Dodgers continue their series in El Paso at 7:35 p.m. CT Friday at Southwest University Park. Live radio coverage of each OKC Dodgers game begins 15 minutes before first pitch on AM 1340 "The Game," 1340thegame.com and through the free iHeartRadio or MiLB First Pitch apps. All OKC Dodgers games are also available streamed live on MiLB.TV with a subscription.