Storm's Five-Run Eighth Frame Lifts Them to Series-Opening Win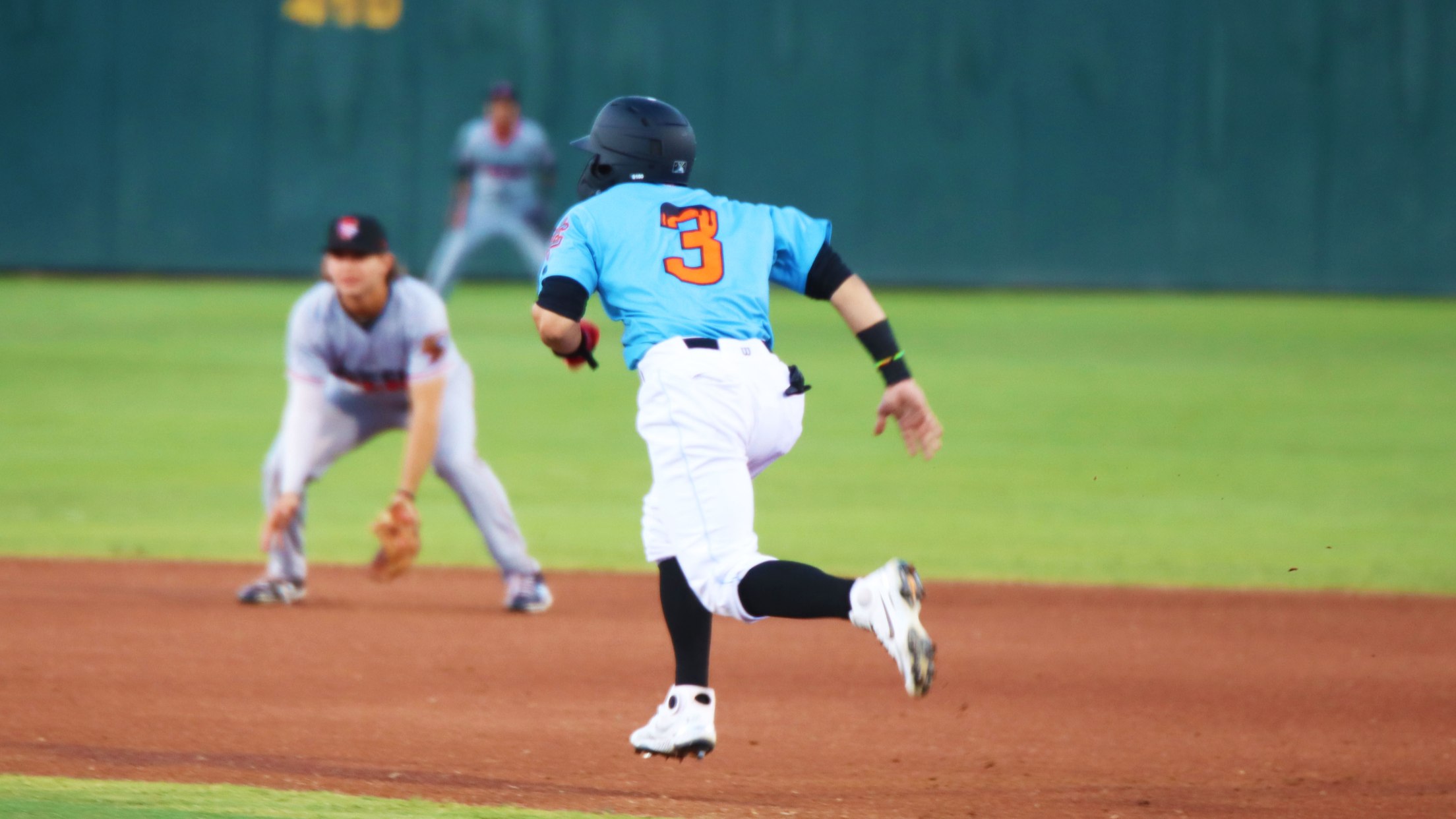 San Bernardino, CA- The Inland Empire 66ers of San Bernardino dropped the opener of a six-game set with the Lake Elsinore Storm 9-4 at San Manuel Stadium on Tuesday. The 66ers (34-32) tied the contest in the seventh at 4-4 on Edwin Yon's solo homer but the Storm used a
San Bernardino, CA- The Inland Empire 66ers of San Bernardino dropped the opener of a six-game set with the Lake Elsinore Storm 9-4 at San Manuel Stadium on Tuesday. The 66ers (34-32) tied the contest in the seventh at 4-4 on Edwin Yon's solo homer but the Storm used a five-run outburst in the eighth to secure the game.
Inland Empire took a 2-0 lead in the third when after a Storm error and a two-out single by D'Shawn Knowles put two aboard, Yon lifted a deep fly to right that banged off the wall giving him a two-run triple. Knowles' singled was his second of the game but he left the contest after an apparent injury in the fifth inning. The fifth is when the Storm (31-36) took the lead; IE starter Jack Dashwood walked Sean Guilbe to open the frame, and later gave up a single to Angel Solarte pushing Guilbe to third. The Storm got on the board when Solarte (second) and Guilbe (home) executed a double-steal making it 2-1. Dashwood walked Robert Hassell III to put two on base; the walk was the Sixers' southpaw's fourth walk of the night which matched his season total coming into the game over 51.0IP. Joshua Mears then knocked Dashwood out of the game with a three-run homer to left, his 13th of the year. Inland Empire chiseled into the lead against reliever Jason Reynolds in the sixth as the righty walked Jose Guzman who stole second; Guzman then scored on Spencer Brown's RBI double to left making it 4-3. After two quick outs in the home-half of the seventh, Yon struck again with his solo blast to left, his ninth of the year tying the game 4-4. Yon has driven in 18 runs in the Sixers' last six games. The 66ers' ebullience was short-lived as the Storm batted around in the eighth getting a two-run single from Carlos Luis, RBI singled from Jarryd Dale and two-RBI single from Brandon Valenzuela against Jerryell Rivera (0-1) making it 9-4. Cullen Dana (2-0) earned the win with 1.1 innings of work out of the pen. Inland Empire matched a season-worst with by issuing nine walks and the Storm ran wild stealing seven bases, the most given up all season by the Sixers. Matthew Acosta and Valenzuela each had three-hit games for the Storm.
The series continues Wednesday at 7:05 pm. The contest can be seen and heard live on 66ers.com.