Albuquerque Drops Home Run Derby to Open Series in Tacoma, 8-4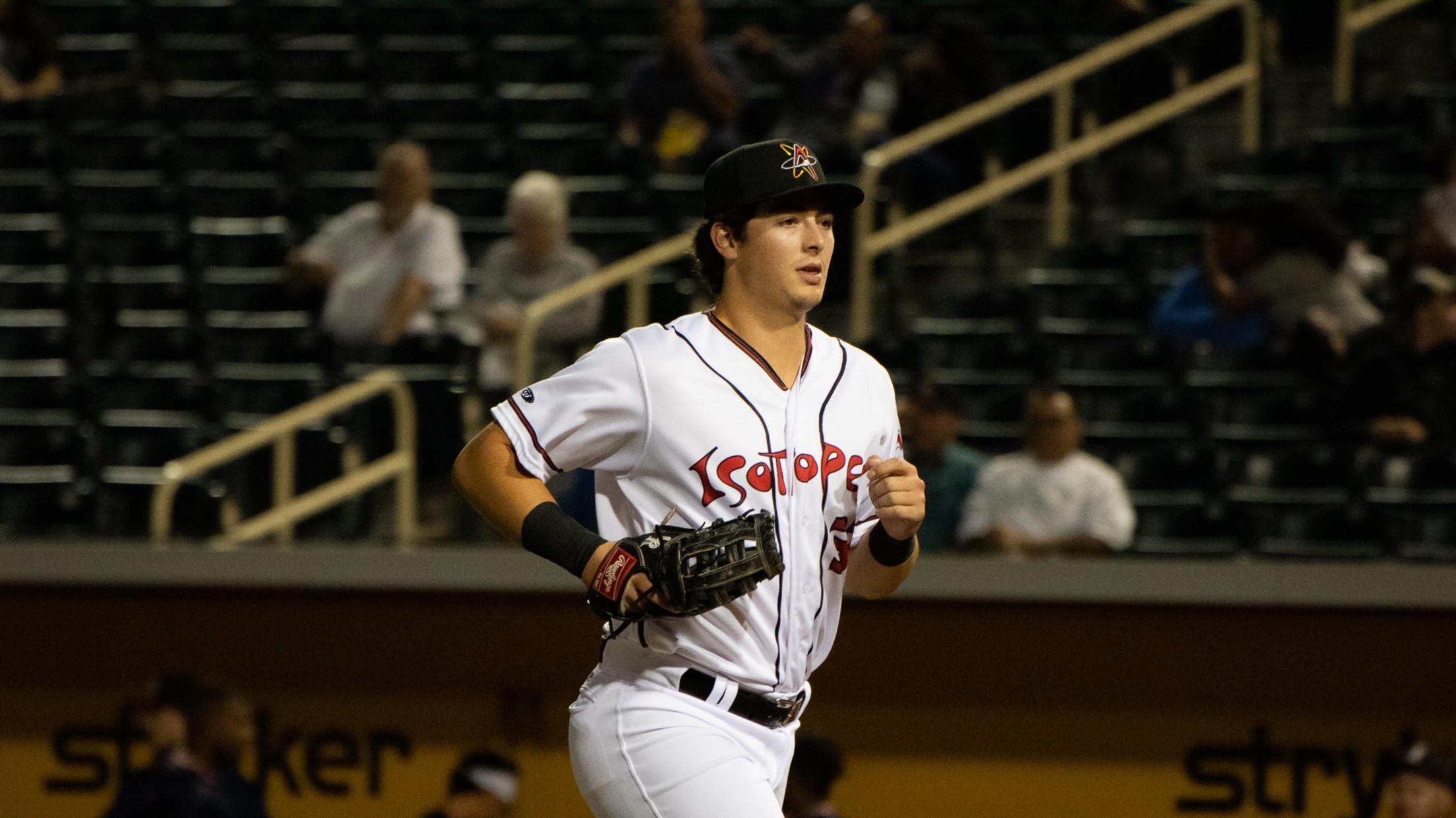 Tacoma, WA – Playing their first game at Cheney Stadium in 1,198 days, the Albuquerque Isotopes got off to a good start thanks to a three-run homer from Michael Toglia, but the early lead did not hold up. The host Tacoma Rainiers launched four homers of their own in the
Tacoma, WA – Playing their first game at Cheney Stadium in 1,198 days, the Albuquerque Isotopes got off to a good start thanks to a three-run homer from Michael Toglia, but the early lead did not hold up. The host Tacoma Rainiers launched four homers of their own in the first five innings, then tacked on late insurance for an 8-4 win over the Albuquerque Isotopes in the series opener Tuesday afternoon.
After two walks by Rainiers starter Chris Mazza in the top of the first, Toglia deposited a three-run homer over the right field wall on his 24th birthday to give Albuquerque (50-61) a 3-0 lead. It also marked Toglia's return to the Pacific Northwest, as he attended Gig Harbor High School which is 14 miles away from Tacoma.
Albuquerque starter Ashton Goudeau had a rough day, surrendering five runs (coming on four long balls) over five innings to drop to 0-7 at Triple-A this season.
Mason McCoy reached Goudeau for a two-run blast in the second, but Sean Bouchard answered with a solo drive in the third to make it 4-2 Isotopes.
Tacoma (51-61) connected on a solo homer in each of Goudeau's final three innings: Jarred Kelenic in the third, Derek Hill in the fourth and Evan White in the fifth.
With the score still 5-4 in the bottom of the eighth, the Rainiers plated three runs off Julian Fernández, all with two outs. McCoy ripped an RBI double before Hill blooped a base hit into right, scoring two runs.
Topes Scope: - The Isotopes mustered just six hits and have compiled a .227/.280/.436 slash line with just 26 runs scored over the last seven games.
Albuquerque has dropped six consecutive road games, one shy of their season-worst set from April 7-21. It is also their ninth losing streak of at least three in a row this year.
- Goudeau's four homers allowed tied for the season-worst by an Isotopes pitcher. Corey Oswalt gave up a quartet over 4.2 innings on July 23 vs. Sugar Land. It was also the first time Goudeau has ever given up four long balls in a game in his professional career, his previous worst was three on a pair of occasions.
- Goudeau has given up four or more runs in nine of his 12 Triple-A starts in 2022. Albuquerque is 2-10 when he pitches, including losses in nine consecutive contests.
- The Isotopes relented four long balls today after Reno only connected on three against their pitching staff during the previous six-game series.
- Bouchard has homered three times in his last six games, and is 6-for-18 during the stretch.
- In the sixth and seventh, Joel Peguero and Reagan Todd combined to throw 26 pitches and only nine for strikes, while walking three. However, neither allowed a run due to a double-play grounder and caught stealing.
- After posting a 1.27 ERA in 21 appearances from June 4-Aug. 5, Fernández has allowed eight runs (seven earned) over 4.0 innings in his last four outings.
- Carlos Pérez snapped a 1-for-17 drought by going 2-for-4 with a double. It was his 25th multi-hit game of the season, second on the team behind Wynton Bernard (34).
- Ryan Vilade was 0-for-2 with two walks and is 4-for-33 over his past nine contests.
- The time of game was just 2:18, bringing Albuquerque's average to 2:20 over the last seven ballgames.
On Deck: The Isotopes and Rainiers play game two of their six-game series tomorrow evening from Cheney Stadium. Right-handed pitchers Brandon Gold and Darren McCaughan are slated to start. First pitch is scheduled for 8:05 p.m. MT.