D-backs' Diaz improves on cycle for Cougars
11th-ranked prospect drills three-run homer, rips pair of triples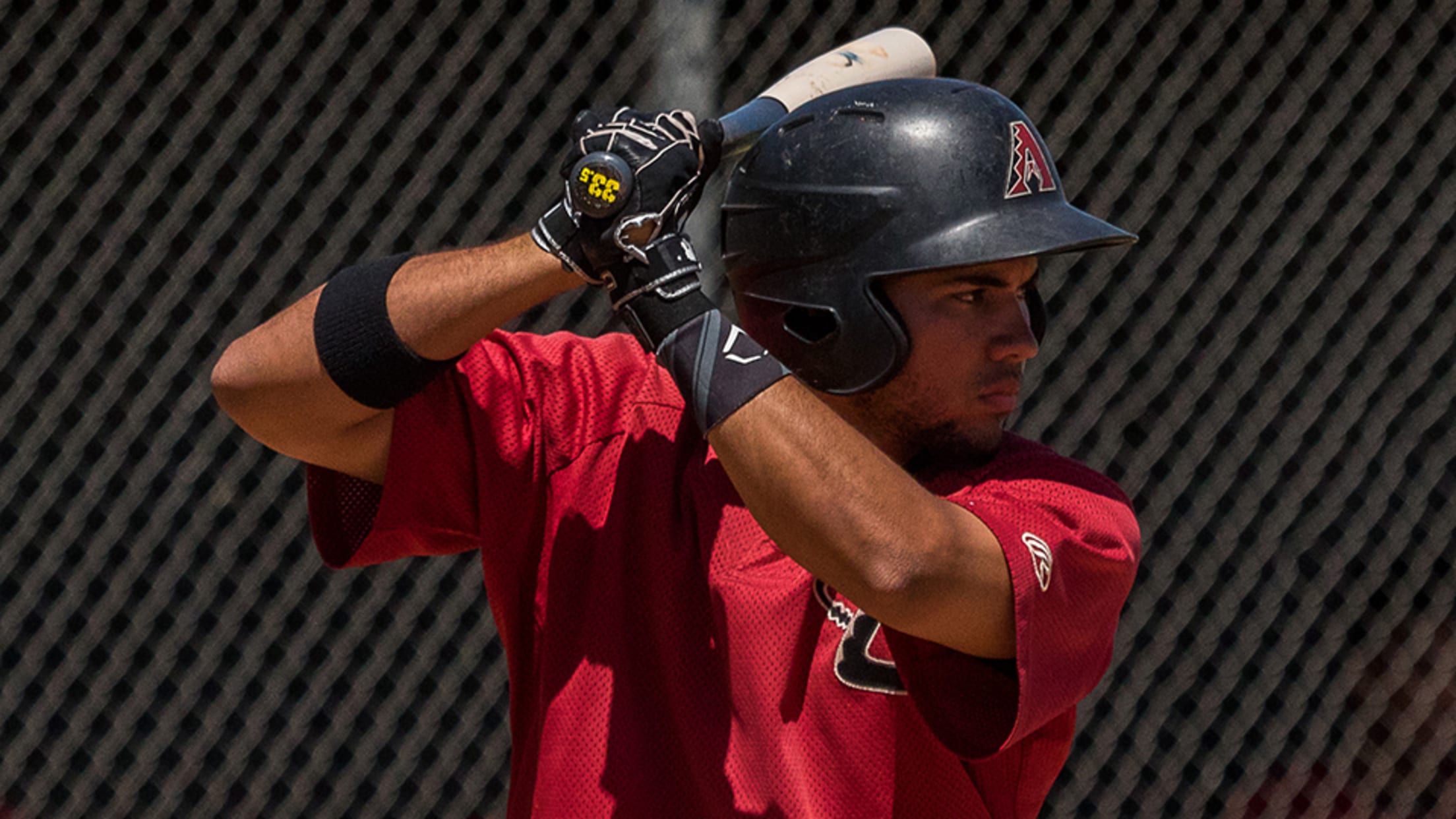 Eduardo Diaz accumulated 11 total bases, nearly equaling the 12 he had in his previous 15 games. (Freek Bouw/Phrake Photography)
A stay in extended Spring Training delayed Eduardo Diaz's start to the season. Debuting with Class A Kane County on May 3, he entered Tuesday's matchup against Cedar Rapids batting just .161.But the D-backs' No. 11 prospect broke out with four hits Tuesday -- a three-run homer, a pair of
A stay in extended Spring Training delayed Eduardo Diaz's start to the season. Debuting with Class A Kane County on May 3, he entered Tuesday's matchup against Cedar Rapids batting just .161.
But the D-backs' No. 11 prospect broke out with four hits Tuesday -- a three-run homer, a pair of triples and a bunt single -- to finish with four RBIs and three runs scored. Had he pulled up 90 feet earlier on one of his triples, Diaz would have achieved a cycle in the Cougars' 8-7 win at Northwestern Medicine Field.
"He's still trying to get comfortable at the plate, obviously," Kane County hitting coach Rick Short said. "I think maybe he was pressing a little bit at the plate the first couple of weeks here. We just kind of talked to him the last couple of days about staying relaxed. He's an athlete. That's his strongest quality. We just want his athleticism to come through at the plate and I think it did today."
With a runner on first and no outs in the second inning, Diaz bunted for a hit to get himself going. Short said it was the second straight day he laid one down for a base hit.
"It's back-to-back days he's put down perfect bunts," Short said. "Sometimes that can get a guy going."
If that was Diaz's intention, it certainly worked. The rest of his hits landed much further from home plate.
Gameday box score
The 20-year-old came up with runners on the corners in the third and drove a 2-0 pitch down the middle from Cedar Rapids starter Tyler Watson over the left-field wall for a three-run shot and his first homer of the season.
"He did a really nice job of keeping his barrel in the zone," Short said. "He's got a real nice length to his swing that he allowed him to catch him out front. Eddy's got strength to the pull side."
Diaz whiffed on two offerings from Watson in the fifth, but worked a 2-2 count with one out. This time, he yanked a down-and-in pitch to left for his first triple of the game, eventually coming around to score on a wild pitch.
"Like I said, he was moving the barrel around the zone and squaring up balls all day," Short said.
In the seventh, the Venezuela native went the other way and plated Ernie De La Trinidad with a triple to right. The Cougars' dugout never implored him to stop at second for the cycle. The team has too much fun watching Diaz use his 60-grade speed on the basepaths, Short said.
"It's not often that guys miss the cycle by getting an extra triple, so that was neat to see," he said.
Once again, Diaz dashed home after a wild pitch, this time giving the Cougars a lead they would not relinquish.
Speed is a huge tool for Diaz, who profiles as a true center fielder, Short said.
"Basically, he'd be an athlete in the middle of the field," the hitting coach said. "His speed actually translates to both sides of the ball. It's real nice to watch him go get fly balls. He can really run some balls down. That adds to your defense and obviously it's a factor on offense, too."
It was the 6-foot-2, 175-pound prospect's third four-hit game in the Minors; Diaz accomplished the feat twice with Rookie-level Missoula last season. The outburst was his second multi-hit performance in 16 games this year. In the course of one afternoon, Diaz raised his batting average 51 points.
The main impetus of Diaz's delayed arrival to the Midwest League was the organization's desire to give him extra work in a warmer climate.
"Sometimes the weather here in the Midwest can be a little rough," Short said. "A younger guy like that, you just do whatever you can to help his development. I think when the time was right they sent him here."
Diaz won't have three extra-base hits every game, but Short hopes Tuesday's performance can serve as a springboard. The hitting coach said the key for him will be to continue relaxing at the plate and letting his athleticism play up.
"When he gets out of his own way, he's got a high ceiling," Short said.
Twins top prospectRoyce Lewis went 2-for-5 with a run scored, while sixth-ranked Alex Kirilloff went 1-for-2 with two walks for Cedar Rapids.
Chris Bumbaca is a contributor for MiLB.com based in New York. Follow him on Twitter @BOOMbaca.