Jackson powering his way forward in AFL
Braves No. 16 prospect having fun following trade, return to catcher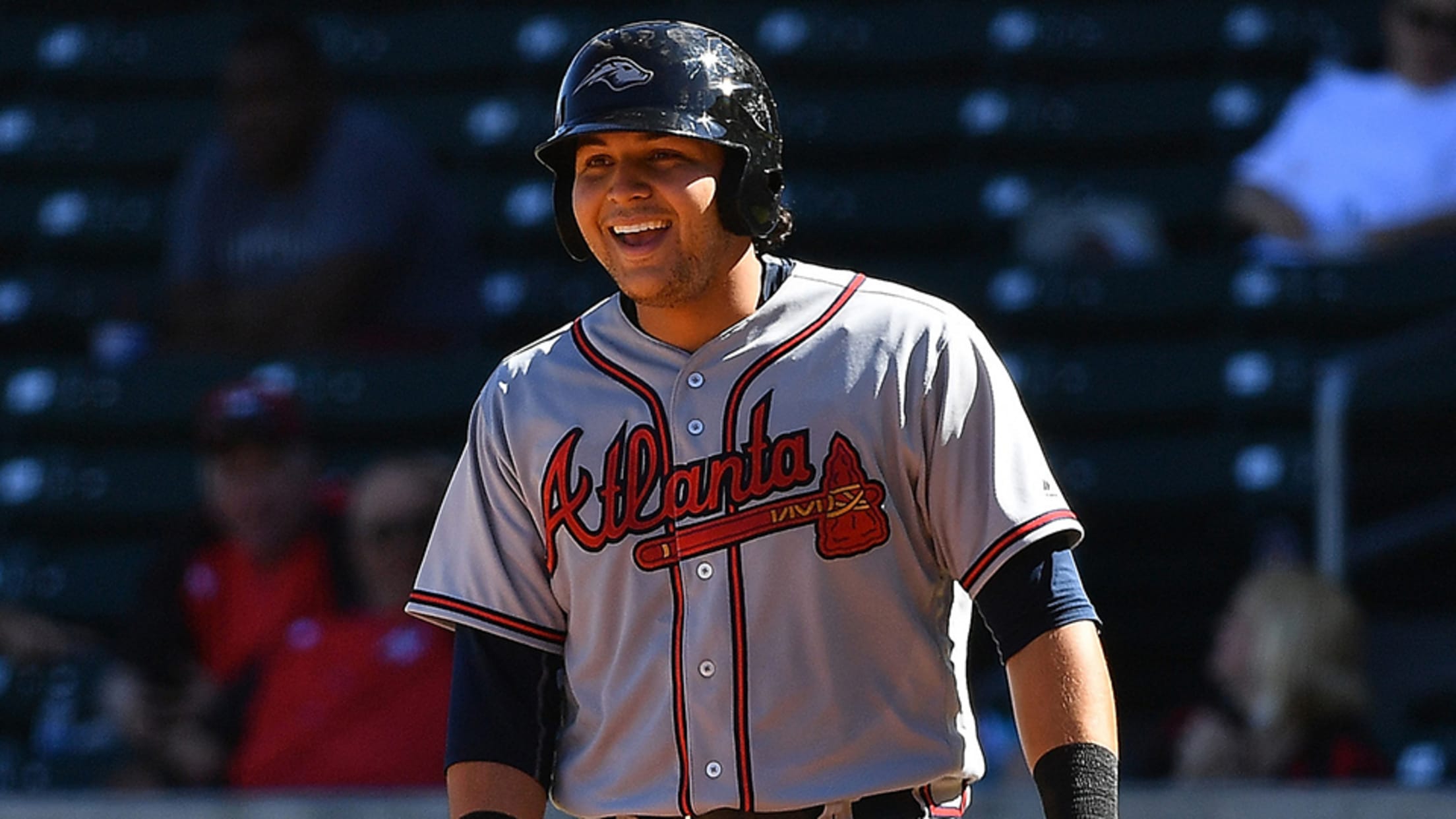 Alex Jackson is tied for the Arizona Fall League lead with five home runs in 15 games for the Javelinas. (Jennifer Stewart/MLB Photos)
Alex Jackson's career didn't get off to the start he envisioned, and he's fine with that now."In all honesty, the past is the past -- that's not even a thought in my mind," Jackson said. "Right now I'm having a good time. You live and you learn and you move
Alex Jackson's career didn't get off to the start he envisioned, and he's fine with that now.
"In all honesty, the past is the past -- that's not even a thought in my mind," Jackson said. "Right now I'm having a good time. You live and you learn and you move on and try to make the best of the opportunity ahead of yourself. It's an honor to be out here in the [Arizona] Fall League, and I'm enjoying myself."
Of course, having fun is easier when you're performing at a high level in a league full of future stars. While top organizational prospects Ronald Acuña Jr. (Braves), Victor Robles (Nationals) and Francisco Mejía (Indians) headline the star-studded Arizona Fall League, Jackson's success has been one of the circuit's biggest developments thus far.
Atlanta's 16th-ranked prospect is tied for the AFL lead with five home runs and nearly hit for the cycle on Oct. 18. His 13 runs scored for Peoria are tied for fourth on the circuit, while his 35 total bases sit sixth. Jackson's .283/.338/.583 batting line places him just outside the top 10 in OPS, while his slugging percentage ranks fourth behind Acuna, Austin Riley and Eric Filia, a Mariners prospect who has moved beyond his own past to thrive under the bright lights.
"We have fun here -- we all compete hard and we all have a fun time," Jackson said. "It's enjoyable having teammates here, guys we know and play against. It's a fun atmosphere. The opposing teams are good and pitchers and hitters know what to do; it brings out the competitiveness. We're having a good time and it shows on the field."
At this time two years ago, it wasn't easy to envision Jackson as the AFL's co-leader in homers. After being drafted sixth overall in 2014 by Seattle and moving from catcher to the outfield in an attempt to fast-track his path to the Majors, the then-18-year-old hit .280/.344/.476 with two home runs and 16 RBIs in 23 games for the Rookie-level AZL Mariners, a promising debut for a highly touted bat getting used to a new position.
A Spring Training shoulder injury led to a slow start in 2015 with Class A Clinton, where he hit .157/.240/.213 with 35 strikeouts in 28 games before being sent to extended spring training and getting shut down for a month due to lingering shoulder issues. He returned in June with Class A Short Season Everett and hit .259/.355/.444 with two homers and 11 RBIs in 23 games before hurting his left hand and missing three weeks of action. Activated in August, he finished with a .220/.375/.488 batting line in his final 25 games with six homers and 14 RBIs.
A return to the LumberKings in 2016 produced more mediocre results after a six-week stint in extended spring to start the season: .243/.332/.502 with 11 homers, 55 RBIs and 103 strikeouts over 92 games. The Mariners traded him along with a player to be named later -- left-hander Tyler Pike -- for right-handers Max Povse and Rob Whalen that November, less than a month before Jackson's 21st birthday.
"It's just like any other trade where you find out you're going to another team, and it's just something you look forward to -- new opportunities, new teammates, a new coaching staff and front office," Jackson said. "You always have to go into things with your mind open, look for the best in that, have fun and enjoy yourself."
One of the first orders of business for Atlanta was moving Jackson back behind the plate, where he starred at Rancho Bernardo High School in San Diego. Despite a stacked farm system, the Braves lacked a long-term answer at the position, and Jackson was excited to don the tools of ignorance once again.
"The Braves and I sat down, we talked about it and I talked with my agent Scott Boras about it and we just weighed options," Jackson said. "It was something I wanted to do and I was looking forward to it, and now we're here."
Jackson wasted no time resurrecting his career as a backstop, hitting .301/323/.581 with seven homers and 17 RBIs in April at Class A Advanced Florida. After 66 games, he had cranked 14 long balls, driven in 45 runs and kept his batting average at .272, prompting a promotion to Double-A Mississippi. His numbers dipped slightly at Double-A, but the 21-year-old ended his season with 19 homers, 65 RBIs and an .808 OPS over 96 total games -- an improvement aided in part by the move back to catcher.
"It's everything put into one -- just being yourself, letting pitchers come to you and seeing good pitches to hit. Being able to work with your pitchers defensively and learn how to call games and using that approach in my own at-bats," said the 6-foot-2, 215-pound California native. "You learn from pitchers the strategy they use to get hitters out. You just learn from everything and put it all together and good things will happen."
Jackson's bounce-back season earned him an AFL assignment with an eye on continuing to develop at catcher while testing the improvements he's made at the plate against top-flight pitching. While reports on his defense have been lukewarm, Jackson possesses an above-average arm and hopes to develop enough to stick behind the plate, where his power bat will play up in comparison to a corner outfield spot.
He's shown enough improvement throughout the season on defense that Atlanta still very much envisions his future being at backstop. After making 10 errors with a .973 fielding percentage in 368 total chances with Florida, Jackson bettered both marks during his time in Mississippi, making two errors and posting a .990 fielding percentage in 208 chances.
"When you come to the fall league, it's an honor, but you know you come here to work on all your skills -- it's not just certain skills," Jackson said. "Offensively, defensively, calling games, working with pitchers and position players, reading defenses - you're always working on something, and it's pretty much a full go-around learning how to handle different situations and just trying to improve your all-around game."