Aviators ride Jefferies' arm, Thomas' bat to 5-1 win over El Paso
Daulton Jefferies allows just three hits in a season-high seven innings, and red-hot Cody Thomas belts two homers to lead Las Vegas to series-opening victory over Chihuahuas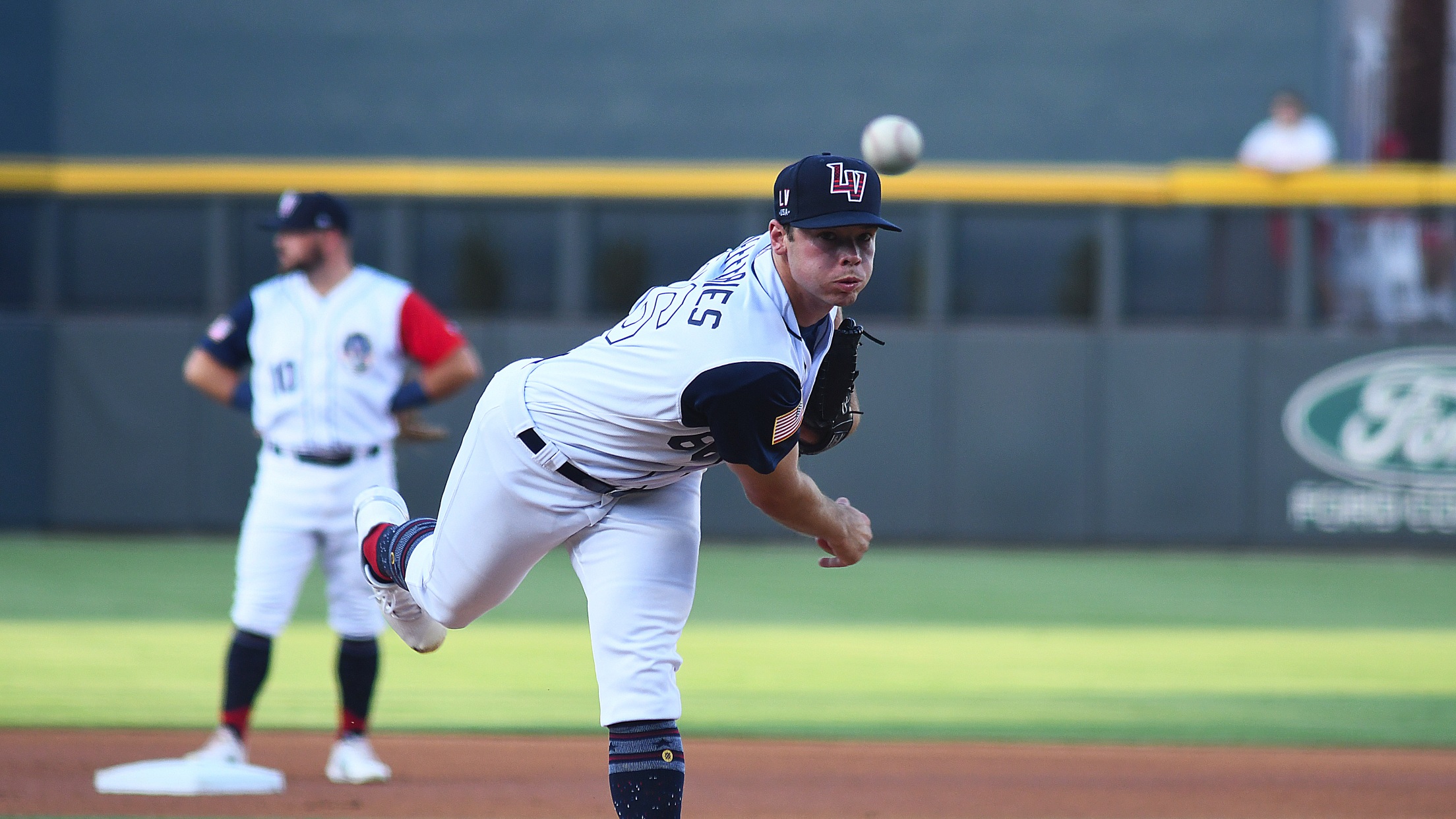 Aviators starting pitcher Daulton Jefferies thoroughly dominated the El Paso Chihuahuas on Thursday night at Las Vegas Ballpark, surrendering just three hits in seven innings. The right-hander retired 20 of the final 22 batters he faced. (Steve Spatafore | Las Vegas Aviators)
Through the first two seasons at hitter-happy Las Vegas Ballpark, Aviators fans have been treated to about as many dominating pitching performances as they have 70-degree evenings. The 6,946 fans who were lucky enough to be in attendance Thursday night witnessed a masterpiece that would've made Jacob deGrom blush. Facing
Through the first two seasons at hitter-happy Las Vegas Ballpark, Aviators fans have been treated to about as many dominating pitching performances as they have 70-degree evenings. The 6,946 fans who were lucky enough to be in attendance Thursday night witnessed a masterpiece that would've made Jacob deGrom blush.
Facing the El Paso Chihuahuas in the opener of a six-game series, right-hander Daulton Jefferies tossed seven spectacular innings, allowing only three hits — and just one after the first inning — to lead the Aviators to a 5-1 victory.
Outfielder Cody Thomas continued his torrid hitting by hammering two of his team's three home runs as Las Vegas (30-31) won its fourth straight home game and improved to 7-3 in its last 10 overall. But as impressive as Thomas' aerial show was, this night belonged to Jefferies.
After starting the game by giving up a leadoff single and a one-out run-scoring double, the 25-year-old top prospect of the Oakland A's absolutely toyed with the Chihuahuas, effortlessly retiring the next 16 batters in a row. El Paso second baseman Ivan Castillo broke the string when he singled sharply to center field with two outs in the top of the sixth, but Jefferies immediately regrouped and recorded four more outs in a row to become the first Las Vegas starter this season to get through seven innings.
While the Central California native was cruising on the mound, Thomas and third baseman Vimael Machín were providing the offensive muscle. With two outs in the second inning, Machín belted a two-run homer that splashed into the pool beyond center field, erasing El Paso's 1-0 lead.
Then Thomas, the reigning Triple-A West Player of the Week, once again showed off his prodigious power, crushing solo homers in consecutive at-bats — the first leading off the fourth and the second with two outs in the sixth — to put Las Vegas ahead 4-1. An inning later, Machín added an insurance run when he scored on Greg Deichmann's one-out RBI single.
Armed with a four-run lead, Jefferies returned to the mound to start the eighth, but after issuing a leadoff walk to El Paso left fielder Gosuke Katoh, Aviators manager Fran Riordan made the call to the bullpen. As he slowly strolled toward his dugout, Jefferies received a loud ovation from the crowd and pats on the back from his teammates.
The kudos were well-deserved, because Jefferies wasn't just dominant, he was extremely efficient. He needed just 86 pitches to get through his seven-plus innings; 62 of those pitches were for strikes; he threw first-pitch strikes to 15 of the 24 batters he faced (including 13 of the first 17 to start the game); he threw 10 pitches or fewer over a four-inning stretch (from the fourth through the seventh); and he didn't have a three-ball count until the final batter he faced.
Jefferies — who entered Thursday with a 7.79 ERA in four home starts — finished the night with just the one walk and three strikeouts while improving to 3-1 on the season. In short, he turned in the most impressive outing by any Aviators pitcher this season — and arguably the most impressive in the brief history of Las Vegas Ballpark.
GAME NOTES: After Jefferies departed, Grant Holmes came on and pitched the final two innings, allowing just one baserunner (single) and striking out three. … Thomas now has a team-high 18 home runs this season, which ties him with Salt Lake's Jo Adell for the Triple-A West lead. He also leads the Aviators with 49 RBI, and his 38 extra-base hits lead the league. … Prior to Thursday, no Las Vegas starter had pitched more than six innings in any game this season. Four pitchers have combined to go six innings 11 times, with Jefferies doing it twice. … After setting a franchise record by hitting at least one home run in 21 consecutive games from June 4-27, the Aviators failed to go deep in their next four games. Since then, however, Las Vegas has cleared the fence in 10 of its last 11 games, the lone exception being a 1-0 loss. … Aviators relief pitchers continue to outpace the starting staff in terms of innings pitched this season (276 1/3 innings vs. 264 2/3 innings). The bullpen sports a 21-14 record, while the starters are 9-17. … Las Vegas Ballpark has welcomed 196,133 fans through the first 31 home games of the 2021 season (6,327 per game).
STILL STREAKING: Aviators infielder Nate Mondou extended his hitting streak to six games with his first-inning single. He's batting .423 (11-for-26) during the streak, and since July 3, the 26-year-old Washington native has hit safely in 10 of 11 games, recording multiple hits in eight of those contests. For the month, Mondou is batting .400 (20-for-50) with seven doubles, nine runs and nine RBI.
Austin Allen singled in the sixth inning and now has hit safely in 18 of his last 19 contests, including a 15-game hitting streak from June 17-July 9. During the 19-game stretch, the veteran catcher is batting .338 (26-for-77) with five homers, five doubles, 11 runs and 13 RBI. Also, fellow catcher Carlos Pérez (1-for-4) has hit safely in 10 of 12 games in July, during which he's batting .380 (19-for-50) with six homers (two grand slams) and 18 RBI.
TRANSACTION ACTION: Veteran right-handed pitcher Homer Bailey, who on June 28 signed a minor-league free-agent contract with the Oakland A's (parent club of the Aviators), is slated to join the Aviators on Friday and start the second game of the series against El Paso.
Bailey is 81-86 with a 4.56 ERA in 14 major-league seasons with four clubs (Cincinnati, Kansas City, Oakland and Minnesota). He threw two no-hitters in consecutive seasons (2012 and 2013) for the Reds.
In other roster news, infielder Edwin Diaz (who has been on the disabled list since suffering an oblique injury June 6) will begin a rehab assignment in the Arizona League, while outfielder Austin Beck has been optioned back to Single-A Lansing (Michigan). Beck appeared in eight games for Las Vegas, going 3-for-20. All three hits were two-run homers, and they came in three straight games from July 4-6.
Finally, catcher Cooper Uhl joined the Aviators from Single-A Stockton (California) on Sunday. Las Vegas now has four players on its roster whose primary position is catcher: Allen, Peña, Pérez and Uhl.
LET THEM (CONTINUE TO) PLAY: Minor League Baseball and Major League Baseball jointly announced this week a 10-game extension of the 2021 Triple-A baseball season. All 30 Triple-A squads will play five additional home and road games, which will push the Aviators' season — which was slated to conclude on September 21 — to Sunday, October 3.
Las Vegas will host the Oklahoma City Dodgers at Las Vegas Ballpark from September 23-27, then wrap up the season in Reno from September 29-October 3.
** ON DECK:** After Bailey departs Friday's game against the Chihuahuas, regularly scheduled starting pitcher Brian Howard (2-3, 5.90 ERA) is expected to take over on the mound for the Aviators. The 6-foot-9 Howard, who has had a no-decision in each of his previous three starts, is scheduled to oppose fellow righty Caleb Boushley (2-2, 5.57).
First pitch is at 7:05 p.m., with the first 2,000 fans through the gates receiving a free clear tote bag. Click here to purchase tickets.
Catch every Aviators game throughout the season on Raider Nation Radio 920-AM, and follow us on Twitter, Instagram and Facebook @AviatorsLV.