Shuckers Surge Past Biscuits With Walk-off Grand Slam In Extras, 6-2 (11)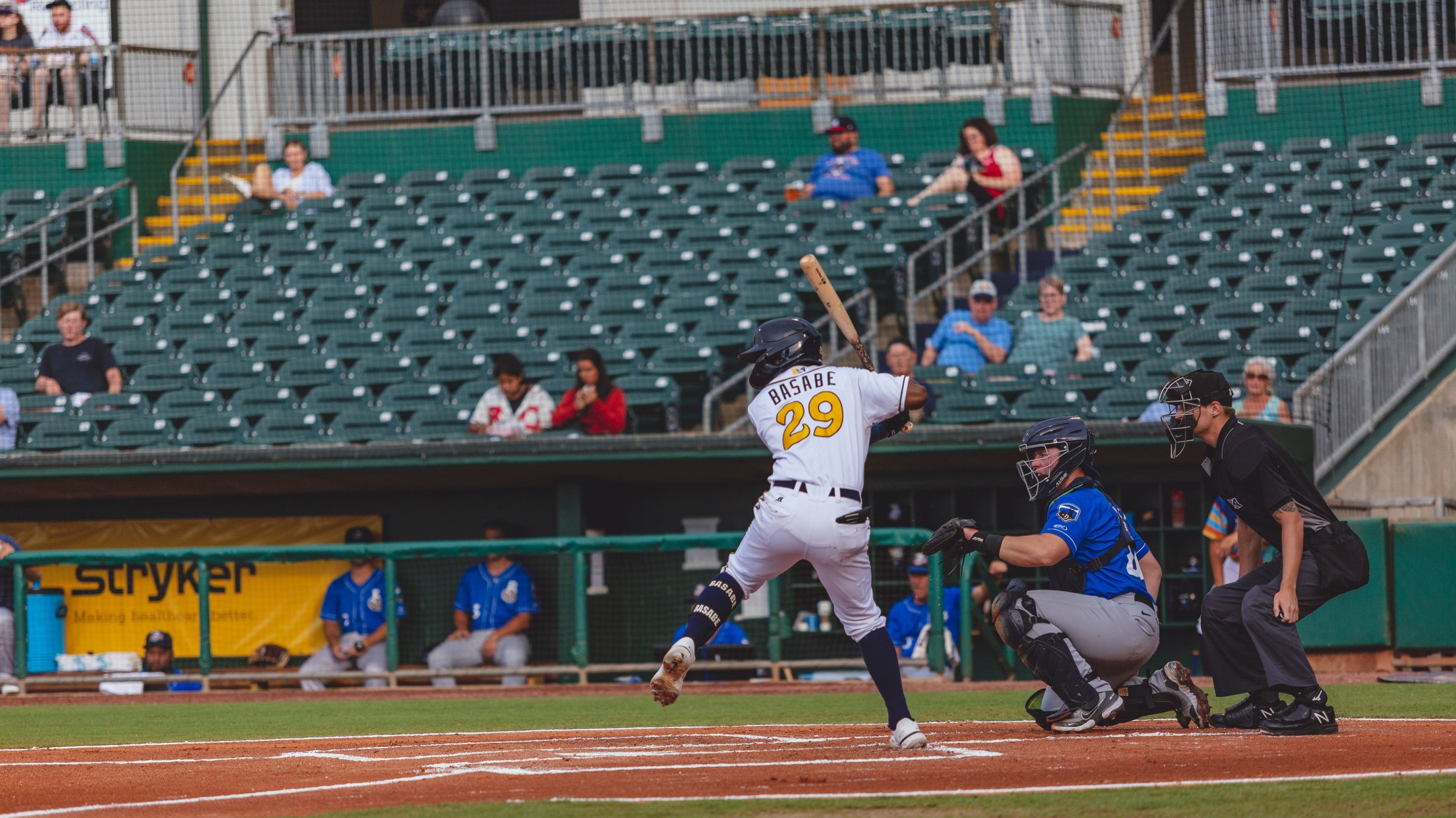 BILOXI, Mis . – The Biscuits (43-46/15-12) lost the series finale against the Biloxi Shuckers (46-48/12-15) in their third straight extra-inning game by the score of 6-2. After a tightly contested contest, it was the Shuckers who found a surge late with four runs in the 11th inning to defeat
BILOXI, Mis . – The Biscuits (43-46/15-12) lost the series finale against the Biloxi Shuckers (46-48/12-15) in their third straight extra-inning game by the score of 6-2. After a tightly contested contest, it was the Shuckers who found a surge late with four runs in the 11th inning to defeat the Biscuits.
The first four innings were merely uneventful. The Shuckers were close to putting a run on the board in the first inning with a pair of singles from Andrew Monasterio and Joey Weimer. After Weimer stole second, Biloxi had runners at second and third with two outs, however Biscuits starter Mason Montgomery was able to force a groundout to get out the inning.
In the fourth, Biloxi was able to successfully get their first run of the day when Gabe Holt hit an RBI-single. In the next inning, a passed ball by Shuckers' Jason Lopez allowed Biscuits' Diego Infante to score and tie the game. In the sixth, Biscuits Jordan Qsar connected on a go-ahead RBI-single to give the Biscuits the lead. The lead did not last for long, in the bottom of the inning a wild pitch by Montgomery Graeme Stinson sent Thomas Dillard home to tie the game at two.
For the remainder of the game neither team could score and the series finale made it way to extra innings. After four scoreless innings the 11th finally brought some action thanks to the bat of Montasterio. Montasterio hit a walk off grand slam to end the series finale with an exclamation mark for the Shuckers. For Montgomery they now move to 5-7 in extra-inning games of the year and continue to sit second in the division, two games behind the Mississippi Braves.
The Biscuits return to Montgomery for Alabama Weekend starting Tuesday, August 2nd with Golden Biscuits Tuesday at 6:35 PM CT, Military Wednesday presented by WOW Wednesday, August 3rd, Sweet Grown T-shirt giveaway presented by ALFA Insurance, and Thirsty Thursday, August 4th, Outdoors Night - Tribute to Humidity Friday, August 5th at 6:35 PM CT, College Football Night Saturday, August 6th at 6:05 PM CT, and Kids Water Bottle Giveaway and Bark In the Park Sunday at 3:33 PM CT.