Bisons Cruise Past Wings, 10-2 Buffalo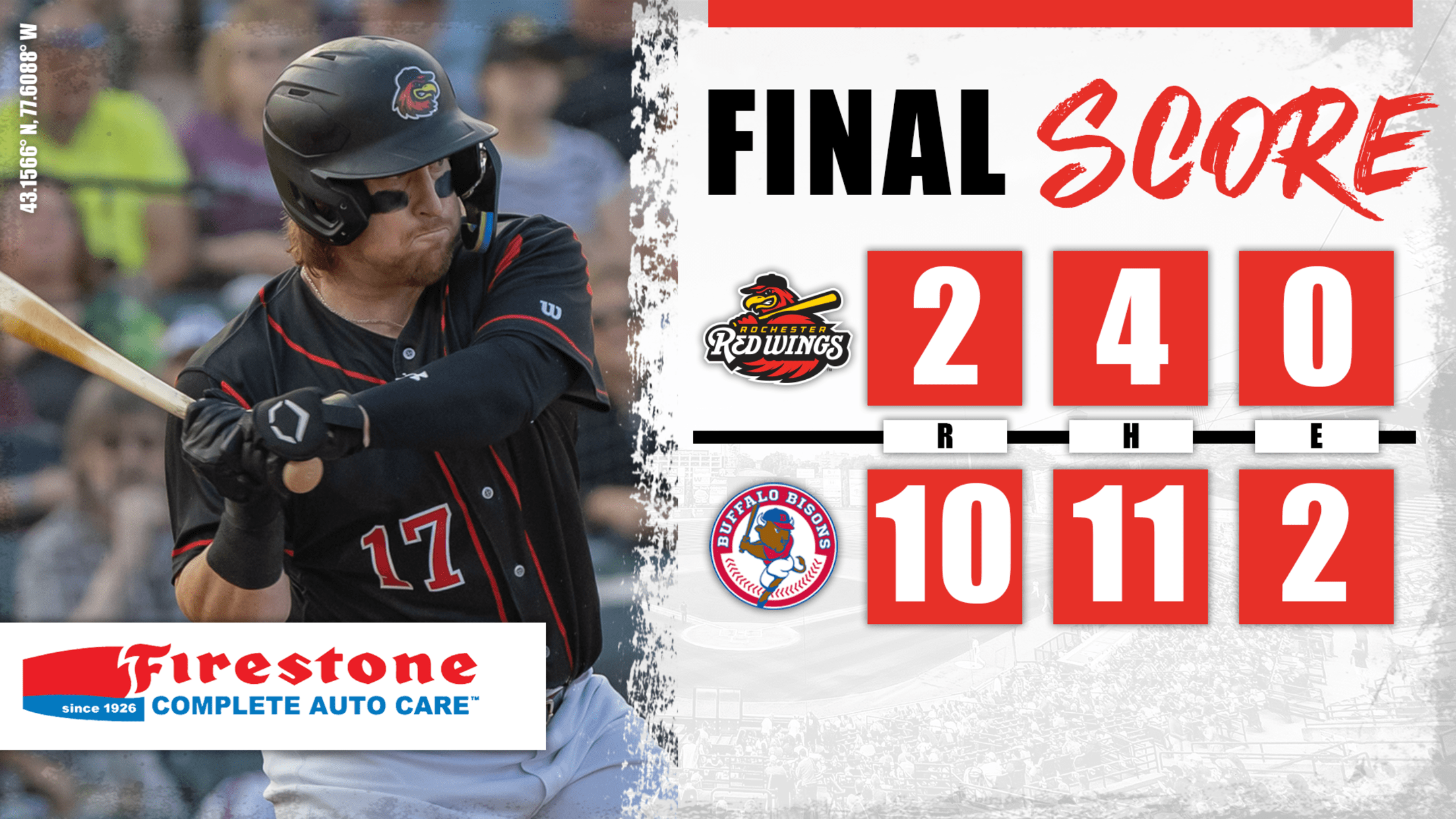 The Rochester Red Wings lost Thursday night on the road by a score of 10-2. The Wings two runs of offense came on groundouts in the sixth. RHP Franklyn Kilome got the start for the Red Wings, pitching 2.2 innings, walking five, allowing two earned runs. The Bisons started scoring
The Rochester Red Wings lost Thursday night on the road by a score of 10-2. The Wings two runs of offense came on groundouts in the sixth.
RHP Franklyn Kilome got the start for the Red Wings, pitching 2.2 innings, walking five, allowing two earned runs.
The Bisons started scoring with two in the bottom of the third.
LHP Alex Troop made his debut on the mound for the Wings in relief of Kilome, finishing with 0.2 innings pitched, surrendering a hit and a walk. Troop becomes the 80th different player to have appeared in a game for the Red Wings this season, as Rochester continues to add to their franchise-record number, which previously stood at 77.
Two solo shots in the bottom of the fifth would put Buffalo ahead 4-0.
In the top of the sixth, the Wings would respond. 1B John Nogowski would be hit by a pitch before 3B Jake Alu extended his hit streak to 10 games with a sixth inning single. With two on, groundouts by LF Nick Banks and RF Jack Dunn would score Nogowski and Alu. The two runs would bring make the score 4-2.
The Bisons would score six in the bottom of the sixth, capping their rally with a three-run home run.
RHP Matt Brill and LHP Matt Cronin would pitch a scoreless seventh and eighth inning, respectively. The scoreless outing for Brill marks his sixth straight outing without allowing a run.
The Red Wings continue their series in Buffalo at 6:05 p.m., as they send RHP Logan Verrett (7-9) to the mound looking to rebound.