Blasts by Tom and Johnson push Ducks past Baysox, 7-3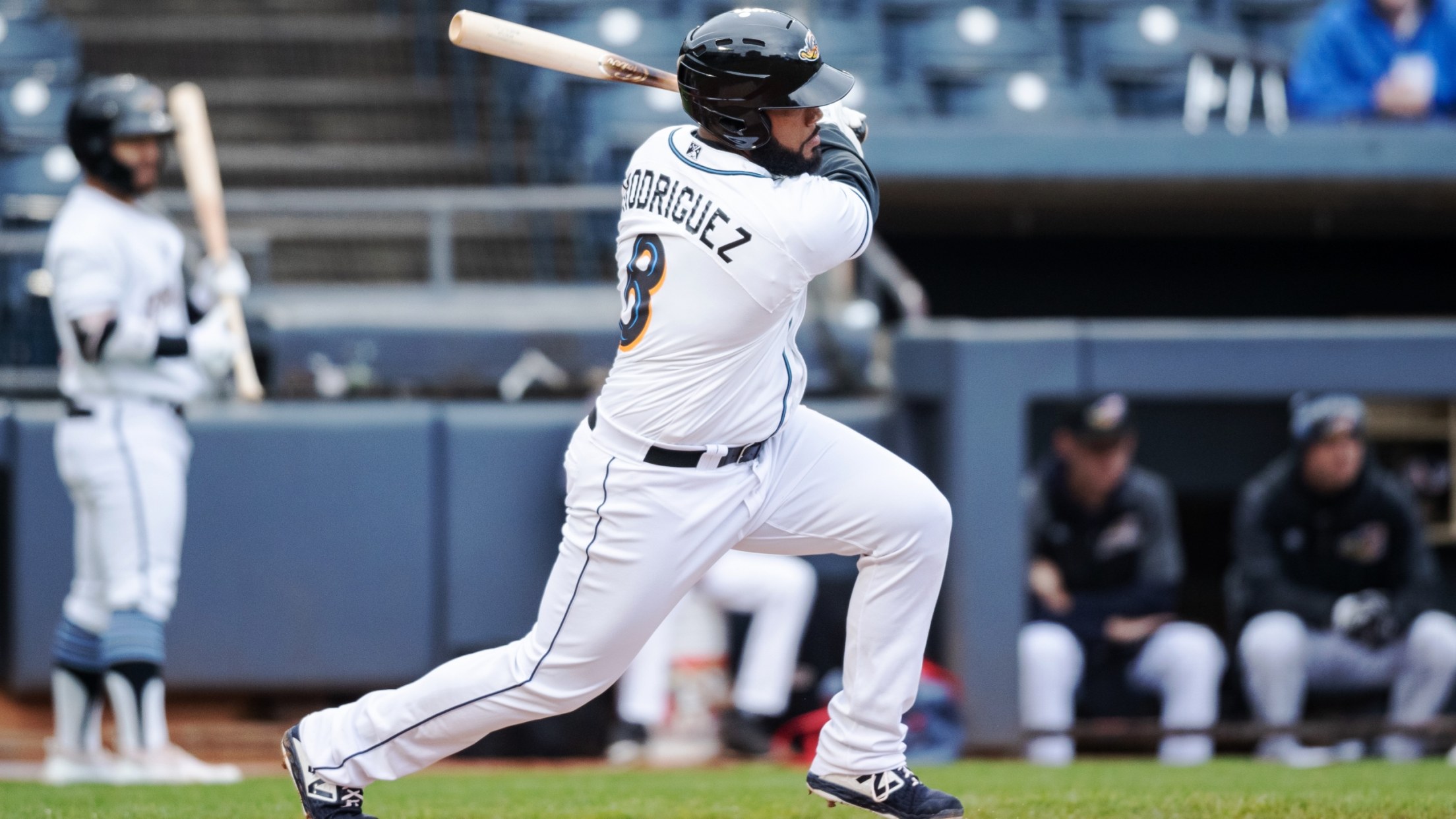 Nellie Rodriguez went 2-for-4 with a run scored in his second game back with the RubberDucks in a 7-3 win vs. Bowie on Monday in Akron. (David Monseur)
RubberDucks Game RecapAkron RubberDucks (16-20) 7 - Bowie Baysox (11-25) 3WP: Tanner Tully (3-3) LP: Hunter Harvey (1-3) Save: noneSummaryThe Akron RubberDucks jumped out to a 7-0 lead, powered by fourth inning home runs from Ka'ai Tom and Daniel Johnson , and held on for a 7-3 win over the
RubberDucks Game Recap
Akron RubberDucks (16-20) 7 - Bowie Baysox (11-25) 3
WP: Tanner Tully (3-3) LP: Hunter Harvey (1-3) Save: none

Summary
The Akron RubberDucks jumped out to a 7-0 lead, powered by fourth inning home runs from Ka'ai Tom and Daniel Johnson , and held on for a 7-3 win over the Bowie Baysox on Monday night win at Canal Park.
Turning Point
Leading 2-0 entering the fourth inning, the RubberDucks broke through, scoring five runs off Bowie starter Hunter Harvey and sending eight men to the plate in the inning. Ka'ai Tom led off the inning with a solo home run and Daniel Johnson added three more runs on a blast to the seats just beyond the right field fence.
Mound Presence
Akron RubberDucks starter Tanner Tully took care of Bowie in his previous two starts against the Baysox, allowing only one earned run in 11 innings pitched. Tully held the Baysox scoreless until the top half of the sixth inning, when the Baysox added a solo homer by Ryan McKenna, an RBI single to right field by Carlos Perez. He left the game with two runners on in the sixth when Matt Whitehouse relieved him. Whitehouse allowed an infield single, but a throwing error by second baseman Drew Stankiewicz allowed Rifaela to score an unearned run against Tully. Nick Sandlin threw a scoreless eighth and Dalbert Siri threw a scoreless ninth.
Duck Tales
The RubberDucks continued their offensive success, following up their 15-2 victory Saturday at Reading with seven runs and two home runs against the Bowie Baysox. Ka'ai Tom hits his third home run in two games with a solo shot into the right field bullpens in the fourth inning. Tom would be followed later in the fourth inning by a Daniel Johnson three-run blast, extending the RubberDucks lead to 7-0. Nellie Rodríguez went 2-for-4 and scored a run in his second game back with Akron.
Notebook
Daniel Johnson has now homered in three of the past four games and driven in eight runs over that span… Ka'ai Tom has three homers in the last two games and hit safely in 7-of-his-last-8 games dating to May 5…Akron is now 7-1 vs. Bowie in 2019…Akron was 5-for-10 with RISP…Time of game: 2:35…Attendance: 2,438.
On the Pond
The RubberDucks will now play back-to-back 10:35 a.m. games Tuesday and Wednesday from Canal Park against the Bowie Baysox. RHP Jake Paulson (2-0, 4.67) is slated for Akron and LHP Zac Lowther (2-3, 2.73) is scheduled for Bowie. The game will be broadcast on Fox Sports 1350 AM, the WARF iHeart channel, and the TuneIn Radio App.