Perez Shines Again In Pitching Duel, Then Blue Wahoos Rally For Fourth Straight Win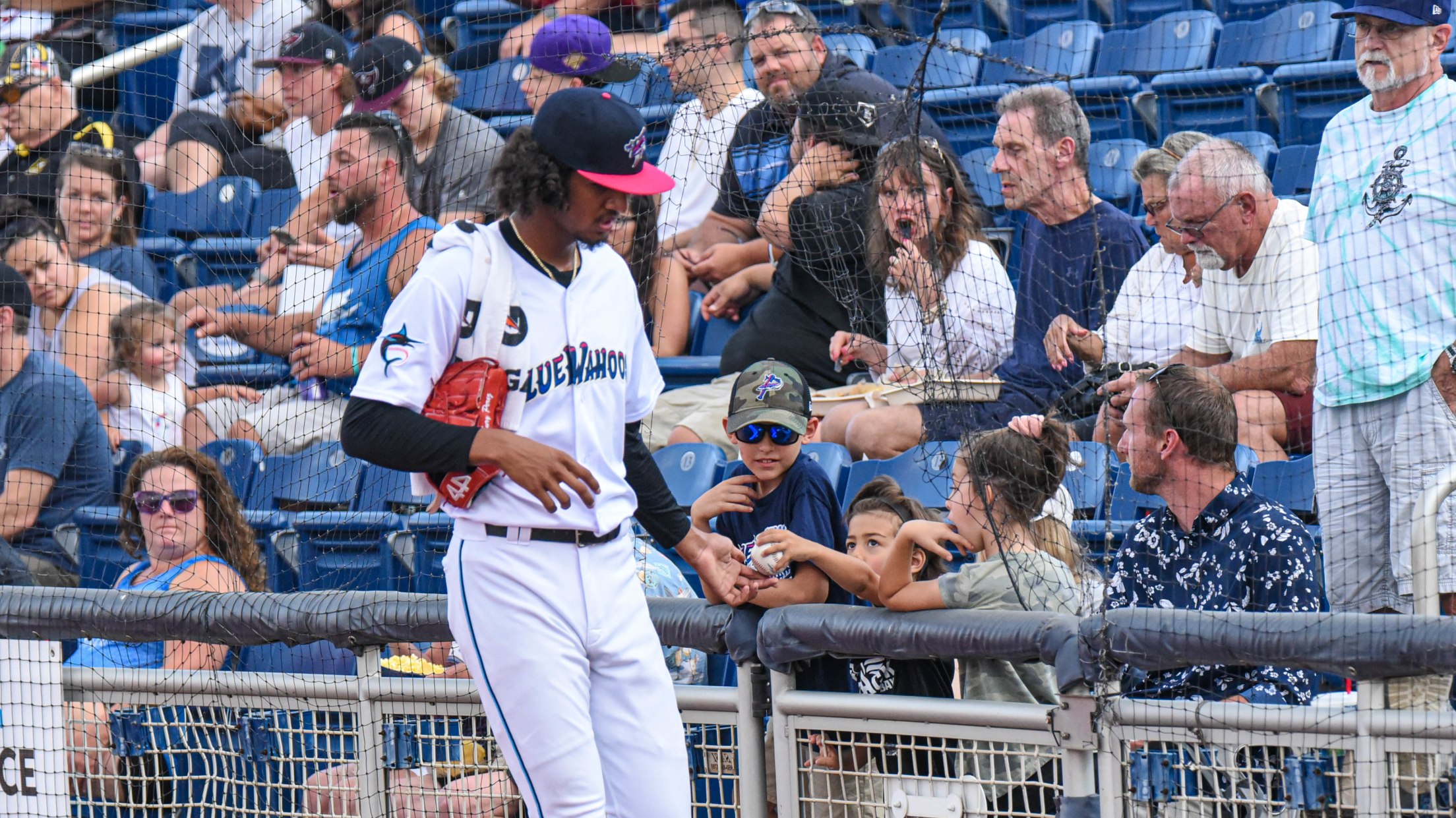 Before taking the mound Friday night and delivering another big performance, Blue Wahoos star pitcher Eury Perez stopped to sign autographs for young fans. (Daniel Venn)
Eury Perez again lived up to the moment. And just as they've done all week, so did his Blue Wahoos teammates. The 19-year-old Perez continued to defy his youthful age, working into the sixth inning for a second consecutive start, then watched as his teammates responded with a pair of
Eury Perez again lived up to the moment.
And just as they've done all week, so did his Blue Wahoos teammates.
The 19-year-old Perez continued to defy his youthful age, working into the sixth inning for a second consecutive start, then watched as his teammates responded with a pair of two-run rallies for a fourth-straight win in a 4-2 victory Friday night against the Rocket City Trash Pandas.
A capacity crowd of 5,038 at Blue Wahoos Stadium watched a pitching and defense showcase with Perez and Rocket City's Sam Bachman dazzle with early-inning, zeroes as two of Minor League Baseball's best prospects.
"I wanted to stand next to him and that gets me to bring out my A-game, so that was fun to do," said Perez, speaking through interpreter, teammate Luis Aviles Jr. "I always come out there and work on my pitches and it helped me out that I was commanding them today."
Earlier Friday, Blue Wahoos outfielder Thomas Jones put in extra practice work, alone with his coaches on the field
Hours later, he struck the game's biggest hit, a two-run cannon shot homer in the seventh-inning deep over the left field fence for the game-deciding runs.
From that point, the Blue Wahoos bullpen did the rest. With wind whipping, lightning flashing across the bay and a storm imminent, closer Eli Villalobos struck out the final two batters with a runner on base.
"I feel confident every time I come out of the game," said Perez, who finished with 5.1 innings, two hits, two runs, one walk and nine strikeouts. "Knowing those guys are coming back and the work they put in, you know those guys are going to try and pick you up."
Seconds later, the skies opened and torrential rain hit the ballpark.
The win against Rocket City (18-13) enabled the Blue Wahoos (16-15) to clinch their first series win and do it against the team which entered the week with the Southern League's best record.
All of a sudden, the Blue Wahoos are in first place in the league's South Division and the Tennessee Smokies (19-12) supplanting Rocket City to take over the lead in the North Division.
Friday's game in Pensacola began as speedball.
With Perez and Bachman dealing, the first three innings were completed in 30 minutes.
Bachman is ranked by one outlet as the Los Angeles Angels top prospect. Perez was named in preseason by Baseball America as the Miami Marlins top prospect.
No one could imagine, however, that the 6-foot-8 Perez – still a teenager --- would be faring this well in making a leap to Double-A with the Blue Wahoos.
"That is something I try not to think about," said Perez, signed by the Marlins at age 16 out of the Dominican Republic. "I just try to be another guy going out there and getting my work done every single day.
"Just competing against the other team and I just try to bring it every day, regardless of my height, my age, I just want to go out there and be successful every day.
The Trash Pandas broke through against Perez in the sixth inning with a walk and run-scoring double. After exiting, Perez was charged with a second run on a RBI single off reliever Andrew Nardi.
The Blue Wahoos didn't get their first hit until the bottom of the sixth inning when Victor Victor Mesa had an infield single against Trash Pandas reliever Luke Murphy.
He replaced Bachman after he threw four, near-perfect innings. Troy Johnston then followed with a single to score Jones, who led off the inning and was hit by a pitch. He reached base three times in the game.
The good vibes in the sixth inning continued when Jerar Encarnacion tied the game with a single.
In the seventh, Jones launched a two-out pitch over the left field walk for a two-run homer that provided the game's eventual final score.
Three Blue Wahoos relievers, Nardi, Josh Simpson and Villalobos, combined for eight strikeouts and just one walk.
GAME NOTABLES
--- The first 2,000 fans Friday received a commemorative 10th anniversary poster with images of the Blue Wahoos All-Decade Team has voted by the fans.
One of those fan favorites was infielder Travis Mattair, who played 258 games for the Blue Wahoos during the 2013-14 seasons. He was a player always willing to sign autographs, as he did Friday night on the concourse area before the game.
He was also recognized on the field before the game and threw out a first pitch.
--- The National Anthem was performed by Claresa Sikes from the Lightpointe Church in Crestview. The church pastor Michael Lugones threw out a first pitch. He took over in 2018 as senior pastor.
--- An engaged couple, Josh and Abby, had their wedding rehearsal party of 100 guests at the stadium.
WANT TO GO?
WHAT: Blue Wahoos Weekend Homestand
WHO: Rocket City Trash Pandas vs. Blue Wahoos
WHEN: Saturday and Sunday: Game times are 6:05 p.m. on Saturday and 4:05 p.m. on Sunday.
WHERE: Blue Wahoos Stadium
PROMOTIONS: Saturday, Post-game fireworks. Sunday: Family Sunday with kids running the bases and families playing catch in outfield after game.
TICKETS: Online at www.bluewahoos.com/tickets, or by phone at 850-934-8444. Or visiting box office at the stadium on Monday through Friday from 10 a.m. to 5 p.m.
RADIO: ESPN-Pensacola (99.1 FM and 1330 AM and WYCT 98.7 HD4).
TV: YurView (check provider) and MILB.tv (streaming) through www.milb.com/live-stream-games with subscription discount using BLUE WAHOOS.