A Year Later, Former Blue Wahoos Fan Favorite Mattair Returns With Team In Special HS Game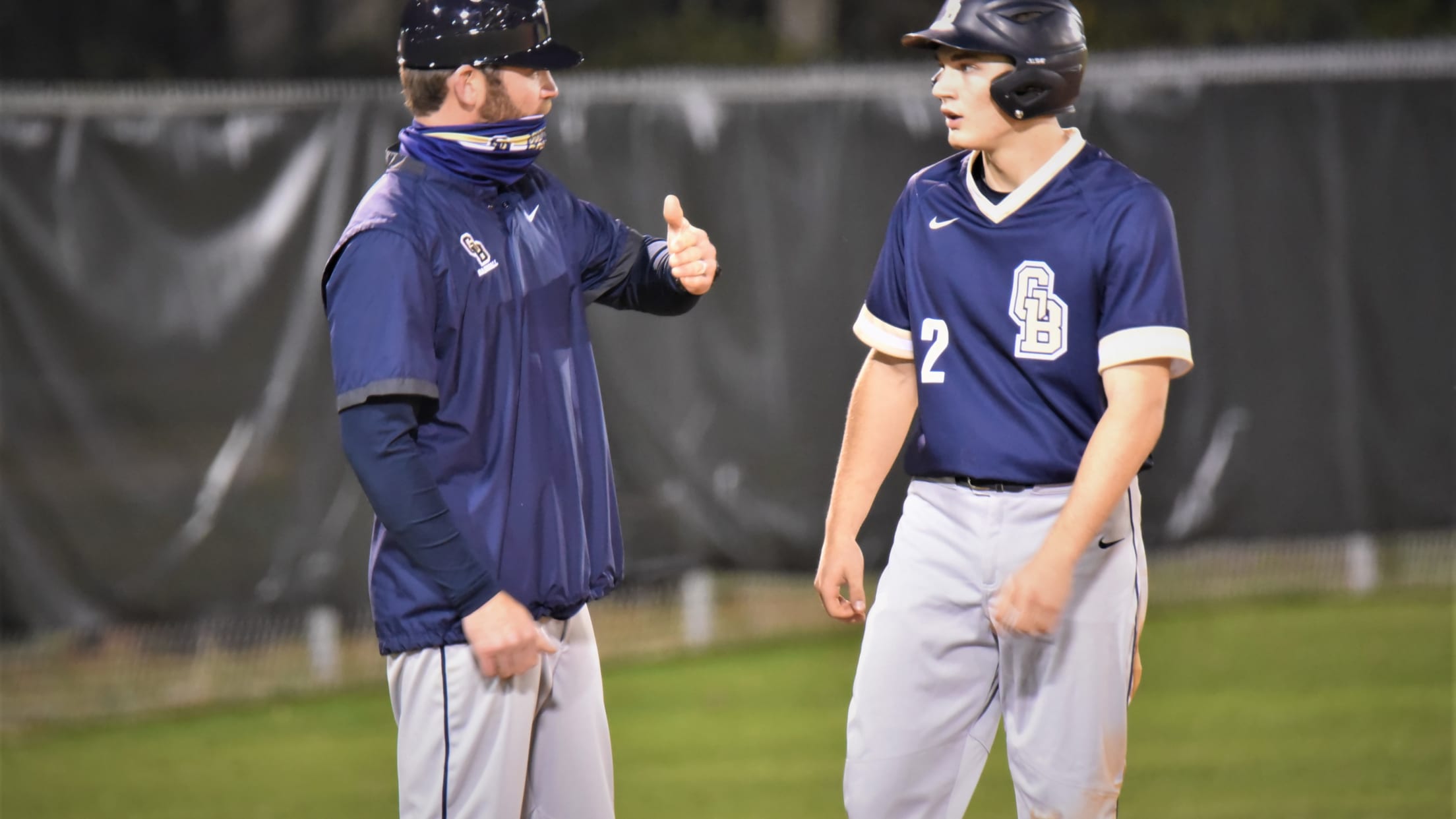 Former Blue Wahoos Infielder Travis Mattair, left, now Gulf Breeze High head baseball coach, talks with one of his players during recent game. (Bill Vilona)
Just days before the Escambia High and Gulf Breeze baseball teams were gearing a year ago in mid-March to play at Blue Wahoos Stadium, worst-case fears became realized. The novel coronavirus was declared a global pandemic by the World Health Organization. Schools were closing nationwide. The sports world at all
Just days before the Escambia High and Gulf Breeze baseball teams were gearing a year ago in mid-March to play at Blue Wahoos Stadium, worst-case fears became realized.
The novel coronavirus was declared a global pandemic by the World Health Organization.
Schools were closing nationwide. The sports world at all levels began to shut down. High school activities never resumed the rest of the spring.
"It's just so crazy when you think back about it, almost to the day a year ago, " said Gulf Breeze Dolphins' second-year coach Travis Mattair, who played two seasons (2013 and 2014) for the Blue Wahoos as a corner infielder, back when the franchise was affiliated with the Cincinnati Reds.
"Everyone's life has been crazy since then. What a year it's been."
Fast forward. Escambia and Gulf Breeze will play Monday night at Blue Wahoos Stadium in a game that is now special for many reasons.
It shapes as a fitting redo from their canceled, March 16, 2020 game. It's also the first of three high school baseball events this month at the bayfront ballpark.
On March 26-27, five Northwest Florida prep teams – Fort Walton Beach High, Fort Walton-Choctaw, Navarre, Tate and West Florida High – will play in consecutive doubleheaders.
"Man, I know we are excited," said Escambia Gators coach Tracey King, whose team has played at Blue Wahoos Stadium in past seasons. "That is one of the nicest ballparks you can go to and play baseball. So, just to put our kids in that environment again, we are just very excited about it.
"We haven't been able to play there in two years. I know (Travis Mattair) and I are very excited about our teams having that rematch and getting the chance to go down there and enjoy those nice facilities the Wahoos have."
The Gators and Dolphins are both 6-4. Both teams are coming off big wins Friday. Escambia rallied to beat West Florida 8-7; Gulf Breeze won 7-3 at Pensacola Catholic.
Escambia will be the home team for this game. Tickets are $8 general admission. All fans must wear a mask to enter the ballpark and while walking in the concourse areas.
When last year's game was cancelled, King reached out to Mattair days later to try and play this year.
"We immediately talked and said we will hook back up next year and we both stuck with it," King said. "We try to make the entire day special. I know for us, it's important to put our kids in that environment."
King then worked with Shannon Reeves, the Blue Wahoos events manager, on the arrangements to play and sell tickets.
"It will be great to have high school baseball back at the stadium," Reeves said. "It's something that we enjoy having here, so hopefully it will be a great experience for the teams."
This will be Mattair's second time in the stadium as a Gulf Breeze coach, after being a fan favorite as a Blue Wahoos player during his two seasons.
In mid-July 2020, Mattair brought his seniors to the stadium for a farewell event with parents and pitched batting practice to his players as their families and friends took photos.
"I felt so bad for the seniors," said Mattair, a former second-round draft pick by the Philadelphia Phillies in 2007 from Kennewick, Washington. "For so many of those guys, that was going to be the last time they stepped on a baseball field.
"I think a lot of the guys with us now… they have almost approached this as, 'Hey, we got this taken away from us. So we want to prove it this year.'
"We are very driven, very determined as a team this year."
Like all area high school teams, Escambia and Gulf Breeze have both dealt with a variety of issues related to COVID-19 and the adhered to protocols in order to navigate a season schedule.
"We've talked a lot with the kids about adversity and having to overcome adversity when it's happening," Mattair said. "And picking each other up and thinking of the team more than just individuals themselves.
"I'm so fortunate to have the group of guys I have. They're such good kids. We're heading in the right direction. You never want to peak too early in a season, so we are just gradually climbing that hill and hopefully we peak at the right time."
WANT TO GO?
WHAT: High School Baseball
WHO: Gulf Breeze vs. Escambia
WHERE: Blue Wahoos Stadium
WHEN: Monday, 6:30 p.m.
TICKETS: $8 general admission
PURCHASE: Online at www.bluewahoos.com and at stadium box office beginning Monday at 9 a.m.
REQUIREMENTS: All fans must wear a mask upon entering the stadium. Safe, physical distance will be practiced.