Bowling Green rolls to High-A East crown
Five-run fourth lifts Hot Rods to second title in three years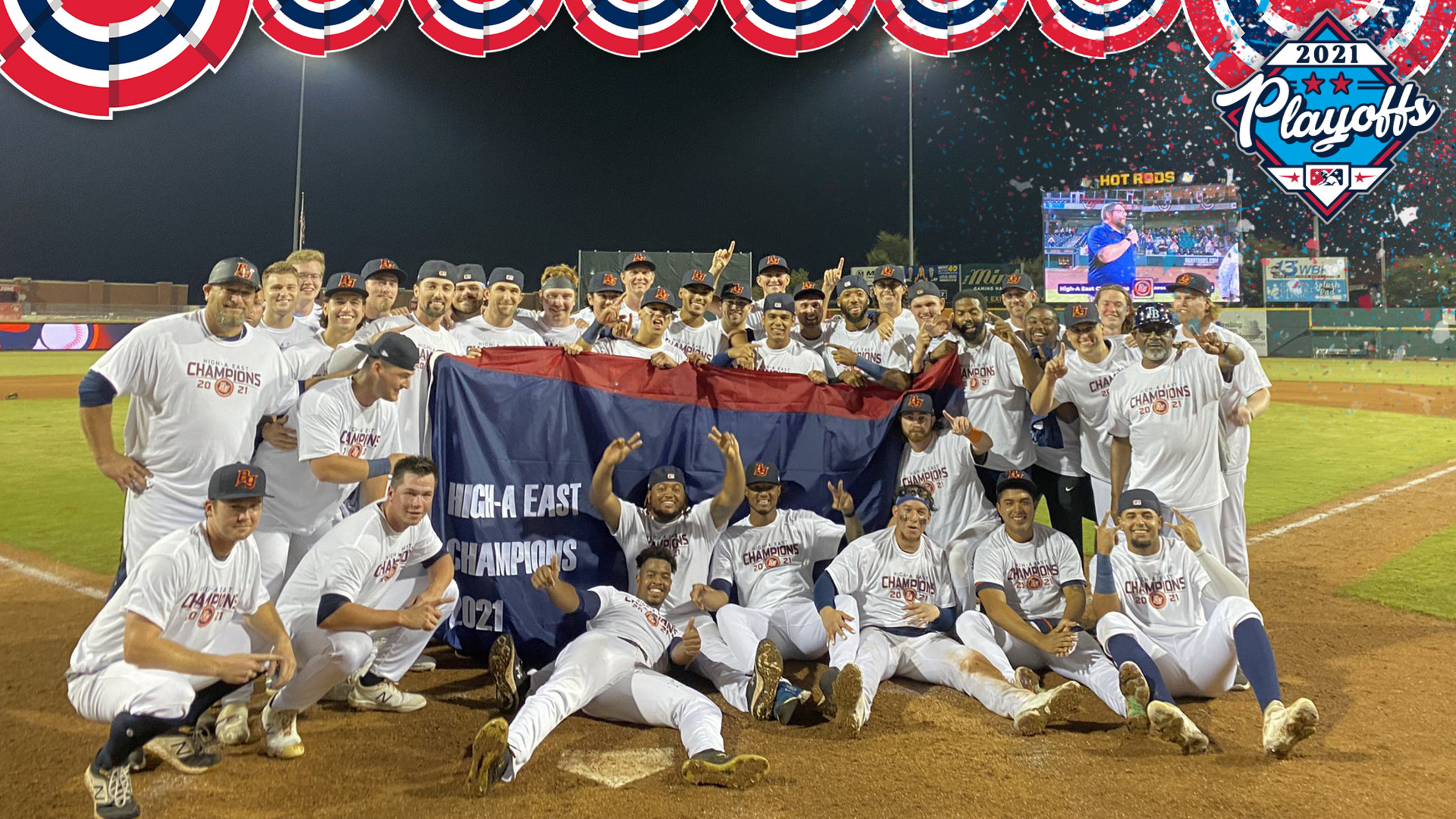 Bowling Green claimed the inaugural High-A East championship after winning the Midwest League crown in 2018. (Bowling Green Hot Rods)
Very few things rival a winner-take-all contest, so it was only appropriate the High-A East Championship Series went the distance. In a season best described as a long-distance race, it's appropriate a team named after an automobile came out on top. Buoyed by a five-run fourth inning, High-A Bowling Green
Very few things rival a winner-take-all contest, so it was only appropriate the High-A East Championship Series went the distance. In a season best described as a long-distance race, it's appropriate a team named after an automobile came out on top.
Buoyed by a five-run fourth inning, High-A Bowling Green bested Greensboro, 6-3, to claim the High-A East title in front of its home fans on Tuesday night.
Jordan Qsar plated the go-ahead runs with a single and Grant Witherspoon homered for the third time in the series as the Hot Rods picked up their second championship. The franchise won the Midwest League crown in 2018.
"It was a fun series to manage and one that was great from a personal standpoint and a developmental standpoint," Bowling Green manager Jeff Smith said. "As managers, these are the types of games we want our players in. It was two great teams competing, going back and forth, and that's all you can ask for. I've got nothing but good things to say about Greensboro and the entire organization."
After outlasting the Grasshoppers on Monday night to stave off elimination, the Hot Rods jumped ahead in the opening frame on Witherspoon's solo jack. The 25-year-old led regulars from both teams at the plate with a .421/.476/1.000 slash line, four extra-base hits and six RBIs.
Bowling Green starter Jose Lopez blanked Greensboro on one hit and a walk while fanning four over three frames before the 'Hoppers scored twice off reliever Addison Moss, who did not retire a batter in the fourth.
The Grasshoppers' lead, however, was short-lived.
The Hot Rods loaded the bases with nobody out and took the lead for good on Qsar's two-run single. Coming off a 23-homer, 69-RBI regular season, the 25-year-old's hits were not plentiful, but they were impactful. Although he went 4-for-17 (.235) in the five-game series, Qsar homered three times and drove in eight runs.
Erik Ostberg increased the lead with an RBI double and Roberto Alvarez capped the inning with a two-run single to give Bowling Green a 6-2 edge.
"That fourth inning was the series, right there," Smith said. "It was a bases-loaded, no-out situation which could have been disastrous, but we limited the damage. Then the offense took over, coming right back in the bottom half. Two-strike hits from guys who have been doing it for us all year. It was contagious."
The Hot Rods' bullpen took care of the rest, led by Trey Cumbie, who tossed 3 1/3 scoreless frames. The 25-year-old allowed a hit, two walks and struck out three. Zack Trageton closed out Bowling Green's second title in three seasons, allowing a run in the ninth but fanning four in 2 2/3 innings.
Blake Sabol, Matt Gorski and Andres Alvarez tallied RBIs for Greensboro, which collected three of its seven hits in the ninth.
Michael Burrows put together a strong start for the Grasshoppers. Pittsburgh's No. 14 prospect surrendered Witherspoon's solo homer in the first, but nothing else in two innings, and struck out five. Bear Bellomy was tagged for five runs (four earned) on three hits in one inning of relief.
"We knew they had one more push left in them," Smith said. "They did it all series, but Trageton did what he needed to do. He was outstanding, as was our bullpen on the whole."
The championship was the crowning achievement in a year in which the Rays' High-A affiliate tied for the most regular-season wins (82) and highest winning percentage (.695) in the Minors.
"What a fun season for us. I enjoyed everything about it, from the players to my coaching staff," Smith said. "Personally, this was my 26th year managing in professional ball. I won two titles as a player but had been on the losing side three times as a manager. This is very special."
Michael Avallone is a contributor to MiLB.com. Follow him on Twitter @MavalloneMiLB.