Bulls Batter Knights 15-9
Margot, Padlo & Lowe combine to drive in ten in victory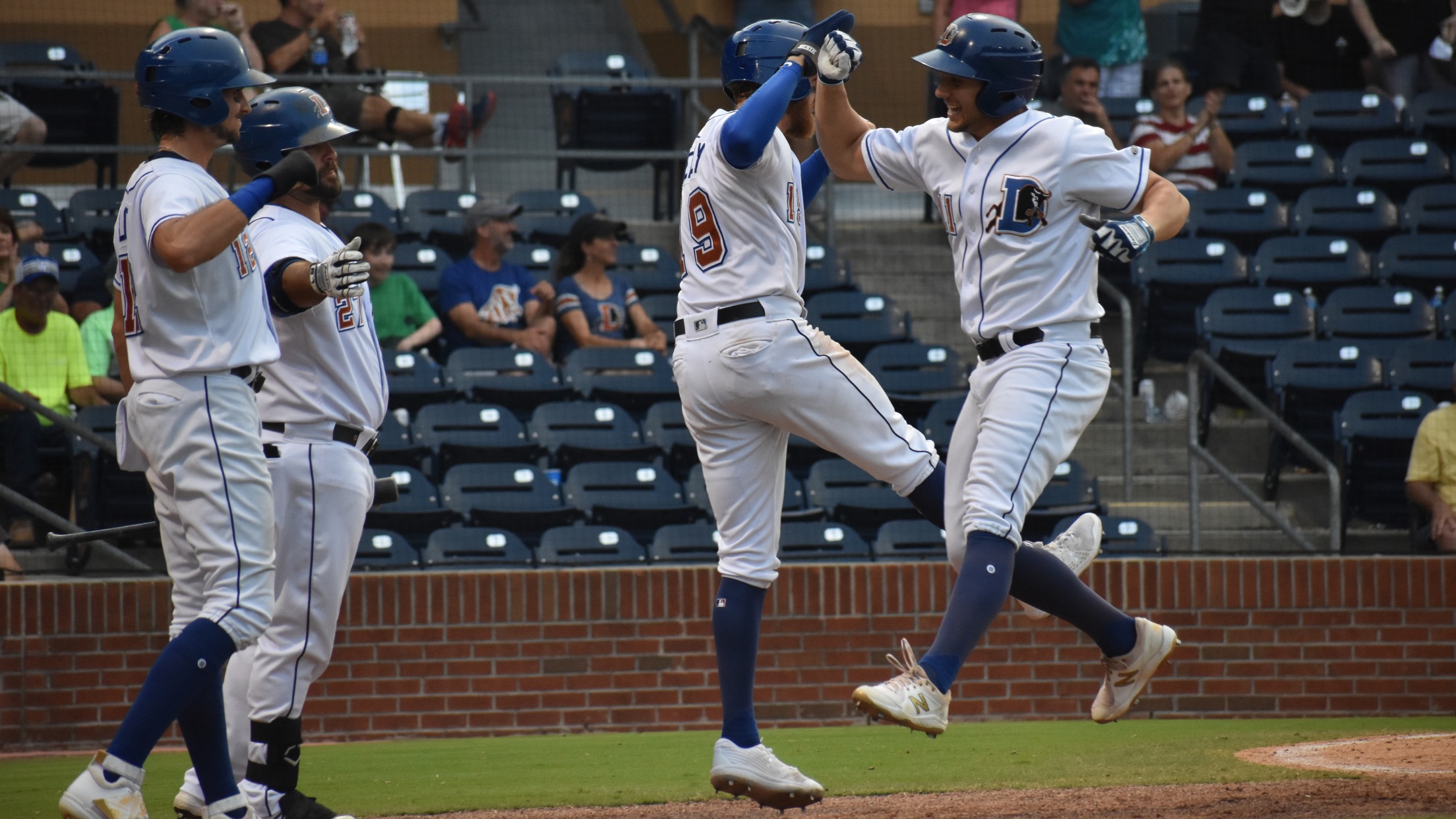 (Paxton Rembis / Durham Bulls)
Bulls third baseman Kevin Padlo and center fielder Josh Lowe each drove in three runs, while second baseman Miles Mastrobuoni reached base five times and scored four runs, and Tampa Bay Rays outfielder Manuel Margot clubbed three hits and recorded four RBI as part of his Major League Rehab Assignment
Bulls third baseman Kevin Padlo and center fielder Josh Lowe each drove in three runs, while second baseman Miles Mastrobuoni reached base five times and scored four runs, and Tampa Bay Rays outfielder Manuel Margot clubbed three hits and recorded four RBI as part of his Major League Rehab Assignment in Durham's 15-9 victory over the Charlotte Knights on Sunday evening at Durham Bulls Athletic Park.
Mastrobuoni (3-3, 4 R, 2 2B, 2 BB) and Margot (3-5, R, 4 RBI, BB) each recorded a game-high three hits, with Lowe (2-5, 2 R, 3B, 3 RBI), Padlo (2-5, R, HR, 3 RBI) and C Rene Pinto (2-4, R, 2B) posting multi-hit efforts as well. Charlotte RF Micker Adolfo (3-5, 3 R, 2 HR, 5 RBI) highlighted the Knights' order with three hits, including two longballs, while driving in five.
The contest saw runs scored in all but the second, sixth and eighth frames, with the Bulls' big innings coming via a six-run fourth capped by 1B Dalton Kelly's solo homer, while Padlo's three-run blast to left-center put the exclamation mark on a five-run seventh. The 15 runs scored matched Durham's largest scoring output of the year, a 15-3 triumph in Memphis on May 8.
Bulls reliever Miller Hogan (1.0 IP, 3 H, 3 R, 3 ER, 2 K) earned the win in his Triple-A debut, while southpaws Kenny Rosenberg (2.0 IP, 2 H, BB, 2 K) and Brian Moran (2.0 IP, 2 H, R, 0 ER, 3 K) combined to yield a lone unearned run over the last four frames. Charlotte reliever Bennett Sousa (1.1 IP, 5 H, 4 R, 2 ER, BB, K) suffered the defeat.
After taking five of six games from Charlotte and winning nine of 12 games this past homestand, Durham will travel to Norfolk on Tuesday, July 26 following a league-wide off day on Monday for a six-game road series. First pitch of the series opener on Tuesday in Norfolk is slated for 7:05pm. Starting pitchers for both teams have not yet been announced.
The Bulls are scheduled to return to Durham Bulls Athletic Park starting Tuesday, August 3 to start a six-game series versus the Memphis Redbirds. First pitch of the series opener that evening is scheduled for 6:35pm. Tickets for that game, as well as all remaining Bulls home games are available and can be purchased at DurhamBulls.com.