C's Drop Series With Loss, Hope to Salvage Sunday
Vancouver ties it in the fifth but is bled out by Everett over final four frames to lose 8-4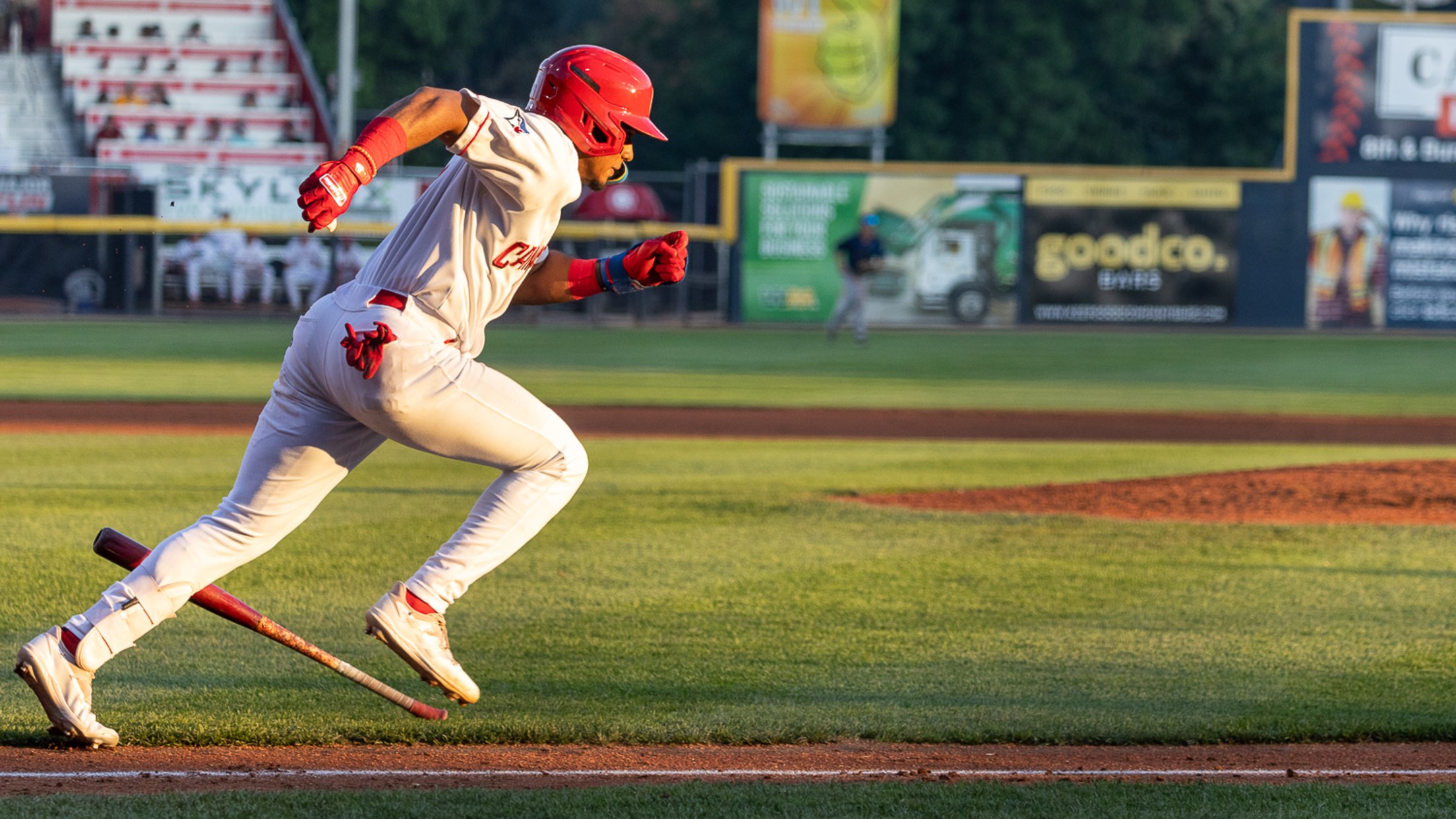 (Mark Steffens - Fotoguy)
VANCOUVER, BC – #6 Blue Jays prospect Leo Jimenez crushed a game-tying two-run blast in the bottom of the fifth but the Everett AquaSox (Mariners) scored four unanswered runs between the sixth and the ninth to beat the Canadians 8-4 on Saturday night at The Nat and hand the C's
VANCOUVER, BC – #6 Blue Jays prospect Leo Jimenez crushed a game-tying two-run blast in the bottom of the fifth but the Everett AquaSox (Mariners) scored four unanswered runs between the sixth and the ninth to beat the Canadians 8-4 on Saturday night at The Nat and hand the C's their first series loss since mid-June.
Jimenez's big fly sent the sellout crowd into a frenzy after Dasan Brown worked a one-out walk to set the table, but the Frogs would score one in the sixth, two in the eighth and another in the ninth to put the game away.
Vancouver starter Trenton Wallace racked up six strikeouts in the first two innings but ran into trouble in a three-run third that bounced him from the game. Everett used a two-run homer from Josh Morgan and a bases-loaded walk to score those three runs for an early lead.
The C's spoiled the shutout in the bottom of the inning after Glenn Santiago tripled to start the stanza and scored on a Hugo Cardona sacrifice fly. They pulled within one when Surrey's own Damiano Palmegiani singled to start the fourth, stole second and scored on a two-out double off the right field wall courtesy of Garrett Spain, who drove in his fourth run in his last five at-bats.
A James Parker solo shot in the top of the fifth helped the 'Sox retake a two-run advantage, but Jimenez's sixth home run of the season came soon after to even the score for all of a half inning before the AquaSox took the lead for good in the top of the sixth.
All five pitchers for Vancouver allowed one run or more. On offense, eight of nine starters reached base and seven had a hit.
With Eugene beating Hillsboro earlier tonight, the Canadians are now out of first place for the first time since July 9, though they are only a half game back of the Emeralds with 38 games left to play in the regular season.
Vancouver will try and finish the first of two consecutive home series on a high note tomorrow afternoon as part of an A&W Family Fun Sunday featuring a replica jersey giveaway. Southpaw Jimmy Robbins gets the ball for the Canadians while Everett has yet to name their starter. Coverage begins with a special 12:30 p.m. edition of C's On Deck on Sportsnet 650 and continues with first pitch at 1:05 p.m. The game will also be carried on MiLB.TV and CanadiansBaseball.com.