Close Call: Renegades fall short in series finale
Wells continues hot streak in loss to Aberdeen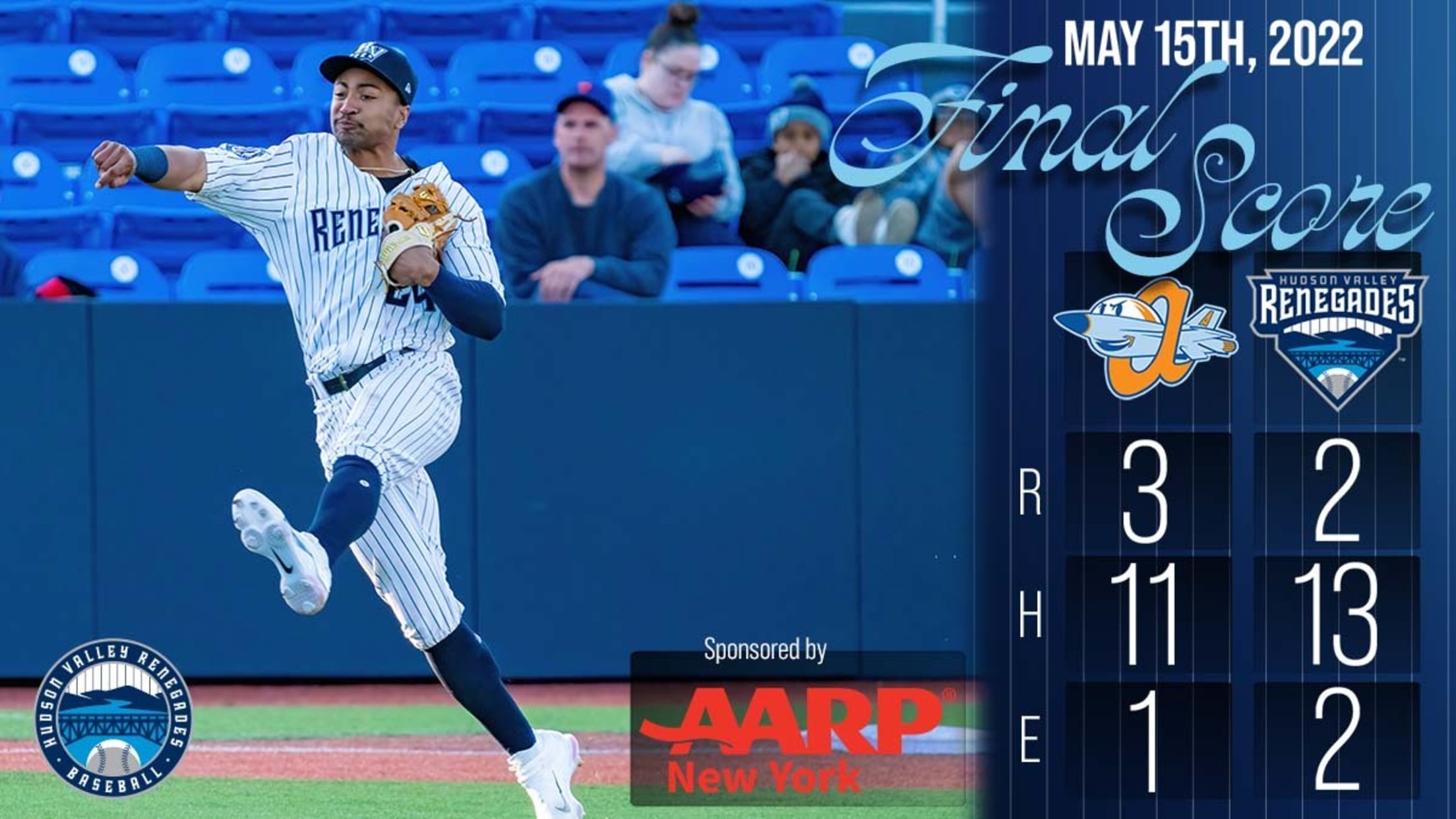 James Nelson doubled in the ninth inning in Sunday's loss. (Dave Janosz)
WAPPINGERS FALLS, NY (May 15, 2022) — The Hudson Valley Renegades dropped the series finale to the Aberdeen IronBirds 3-2 on Sunday afternoon at Dutchess Stadium. Hudson Valley struck first in the bottom of the first inning against Aberdeen starter Jean Pinto. Cooper Bowman and Austin Wells banged back-to-back doubles
WAPPINGERS FALLS, NY (May 15, 2022) — The Hudson Valley Renegades dropped the series finale to the Aberdeen IronBirds 3-2 on Sunday afternoon at Dutchess Stadium.
Hudson Valley struck first in the bottom of the first inning against Aberdeen starter Jean Pinto. Cooper Bowman and Austin Wells banged back-to-back doubles to produce a run and make it 1-0 Renegades.
The IronBirds responded in the top of the second inning on a Billy Cook sacrifice fly to tie the game at one.
Hudson Valley starter Blas Castaño lasted 4.2 innings, allowing one run on five hits, striking out four and walking one.
The Renegades jumped ahead in the bottom of the sixth against Ignacio Feliz. Carlos Narvaez doubled to lead off the inning and came around to score on a wild pitch to give Hudson Valley a 2-1 lead.
In the top of the seventh, Donta' Williams launched a solo homer to right field off Alex Mauricio to level the score at two.
In the top of the ninth against Jhonatan Muñoz, John Rhodes lifted a sacrifice fly to give the IronBirds a 3-2 lead. The go-ahead run was charged to Wellington Diaz (2-1), who allowed Connor Pavalony to reach base earlier in the frame.
Nick Roth (1-1) fired two scoreless innings of relief for Aberdeen. Jake Prizina closed it out to earn his second save, striking out one in a scoreless ninth. After doubling with two outs and advancing on an error, James Nelson was caught stealing home for the final out of the game.
Austin Wells continued his surge with a 3-for-5 effort in the loss, finishing the series 9-for-22 (.409) with 2 HR, 5 RBIs and 5 BB.
Hudson Valley will enjoy a day off tomorrow before traveling to Brooklyn on Tuesday to start a six-game series with the Cyclones. First pitch is scheduled for 7:00 p.m. at Maimonides Park. Coverage begins on the Renegades Baseball Network at 6:45.