Bulls' Hager plates career-high six runs
Rays prospect breaks out of slump with first homer, triple of '17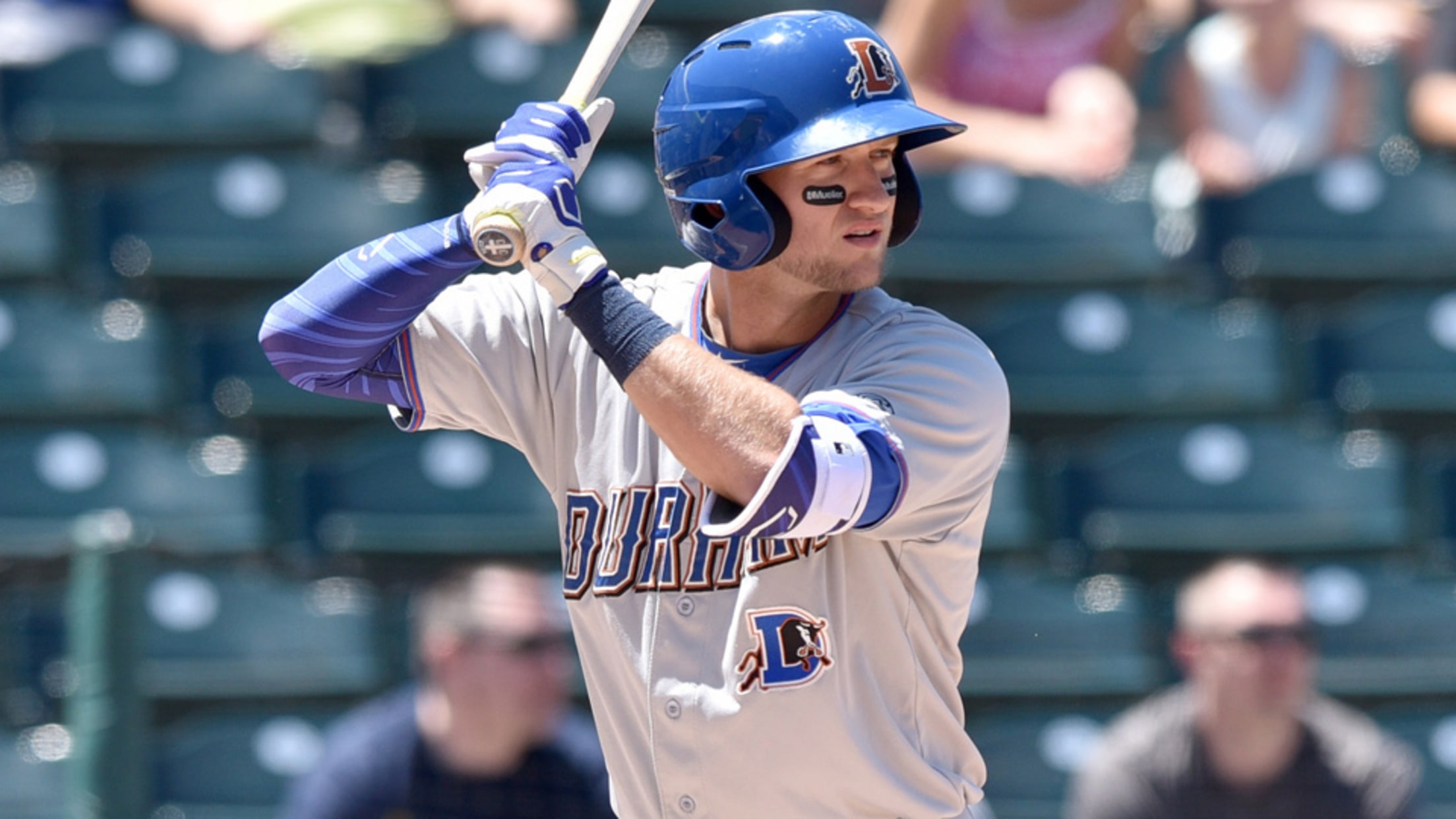 Jake Hager bumped his slugging percentage to .353 and his RBI total to 11 in 22 games this season. (Ken Inness/MiLB.com)
After a tough week at the plate, Jake Hager was feeling pretty optimistic on Wednesday."I was like, 'All right, it's time. Let's have a day, let's get back in the groove,'" he recalled telling himself.The pep talk and new mindset paid off as the Rays prospect drove in a career-high
After a tough week at the plate, Jake Hager was feeling pretty optimistic on Wednesday.
"I was like, 'All right, it's time. Let's have a day, let's get back in the groove,'" he recalled telling himself.
The pep talk and new mindset paid off as the Rays prospect drove in a career-high six runs with a homer and a triple as Triple-A Durham topped Charlotte, 9-2, at BB&T Ballpark.
Gameday box score
"I would say I was being a little more positive than I usually am. When you go through a rough patch, it's hard not to think about what's going on and you try too hard to get a hit," he said. "And [Wednesday], I just let that all go -- forget about the past and just focus on [this game], each and every at-bat and have a quality at-bat. That's what made me feel good. I was relaxed and saw the ball well."
Before the game, Hager shared the good feeling with Rays' top prospect Willy Adames. And it didn't take long for the notion to translate to the field. In the second, the 24-year-old slugged a three-run homer to left-center off Carson Fulmer (5-2), the No. 5 White Sox prospect, for his first roundtripper since Aug. 24. That homer also came in Charlotte.
"Oh, man, it was a huge relief, I'll say that. I was very happy," Hager said. "Sometimes you're trying too hard to get a hit and once I hit that ball, it was like, 'Oh, man.' It just felt good, it was a nice relief. I was like, 'All right, no more stress anymore, just continue to have fun because this team's fun.' And I ended up having a good night."
Hager lifted a sacrifice fly to right in the fourth for his first four-RBI game since April 12, 2016 with Double-A Montgomery. Teammate Patrick Leonard kept cheering on the Nevada native with a makeshift RBI tracker, while hitting coach Ozzie Timmons chanted, "Do it again."
In the fifth, the second baseman came up with two on and two out. Before that at-bat, the Knights brought in left-hander Will Lamb. After a "tough at-bat," the Bulls' No. 9 hitter slapped a curveball on the outer half of the plate down the right field line. Hager raced around the bases for his first triple since June 13 as two more jruns scored.
"Actually, I was hoping that my third base coach [Craig Albernaz] was going to keep sending me as I was going around third," he said with a laugh. "But no, he ended up stopping me at three."
While Hager had to "settle" for a triple, he eclipsed his previous career high of five RBIs, set most recently on July 3, 2013 with Class A Advanced Charlotte.
"Baseball's a tough game. What you've got to do is you've got to keep staying positive, keep believing in yourself when you get up to the plate," he said. "You have to try to make everything simple, try not to do too much, and that's what I tried to do [on Wednesday] was try to hit the ball up the middle. And good things happened."
Hager's big night came in support of Rays No. 23 prospect Ryan Yarbrough (3-2), who allowed two runs on four hits and a walk with four strikeouts over six innings.
Fulmer had a personal four-game winning streak snapped after giving up eight runs -- seven earned -- on six hits and five walks over 4 2/3 innings. He fanned two.
Kelsie Heneghan is a contributor to MiLB.com. Follow her on Twitter @Kelsie_Heneghan.