Dyer Homers in 7-6 Loss on Sunday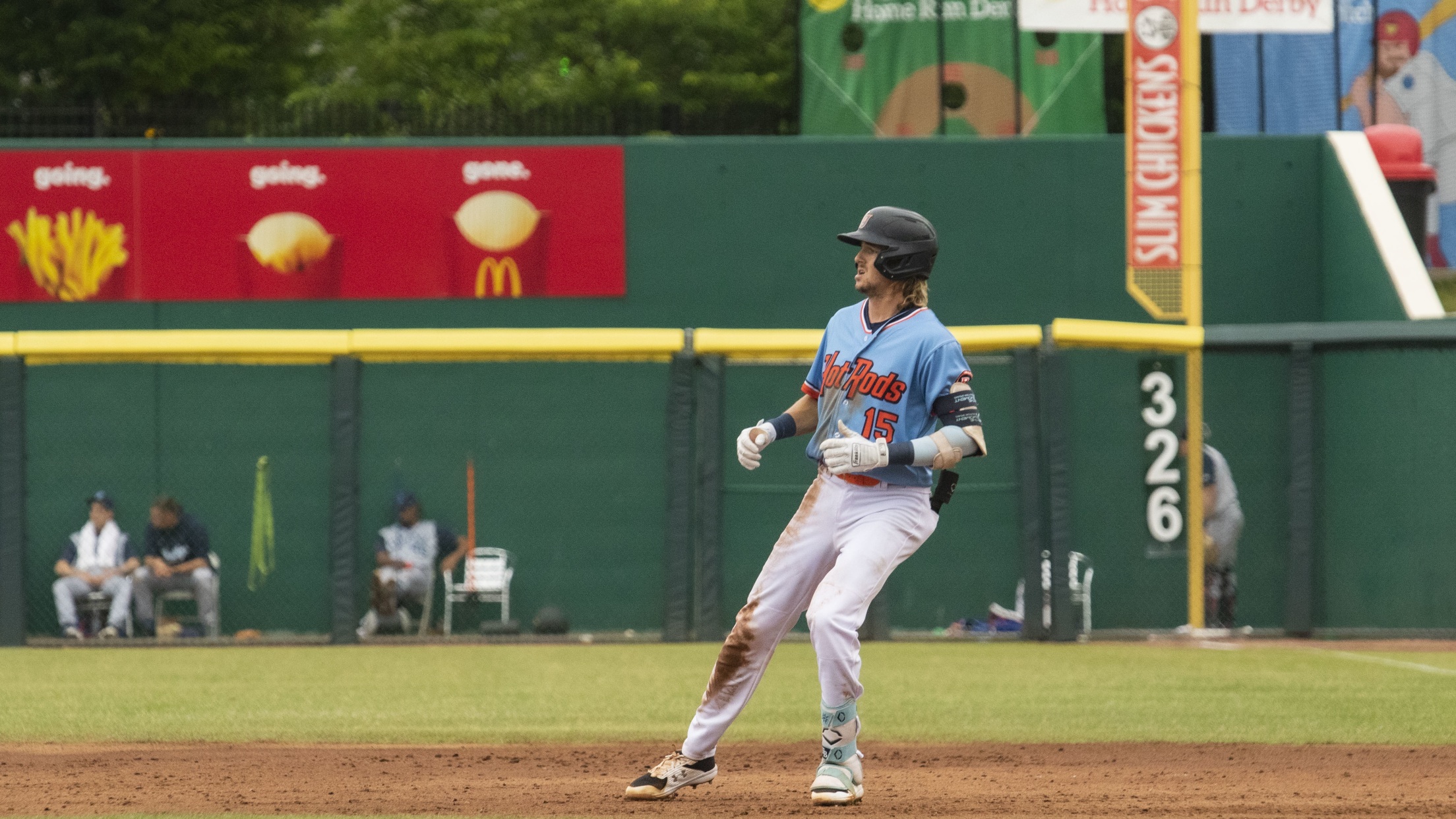 Greenville, South Carolina– Matthew Dyer hit a three-run homer in a game that had five lead changes, but the Greenville Drive (10-18, 36-58) defeated the Bowling Green Hot Rods (18-11, 59-35) 7-6 in the series finale on Sunday afternoon at Fluor Field at the West End. Monday is a league-wide
Greenville, South Carolina– Matthew Dyer hit a three-run homer in a game that had five lead changes, but the Greenville Drive (10-18, 36-58) defeated the Bowling Green Hot Rods (18-11, 59-35) 7-6 in the series finale on Sunday afternoon at Fluor Field at the West End. Monday is a league-wide off day and the Hot Rods return to action on Tuesday to begin a six-game series against the Greensboro Grasshoppers at Bowling Green Ballpark.
The Drive got on the board first with a three-run second inning, but the Hot Rods rallied with two outs in the third to tie the game against Greenville starter Tyler Uberstine. Alexander Ovalles and Mason Auer walked with two outs ahead of Dyer, who launched his first homer of the season just inside of the foul pole in left. The three-run shot made it a 3-3 game.
Brandon Howlett homered with two outs in the third to give the Drive a 4-3 lead, adding two more on Nick Decker's two-out, two-run homer in the fifth to take a 6-3 advantage.
Bowling Green tied the game in the seventh against Greenville reliever Jordan DiValerio. Gionti Turner led off with a single and Alika Williams walked. Ovalles reached on an error to load the bases and Auer singled, scoring Williams and Turner to make it a one-run game. With two outs, Johan Lopez singled to left, scoring Auer to tie the game. The Drive took the lead in the seventh with two outs and went on to win 7-6 in the series finale.
Patrick Wicklander allowed four runs on six hits with two walks and four strikeouts over 3.2 innings of work in a no-decision. Nomar Rojas allowed two runs on two hits with two walks and four strikeouts in relief. Kyle Whitten (2-2) allowed one run on a hit with a walk and a strikeout in 1.0 inning of work. Audry Lugo threw 1.0 scoreless allowing two hits.
Notes: Dyer's homer was his first hit since May with BG… He also homered in his final rehab outing the with FCL Rays… Every hitter in the lineup reached base at least once… Lopez has a nine-game on-base streak… BG won the series 4-2… Every run the Drive scored on Sunday came with two outs in the inning… Auer had his third multi-RBI game of the season… Dyer had his second… Leon had his fourth multi-hit game with BG this season… Soria has a four-game hit streak… Auer has a hit in three-straight games… Monday serves as a league-wide off day… The Hot Rods return to Bowling Green Ballpark to start a six-game series against the Greensboro Grasshoppers (High-A Affiliate of the Pittsburgh Pirates) on Tuesday with a 6:35 PM CT first pitch… Fans can listen to the game on Talk 104.1 FM and 930 AM WKCT and listen via the MiLB First Pitch app on Android and IOS, or go to the Hot Rods website at www.bghotrods.com... Fans can get their tickets for upcoming Hot Rods home games by calling 270-901-2121, visiting the Bowling Green Ballpark box office, or visiting www.bghotrods.com.
###
Hot Rods Baseball