FLASH SALE: All Honda fridaynightbash! tickets just $10 each
SAVE 40% - The best deal for the best nights at the ballpark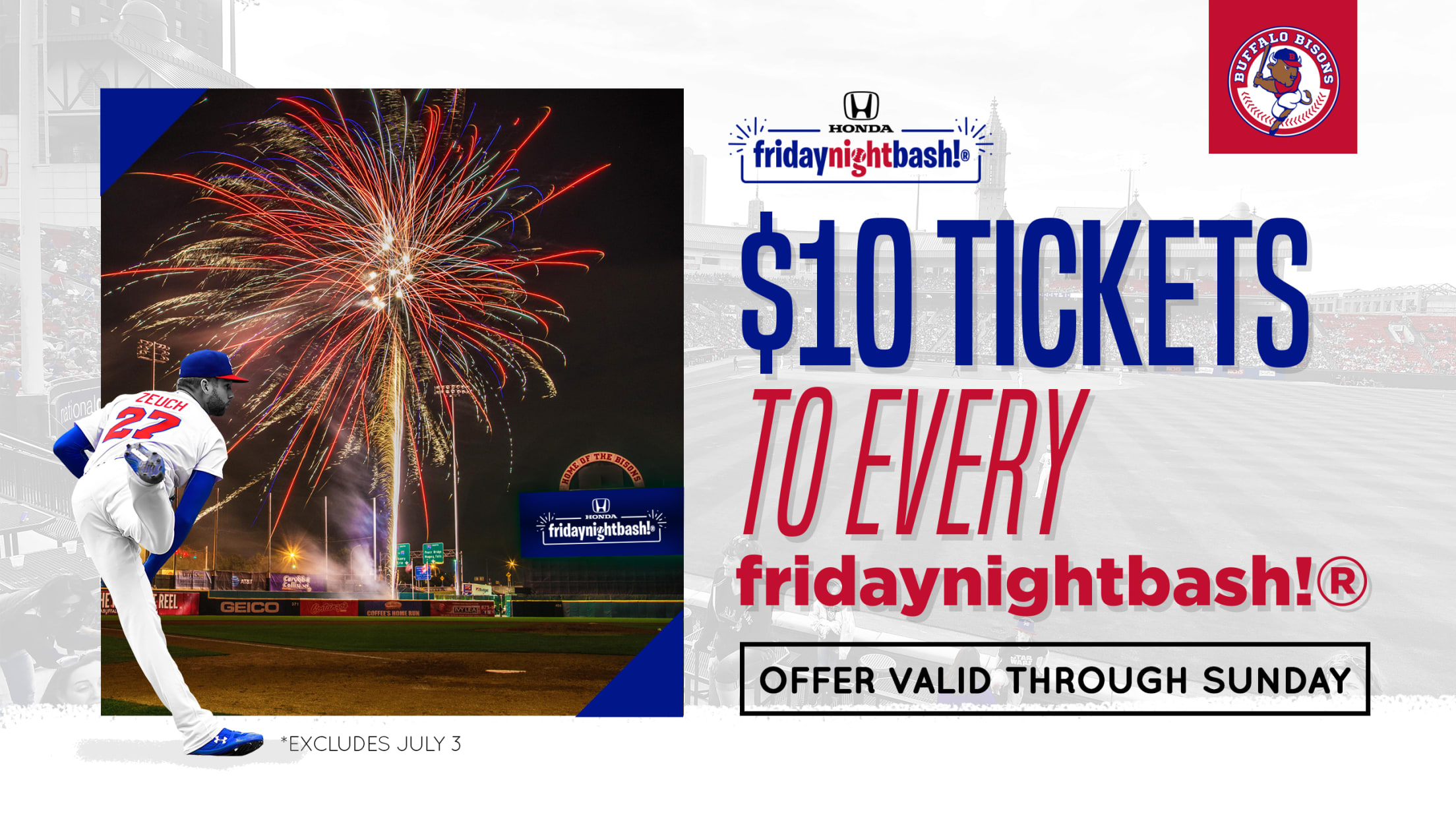 This…Deal…Rocks!There's nothing like getting your summer weekends started with a Honda fridaynightbash! at Sahlen Field. And for the first time ever, we are putting all single-game tickets for the fan-favorite night on sale early and at 40% OFF!!!!In celebration of pitchers and catchers reporting to camp this week, we are
This…Deal…Rocks!
There's nothing like getting your summer weekends started with a Honda fridaynightbash! at Sahlen Field. And for the first time ever, we are putting all single-game tickets for the fan-favorite night on sale early and at 40% OFF!!!!
In celebration of pitchers and catchers reporting to camp this week, we are selling single-game tickets to each of our 10 Honda fridaynightbash! games this season for ONLY $10 EACH!!!
>>>Get My Honda fridaynightbash! Tickets<<<
The Bisons Opening Day Honda fridaynightbash! on April 17… check! Ghostbusters Night on July 17… yup! 80s Night, 90s Night, Disco Night… you know it! Tickets to all 10 of our themed fridaynightbash! games are just $10 each now through Sunday, February 16.
The Fireworks, the Happy Hour (more on that later) and now tickets for only $10!!! Are you ready for some fun at the ballpark this season?! Take advantage of this great deal while it lasts!
>>>Get My Honda fridaynightbash! Tickets<<<
We heard you! You love the Resurgence Brewing Happy Hour before each and every Honda fridaynightbash! game… so we made it bigger!
We're expanding the party before every bash this summer beyond just the Consumer's Craft Beer Corner at the Swan St. Gate. Now, you'll be able to enjoy great-tasting 14 oz. $4.00 Craft Beers on the first base side of the ballpark, as well. By expanding to 'One Celery Place' at section 104, we've ADDED 50% MORE TAPS to pour the craft flavors you love.
Come thirsty and come hungry as the Resurgence Brewing Happy Hour will also feature $4.00 orders of the Original Pizza Logs, Charlie the Butcher Beef on Weck and Bacon Mac & Cheese. And with the special Honda fridaynightbash! Ticket Flash Sale going on right now at Bisons.com, that's even more money you'll have left over to fill on great food and drinks before cheering the Bisons on this summer!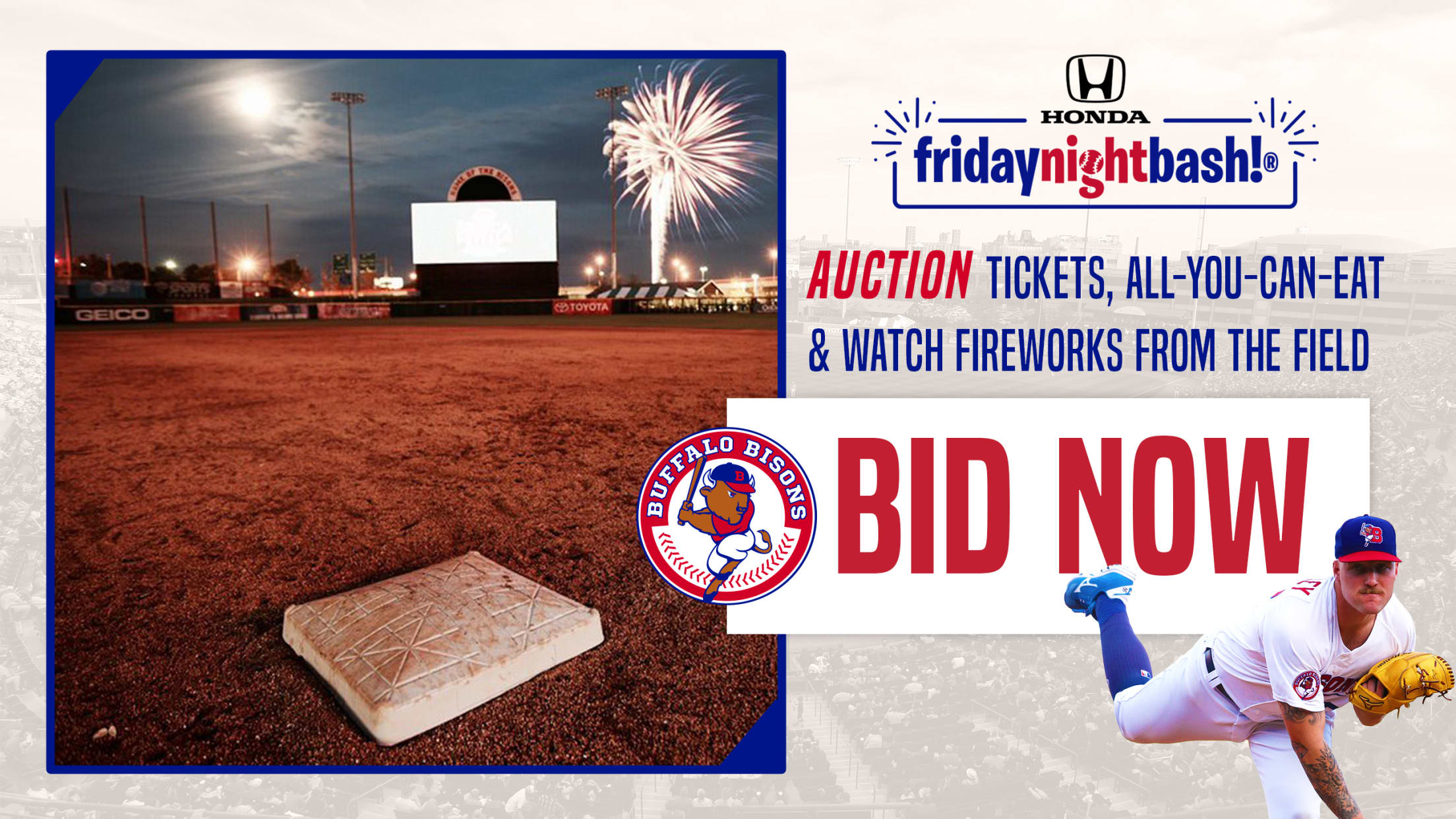 In celebration of this special Honda fridaynightbash! sale, the Bisons are also auctioning off the 'Ultimate fridaynighbash! Experience.'
The winner of this special auction will receive four game tickets to the 2020 Honda fridaynightbash! game of their choice as well as four all-you-can-eat buffet dinners at the Consumer's Pub at the Park restaurant and the ability to watch that night's postgame fireworks show from the field!
>>>BID NOW: The Ultimate fridaynightbash! Experience<<<
Bidding runs through Sunday, February 16 (10 pm ET), so get your bids in today!