Braves' Jackson homers twice in four-hit game
FSL All-Star plates four in nightcap of Fire Frogs' doubleheader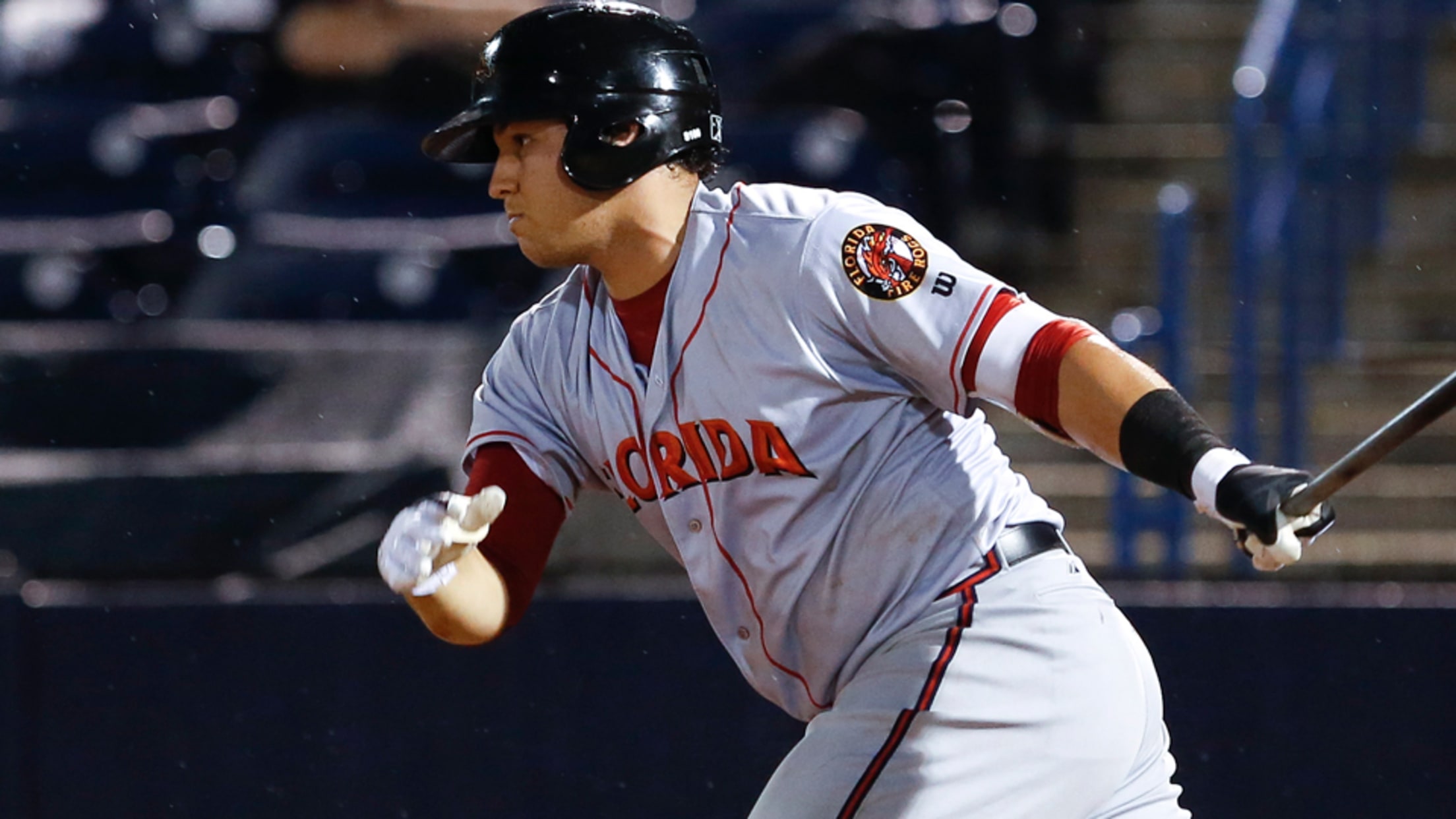 Alex Jackson is 8-for-20 with three homers, seven RBIs and seven runs scored in his last five games. (Mark LoMoglio/Tampa Yankees)
Alex Jackson has a tendency to make life hard for opposing pitchers, so long as he takes it easy himself."That's key for him," Class A Advanced Florida hitting coach Carlos Mendez said. "He has quick hands and plus power -- he just has to control his effort."The Braves' No. 23
Alex Jackson has a tendency to make life hard for opposing pitchers, so long as he takes it easy himself.
"That's key for him," Class A Advanced Florida hitting coach Carlos Mendez said. "He has quick hands and plus power -- he just has to control his effort."
The Braves' No. 23 prospect recorded his first career four-hit game on Sunday, homering twice, doubling, driving in four runs and scoring three as the Fire Frogs fell, 9-8, to Charlotte in the second game of a doubleheader. Jackson rebounded from an 0-for-3, three-strikeout performance in the opener.
Gameday box score
"Especially after the first game, that was impressive," Mendez said. "He just swung at a lot of bad pitches. Sometimes when you struggle, it can affect your timing."
The 21-year-old-catcher was sidelined from May 18-June 19 with a left wrist contusion. At the time of the injury, he was second in the Florida State League with 10 homers. Bradenton's Logan Hill was tops with 11 and still leads the loop with 16. Jackson had not homered since May 8 until going yard Friday, and his three over the last three days place him second among active FSL players.
"Since he came back from the DL, he's been inconsistent with his approach. He keeps saying, 'I just need to relax. See ball, hit ball.' And I think that's what he's doing," Mendez said.
"We were watching video and he wasn't transferring weight to the back leg. Especially during batting practice, he was hitting with his weight out front, like he's trying to hit home runs -- pull-happy, trying to pull everything. When you do that, you're going to swing at a lot of bad pitches and have trouble recognizing breaking balls. When everything was going good earlier, he was clearing the batter's eye in center field. He doesn't need to try to pull it. That's what we're trying to work on -- staying with the gap approach and hitting to the middle of the field."
It was effective in his first at-bat of the nightcap. Facing left-hander Travis Ott, the right-handed hitter kept his weight back and feasted on the first pitch he saw.
"He got a fastball down and in and he hit it dead center," the Fire Frogs hitting coach said.
In the third, Jackson doubled to left off Ott and got to him again in the fifth with a homer to left-center.
"The second homer, he got one that caught some of the plate and he hit it out," Mendez said. "He can leave the yard anytime. The key for him is not to try to do too much. That's the case since he came back. But when he's not pressing too much, he can hit it out any time."
With Florida trailing, 8-6, in the ninth, Jackson fell behind, 0-1, against Rays No. 29 prospectDrew Smith, then fouled off four straight pitches. He poked the next offering through the left side and scored the tying run on a sacrifice fly by Carlos Castro. The performance left Jackson with a .284/.353/.530 slash line.
Fire Frogs leadoff man Ray-Patrick Didder homered, singled and walked.
David Olmedo-Barrera put up his second four-RBI game of the weekend for the Stone Crabs, going 2-for-4. Lefty Dalton Moats (4-0) earned the win, holding Florida hitless while walking two and striking out one over two innings.
Josh Jackson is a contributor to MiLB.com. Follow and interact with him on Twitter, @JoshJacksonMiLB.