Fresno Grizzlies Return to Chukchansi Park Tomorrow Featuring Community-based Promotions
Homestand to include Diversity & Inclusion Night, Fresno Tigers Tribute, and Health Care Workers Appreciation Night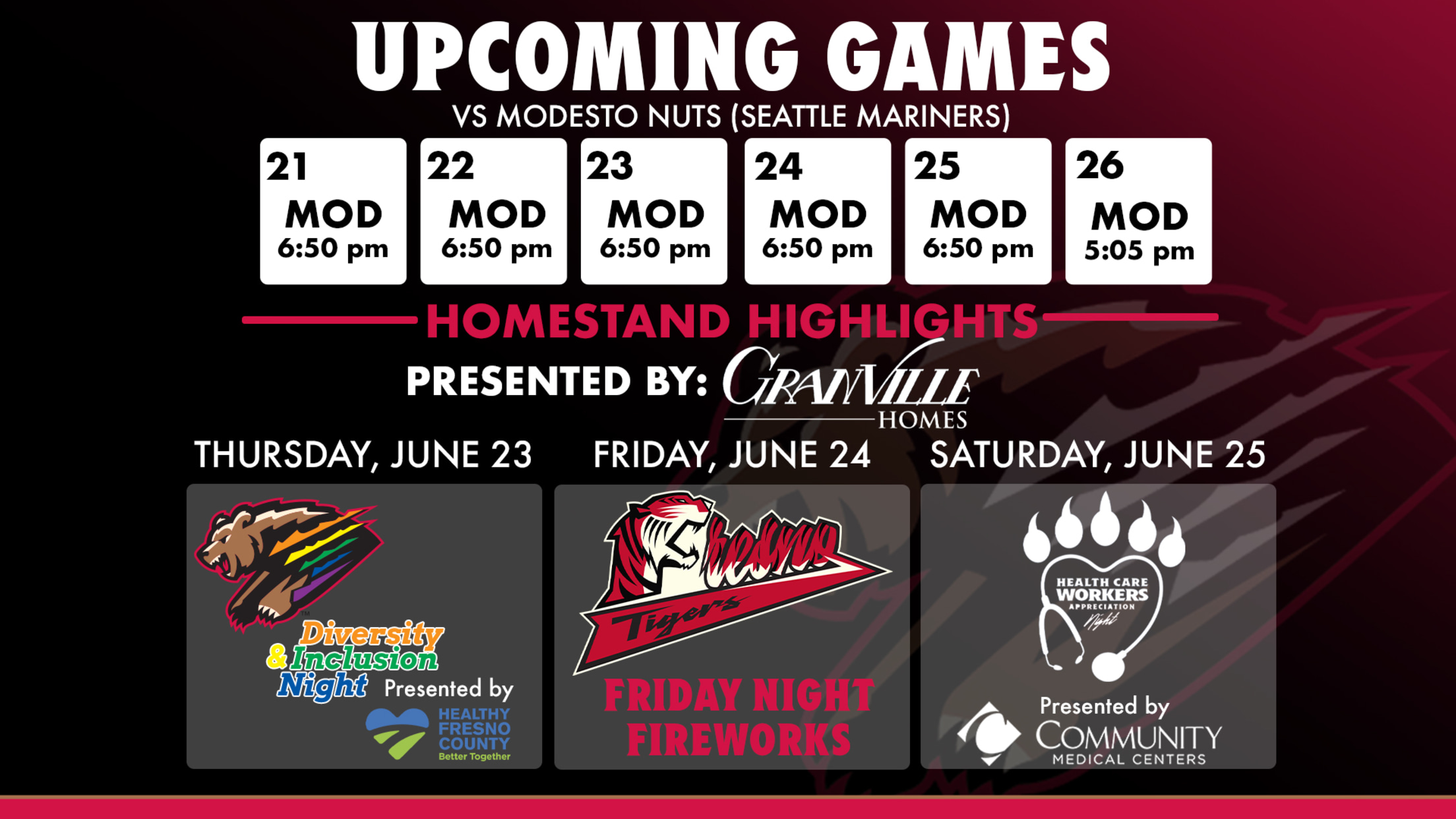 Fresno, CA - The first-place Fresno Grizzlies return to Chukchansi Park on Tuesday, June 21, coming off of a 6-game series against the San Jose Giants. The Grizzlies' magic number sits at two, which means that any combination of 2 Grizzlies wins or Giants losses before the first half of
Fresno, CA - The first-place Fresno Grizzlies return to Chukchansi Park on Tuesday, June 21, coming off of a 6-game series against the San Jose Giants. The Grizzlies' magic number sits at two, which means that any combination of 2 Grizzlies wins or Giants losses before the first half of the season officially ends on Thursday will clinch a playoff spot for Fresno. The Grizzlies begin their series with the Modesto Nuts tomorrow with a 6:50p first pitch, whereas the San Jose Giants take on the Stockton Ports beginning at 7:05p tomorrow.
The week's special promotions begin on Thursday with Diversity & Inclusion Night presented by Healthy Fresno County. This event will feature numerous community organizations tabling on the concourse throughout the game including the departments of Public Health, Behavioral Health, Public Works and Planning, District Attorney, and many more.
On Friday night, the Fresno Grizzlies will transform into the Fresno Tigers in honor of the 1946 West Coast Negro League Baseball team that played under the same name. This tribute to the 1946 team will be the organization's first time donning the newly-reimagined Tigers uniform and will celebrate Juneteenth. This evening will feature tabling from local black-owned businesses as well as a first pitch from former-NFL player, and founder of Golden Charter Academy, Fresno-native Robert Golden. The game will be followed by Friday Night Fireworks.
Saturday night will be Health Care Worker Appreciation Night presented by Community Medical Centers at Chukchansi Park. Throughout the game, the Grizzlies will honor and celebrate local health care workers for all of the hard work they do in the community. That evening, the team will also host one their Community Outreach Nights presented by Chukchansi Gold Resort & Casino featuring almost two-dozen local organizations and non-profits giving information about their causes throughout the concourse.
Fans can purchase their tickets for next week's games at FresnoGrizzlies.com, by calling 559-320-TIXS(8497) or by visiting the Chukchansi Park Ticket Office.
#Growlifornia
ABOUT THE FRESNO GRIZZLIES
The Fresno Grizzlies are the reigning Low-A West regular-season champions and a proud affiliate of the Colorado Rockies organization. The team plays at Chukchansi Park in Downtown Fresno, which is also a year-round community venue that hosts a myriad of other special events including concerts, high school sporting events, and over 100 non-profit community events annually. The 2022 season will mark the team's 20th year in Downtown Fresno and 24th baseball season since their inception in 1998.