Grizzlies drop Father's Day matchup to Chihuahuas
Tucker and Centeno each notch 2 RBI in 11-5 loss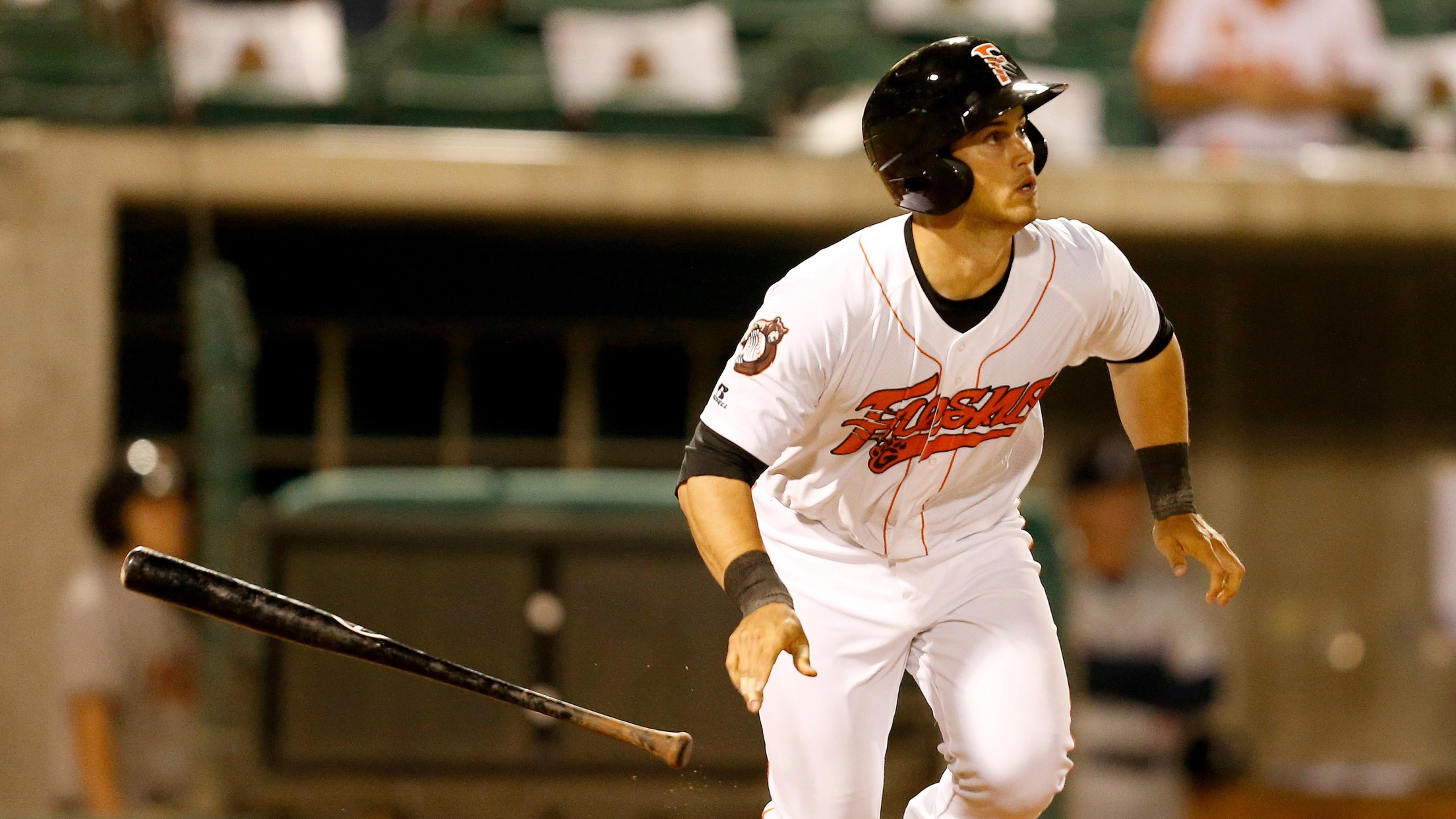 (Kiel Maddox)
The Fresno Grizzlies (34-36) dropped the second of a four-game set to the El Paso Chihuahuas (35-35) on Father's Day at Chukchansi Park. El Paso prevailed 11-5 over the Grizzlies, outhitting the home club 18-4.  The Grizzlies took the lead early, 2-0 over the Chihuahuas after the first. Juan Centeno
The Fresno Grizzlies (34-36) dropped the second of a four-game set to the El Paso Chihuahuas (35-35) on Father's Day at Chukchansi Park. El Paso prevailed 11-5 over the Grizzlies, outhitting the home club 18-4.
The Grizzlies took the lead early, 2-0 over the Chihuahuas after the first. Juan Centeno knocked a two-run double with the bases loaded to score Preston Tucker and Teoscar Hernández who both walked to get on.
El Paso took a 4-2 lead over Fresno in the third. Christian Villanueva (2-for-5) hit a RBI single which was followed by back-to-back homers from Ryan Schimpf (4-for-5) and Jabari Blash (4-for-5). Schimpf hit a two-run shot to right for his third of the season. Blash's was a solo-shot to left center, his 12th of the season.
In the fifth, the Chihuahuas extended their lead to 6-2. With Diego Goris (2-for-5) reaching on a fielder's choice, Schimpf and Blash each scored on a Fresno throwing error. In the sixth, the Grizzlies cut El Paso's lead to 6-3 when Hernandez scored on a throwing error. The Chihuahuas then took an 8-3 lead to the stretch when Villanueva scored on a Blash RBI single and Schimpf scored on a Dusty Coleman sacrifice fly in the seventh.
Tucker hit a two-RBI single for the Grizzlies in the home half of the seventh frame to cut El Paso's lead to 8-5. Reid Brignac and Jon Kemmer scored after they singled and walked to get on, respectively. The Chihuahuas increased their lead once again in the eighth on another Schimpf RBI single that scored Carlos Asuaje (2-for-6) to make the score 9-5.
The Chihuahuas extended their lead to an 11-5 final in the top of the ninth. Rocky Gale hit a sacrifice fly to score Goris (single) and Asuaje drove in Coleman (single) with a RBI single.
Casey Coleman (2-4) suffered the loss for Fresno through 2.2 IP. He allowed four runs on five hits and three walks with two strikeouts. El Paso reliever Jose Rafael De Paula (2-0) earned the win with seven strikeouts through 4.1 scoreless innings without allowing a hit. Chihuahuas starter André Rienzo allowed two runs on one hit and four walks with two punch-outs through the first two thirds of the game.
The Grizzlies and the Chihuahuas play the third of the four-game series at on Monday at 7:05 p.m. RHP Bryan Rodriguez (1-4, 4.89) is set to start for El Paso against Fresno RHP David Martinez (3-7, 5.05).