Hjelle stifles Rainiers, 3 River Cats go yard in series-finale victory
River Cats 6, Rainiers 1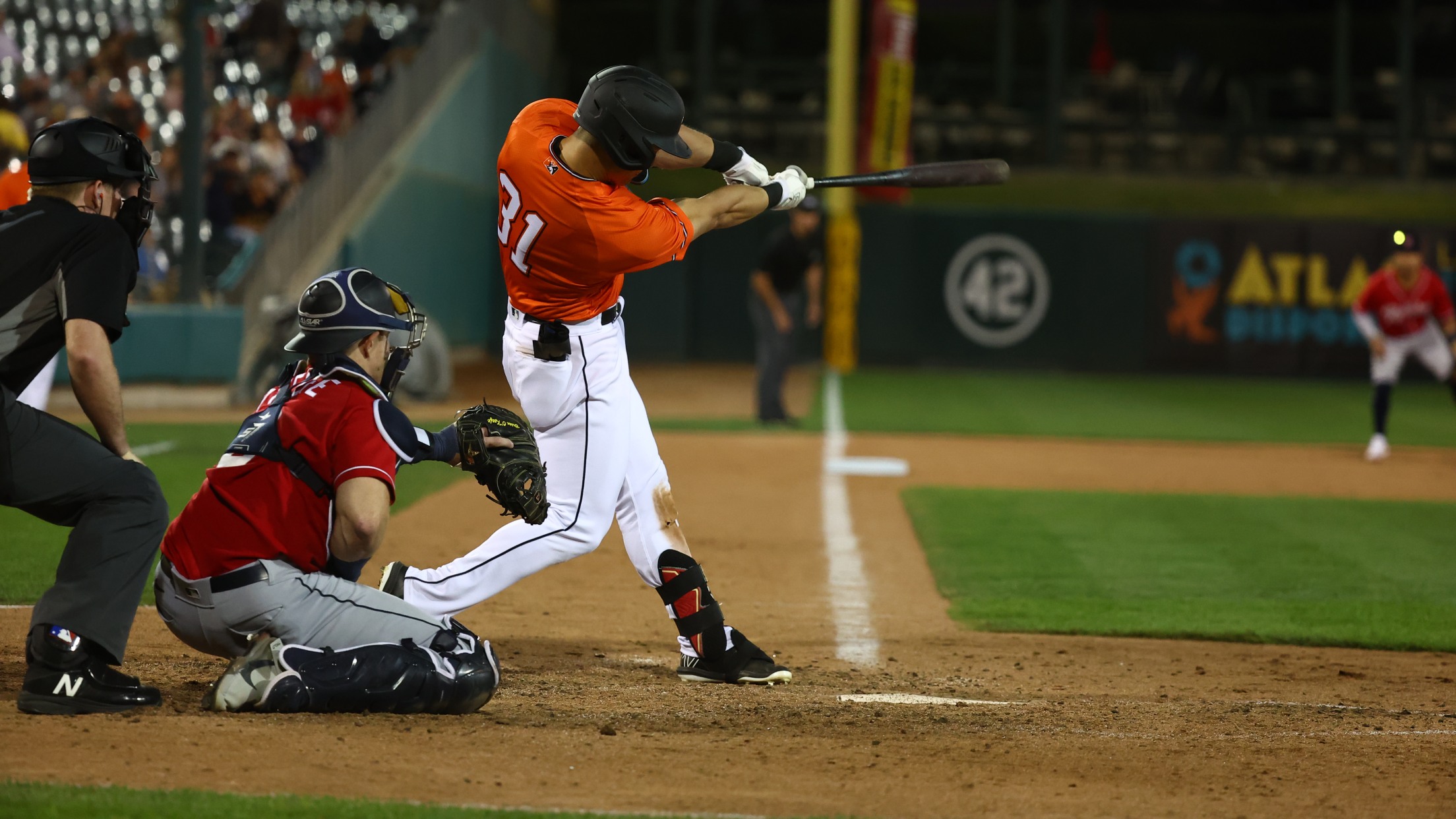 Sacramento outfielder Stuart Fairchild doubles against his former team Tacoma (5/20/22). (Ralph Thompson Photo)
West Sacramento, Calif. — Powered by excellent pitching from right-hander Sean Hjelle (3-2) and the bullpen, and three home runs, the Sacramento River Cats (20-22) stopped their three-game skid with a 6-1 series-finale victory over the Tacoma Rainiers (15-27) on Sunday. Hjelle quickly set the tone with a dominant effort
West Sacramento, Calif. — Powered by excellent pitching from right-hander Sean Hjelle (3-2) and the bullpen, and three home runs, the Sacramento River Cats (20-22) stopped their three-game skid with a 6-1 series-finale victory over the Tacoma Rainiers (15-27) on Sunday.
Hjelle quickly set the tone with a dominant effort on the mound, striking out a season-high seven while allowing one walk and two hits in 5.0 shutout innings.
After two outs by lefty Sammy Long in the sixth, right-hander Taylor Williams entered and struck out one while surrendering just one walk in 2.1 shutout innings to set up Wei-Chieh Huang, who struck out two to seal the win.
All seven runs in the game came via the long ball, with Sacramento bashing three.
Left fielder Stuart Fairchild opened the scoring with a second-inning solo home run, his first for the River Cats.
Following three innings of trading zeros, Sacramento exploded for five runs in the sixth.
First baseman Jason Vosler gave the River Cats some much-needed breathing room with his second home run of the season, a 375-foot three-run shot to right-center field.
Three batters later, right fielder Austin Dean launched his ninth homer of 2022, which went 415 feet and had an impressive 106.7 exit velocity.
Right-hander Raynel Espinal (3-0, 2.70) looks to continue his hot start to 2022 with a win on Tuesday against Salt Lake. He'll open the series against lefty Kenny Rosenberg (1-0, 1.00) at 6:35 p.m. (PT). Listen to Johnny Doskow call the game online at rivercats.com or on the MiLB First Pitch app.
Additional Notes
Dean loves weekends, as he has three home runs on Fridays, one on Saturday, and four on Sundays.
Third baseman David Villar worked two walks for the second consecutive day, going 0-for-2 with a run scored.