Holder Drives in Five as Tarpons Mash Miracle, 10-3
Tampa Scores 10 Runs for 2nd-Straight Game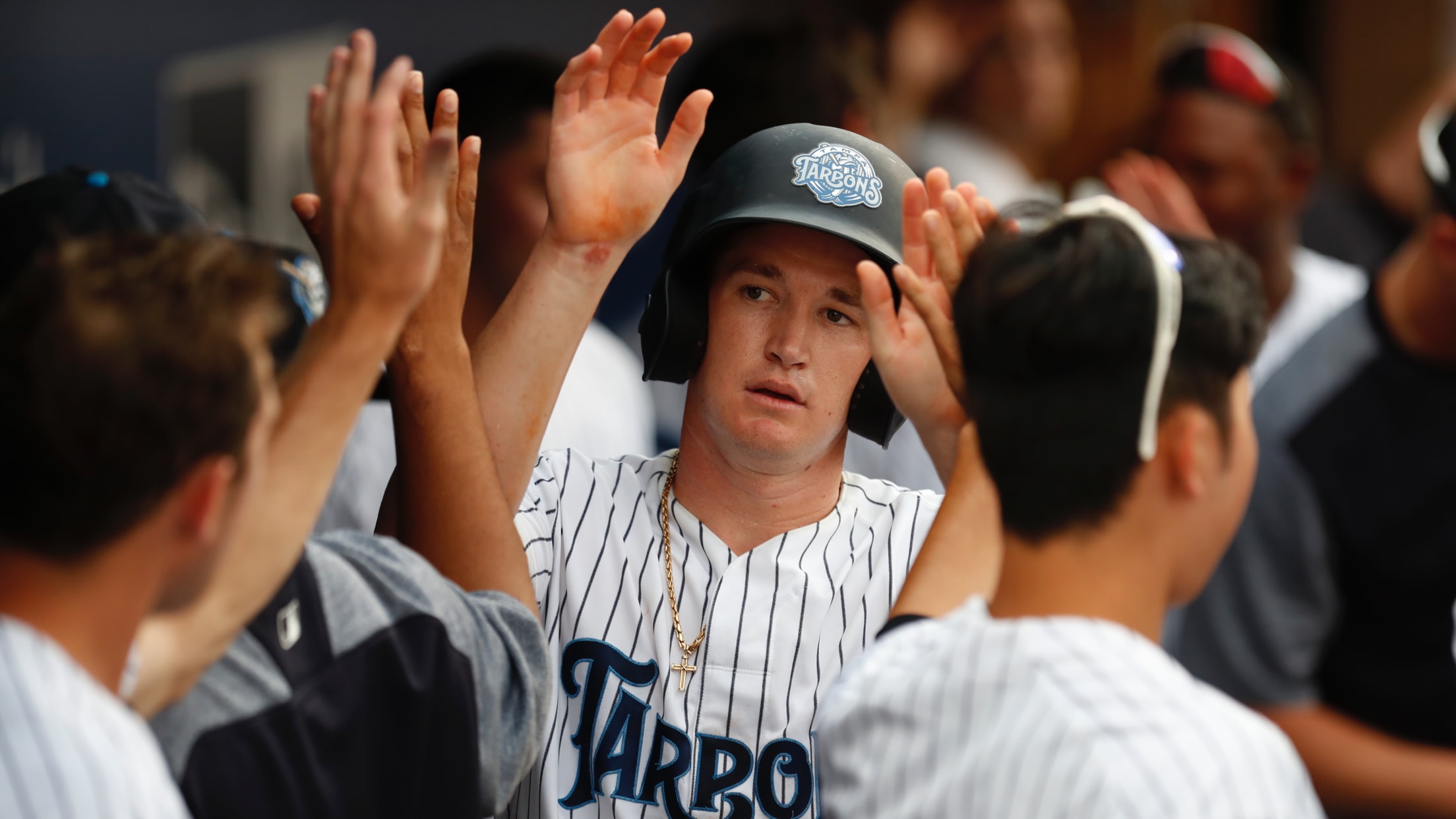 Kyle Holder (3-for-4, 2B, BB, 5RBI, R) tallied a career-high 5RBI in Tampa's 10-3 win over Fort Myers on Tuesday night at George M. Steinbrenner Field. (Mark LoMoglio)
TAMPA, Fla. -- Kyle Holder paced the offense with a career-high five runs batted in, driving in half of Tampa's runs in a 10-3 win over Fort Myers on Tuesday night at George M. Steinbrenner Field.The Tarpons (4-1, 39-36) tallied 15 hits while scoring 10 runs for the second-straight game
TAMPA, Fla. -- Kyle Holder paced the offense with a career-high five runs batted in, driving in half of Tampa's runs in a 10-3 win over Fort Myers on Tuesday night at George M. Steinbrenner Field.
The Tarpons (4-1, 39-36) tallied 15 hits while scoring 10 runs for the second-straight game to earn the win in the series-opener over Fort Myers (3-2, 31-42).
RHP Will Carter made the start against a Miracle lineup that featured a pair of big leaguers in Jorge Polanco and Miguel Sanó. Polanco is due to return to Minnesota on July 2nd after being suspended for 80 games on March 18th for testing positive for performance-enhancing drugs. The Twins optioned Sanó to Fort Myers on June 14th.
Polanco, Sanó and Travis Blankenhorn all walked in the first inning, but Carter struck out Lewin Diaz to leave the bases loaded.
Brandon Wagner drew a two-out walk in the bottom of the first against Miracle starter Tyler Watson. Wagner advanced to third on a base hit by Isiah Gilliam and scored when Gilliam got into a rundown between first and second.
Polanco tied the game with a leadoff home run in the third. Both Sanó and Diaz later singled in the inning, but Carter stranded them both.
Angel Aguilar walked and advanced on a wild pitch before going to third on a bunt single by Holder. A second wild pitch allowed Aguilar to score and Holder to take second. A base hit by Diego Castillo put runners on the corners before Holder scored on a groundout by Wagner.
Watson (L, 0-1) retired Gilliam and Dom Thompson-Williams to end the third. The southpaw allowed three runs (two earned) on three hits in three innings, walking two while striking out four and threw 40 of 60 pitches for strikes.
Carter would pitch into the fourth, but depart after allowing a leadoff double by Taylor Grzelakowski. The right-hander allowed two earned runs on four hits in three innings, walking four while striking out one. Carter threw 45 of 79 pitches for strikes.
RHP Brian Trieglaff entered in relief and Grzelakowski later scored on a single by Luis Arraez. Trieglaff walked both Polanco and Sanó before stranding both runners.
Tampa sent all nine batters to the plate against RHP Brady Anderson in the fourth. Donny Sands singled and Ben Ruta walked before a base hit by Aguilar loaded the bases. Holder delivered a two-run single to right and Castillo followed with a single to left, scoring Aguilar for a 6-2 lead.
Sands, Rashad Crawford and Ruta all singled as the Tarpons reloaded the bases with no outs against RHP Adam Bray in the fifth. Aguilar reached on a fielder's choice, with Sands forced out at the plate. Bray then walked Holder, forcing home Crawford, before Castillo rolled into an inning ending double play.
Mark Contreras walked and advanced to third on a base hit by Polanco before scoring on two-out single by Sanó. RHP Matt Frawley got three strikeouts to end the inning and would add a fourth while stranding a pair of hits in a scoreless seventh.
Ruta singled, stole second and advanced to third on an errant throw by catcher Ben Rortvedt to begin the bottom of the seventh. Aguilar walked and moved to second on a wild pitch by RHP Colton Davis before both runners scored on a double by Holder.
Thompson-Williams singled and later scored on a sacrifice fly by Ruta in the eighth for the final Tampa run.
LHP Phillip Diehl struck out all six batters he faced over two perfect innings in the eighth and ninth. Diehl has struck out 13 of the last 14 batters he's faced over his last three outings.
Gilliam (2-for-5) singled in the first inning to extend his league-best hitting streak to 18-straight games. The 21-year-old is batting .360 (27-for-75) in that span.
Holder (3-for-4, 2B, BB, 5RBI, R) has logged 9RBI in his last two games. Sands (2-for-4, HBP, R) is batting .556 (10-for-18) since being activated off the disabled list.
Castillo (2-for-5, RBI), Thompson-Williams (2-for-5, 2B, R), and Ruta (2-for-3, BB, RBI, 2R, Sac-F) also had multi-hit games.
The series continues on Wednesday at 6:30 p.m. RHP Adonis Rosa (7-1, 3.18) is scheduled to start against RHP Clark Beeker (2-5, 3.20). Live play-by-play audio will be available on the Tarpons Radio Network. On "Wing Deal Wednesday," fans can enjoy wing specials all night long: six wings for $5, 12 wings for $9 and 20 wings for $15.