Hot Rods Come from Behind in 7-4 Win on Saturday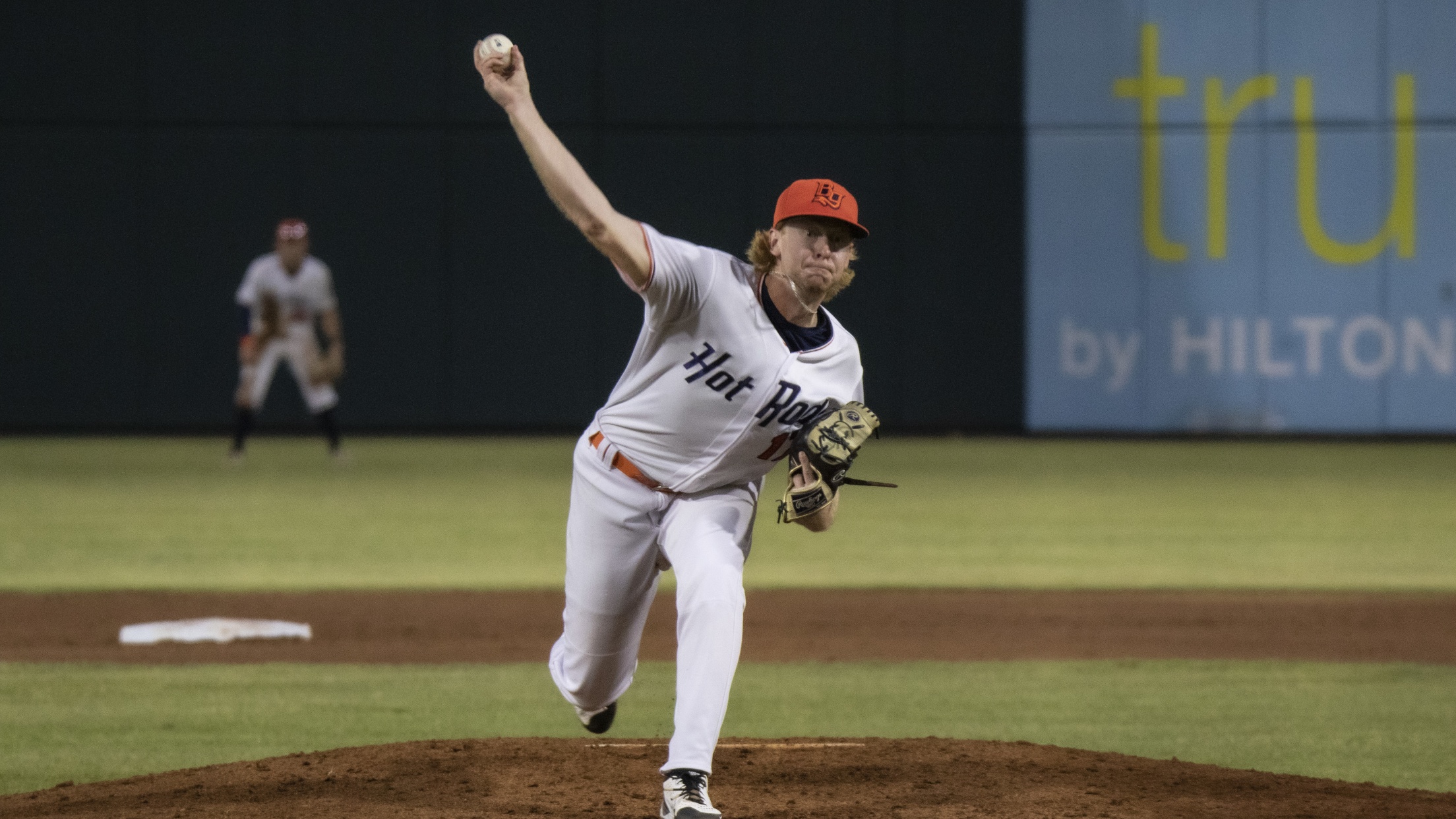 Greenville, South Carolina– Ronny Simon homered and had two hits while Luis Leon had two hits and drove in a crucial run in his High-A debut as the Bowling Green Hot Rods (1-1, 42-25) defeated the Greenville Drive (1-1, 27-41) on Saturday night at Fluor Field. The Hot Rods and
Greenville, South Carolina– Ronny Simon homered and had two hits while Luis Leon had two hits and drove in a crucial run in his High-A debut as the Bowling Green Hot Rods (1-1, 42-25) defeated the Greenville Drive (1-1, 27-41) on Saturday night at Fluor Field. The Hot Rods and Drive will conclude their series on Sunday at Fluor Field in Greenville, South Carolina with a 2:05 PM CT first pitch.
After three innings of trading zeros, Greenville plated three runs in the bottom of the fourth on a three-run homer off the bat of Niko Kavadas to give the Drive a 3-0 lead.
The Hot Rods responded quickly in the top of the fifth against Drive starter Wyatt Olds. Heriberto Hernandez and Luis Leon singled before Beau Brundage did the same, plating Hernandez to make it a 3-1 game. A wild pitch allowed Leon and Brundage to occupy second and third, scoring with two outs on an error to tie the game.
BG took the lead in the sixth against Drive reliever Devon Roedahl with two outs. Kyle Manzardo worked a leadoff walk and, with two outs, scored when Leon singled to left to give the Hot Rods a 4-3 lead. Another run scored when Diego Infante earned a walk with the bases loaded in the seventh and Ronny Simon hit a two-run homer in the eighth to make it a 7-3 Hot Rods lead. Greenville hit a homer in the eighth to make it a three-run game, but the Hot Rods went on to win 7-4.
Ben Brecht allowed one run on four hits with a walk and four strikeouts in 4.0 innings of a no-decision. Sean Mullen (3-1) earned the win and let up two runs on three hits over 2.0 innings with two walks and a strikeout. Kyle Whitten earned a hold after pitching 2.0 innings with two strikeouts while the Drive scored a run on two hits. Joe La Sorsa earned a save, throwing 2.0 perfect frames with three strikeouts.
Notes: La Sorsa earned his seventh save of the season… He leads the team.. La Sorsa is also tied for the league-lead in saves… Manzardo extended his on-base streak to 19 games… Whitten gave up his first homer since April and his second run since joining the Hot Rods… Leon had his first multi-hit game for BG this season in his High-A debut… Simon is tied for the team lead with nine homers… He had his 14th multi-hit game of the year… Simon also had his ninth multi-RBI game of the year… The Hot Rods and Drive will play the series finale on Sunday with a 2:05 PM CT first pitch … LH Mason Montgomery (2-2, 1.75) takes the mound for BG against Greenville RH Yusniel Padron-Artiles (3-6, 6.14)… Fans can listen to the game on Talk 104.1 FM and 930 AM WKCT beginning with the Hot Rods Warmup Show at 1:50 PM CT… Fans can also watch live on MiLB.tv, listen via the MiLB First Pitch app on Android and IOS, or go to the Hot Rods website at www.bghotrods.com
###
Hot Rods Baseball