Infield VIP tables added for Jumbo Shrimp's "Couples Retreat" Movie Date Night
Tabletops on 121 Financial Ballpark infield for couples, double dates include exclusive Date Night menu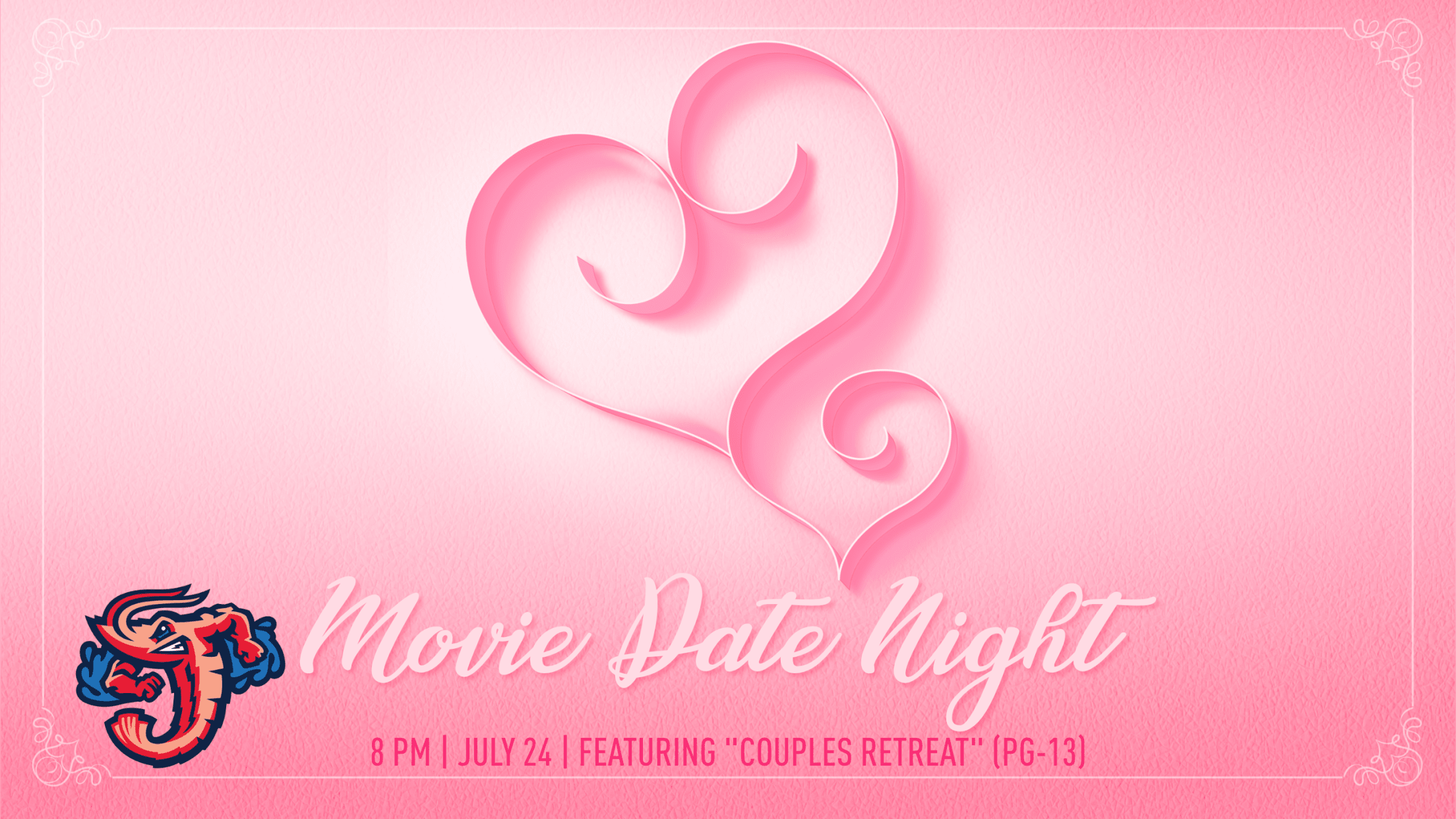 INFIELD TABLETOP VIP MENU (CALL 904-358-2846 TO PLACE RESERVATION) JACKSONVILLE, Fla. – The Jacksonville Jumbo Shrimp are adding special infield VIP tables for couples and double-dates for the club's July 24 "Couples Retreat" (PG-13) Movie Date Night presented by Jacksonville Aviation Authority at 121 Financial Ballpark. The club's screening of
INFIELD TABLETOP VIP MENU (CALL 904-358-2846 TO PLACE RESERVATION)
JACKSONVILLE, Fla. – The Jacksonville Jumbo Shrimp are adding special infield VIP tables for couples and double-dates for the club's July 24 "Couples Retreat" (PG-13) Movie Date Night presented by Jacksonville Aviation Authority at 121 Financial Ballpark. The club's screening of "Couples Retreat" begins at 8 p.m. with gates opening to the event at 7 p.m.
The infield tabletops, priced at $65 for a couple and $130 for a double date, features an exclusive Date Night menu with the selection of one appetizer per couple, one entrée per person and one dessert per couple. Each tabletop also includes unlimited popcorn throughout the movie.
Reservations for infield VIP tables are extremely limited, and must be booked no later than Wednesday, July 22 by calling the Jumbo Shrimp at (904) 358-2846. All members of parties must arrive together.
The Movie Date Night VIP menu is as follows:
Appetizers (Choose one per _couple_)
Shrimp Cocktail (8)
Chips & Queso
Chicken Wings served with celery, carrots and ranch (6)
Side Salad
Fruit Salad
Entrees (Choose one per _person_)
Jambalaya with shrimp & sausage
Chicken or Shrimp Alfredo served with Texas toast & side salad
Steak Bo Jackson Signature Sliders (2) served with onion rings or jersey fries*
Couples Creations 1 lb. Build-A-Burger served with hand cut kettle chips* (Choose up to five toppings: onion, tomato, lettuce, pickles, mushrooms, jalapenos, fried onions, mac 'n' cheese bites, chili, pastrami, bacon, pulled pork)
*(comes with one complimentary Jumbo Shrimp cup or Jumbo Shrimp helmet)
Dessert (Choose one per _couple_)
Brownies (Feeds 2)
Cookies (Feeds 2)
Chocolate-covered strawberries (6)
Beverages
Water - $3
12 oz. Coke, Sprite or Diet Coke - $3
12 oz. Yuengling, Miller Lite, Bud Light or Michelob Ultra - $4
12 oz. Intuition Ale Shrimp Boat - $6
19 oz. White Claw - $10
House Wine Mondavi (750 ml) Pinot Grigio, Chardonnay, Merlot or Cabernet - $20
Liquor (375 ml) Bacardi, El Jimador or Sailor Jerry - $20
Liquor (375 ml) Makers Mark or Tito's - $25
"Couples Retreat" is rated PG-13 and suggested for audiences of at least 13 years of age.
In accordance with guidelines set by city and state health authorities, the Jumbo Shrimp have created the following protocols to ensure safety for all attendees at 121 Financial Ballpark:
TICKETS
Tickets for Movie Date Night VIP tables must be either printed in advance or displayed on a mobile device. There will be no Will Call. In order to access the ballpark, guests will need to present their ticket at their designated entry point and have all members of their party together at time of entry. Tickets will not be available for purchase at the Jumbo Shrimp Box Office, and must be purchased by calling the Jumbo Shrimp at (904) 358-2846.
PARKING & ENTRY
Parking Lot Z has been designated as the parking for this event, parking in Lot Z will be FREE for movie night attendees. All guests will enter 121 Financial Ballpark via the Third Base Gate, on A. Philip Randolph directly across from the arena.
*_ABOUT THE JUMBO SHRIMP: *_The Jacksonville Jumbo Shrimp offer affordable family fun at 121 Financial Ballpark. Their inaugural season garnered the Southern League's Don Mincher Organization of the Year, Promotional Trophy and Jimmy Bragan Executive of the Year, won by General Manager Harold Craw. The club added its second Promotional Trophy in three years following the 2019 season. To experience the excitement with the terrific value of ticket and group options, call the Jumbo Shrimp at (904) 358-2846 or visit www.jaxshrimp.com.