Pigs announce Jack-O-Lantern Festival for Oct. 19
Calling All Carvers: IronPigs are looking for community involvement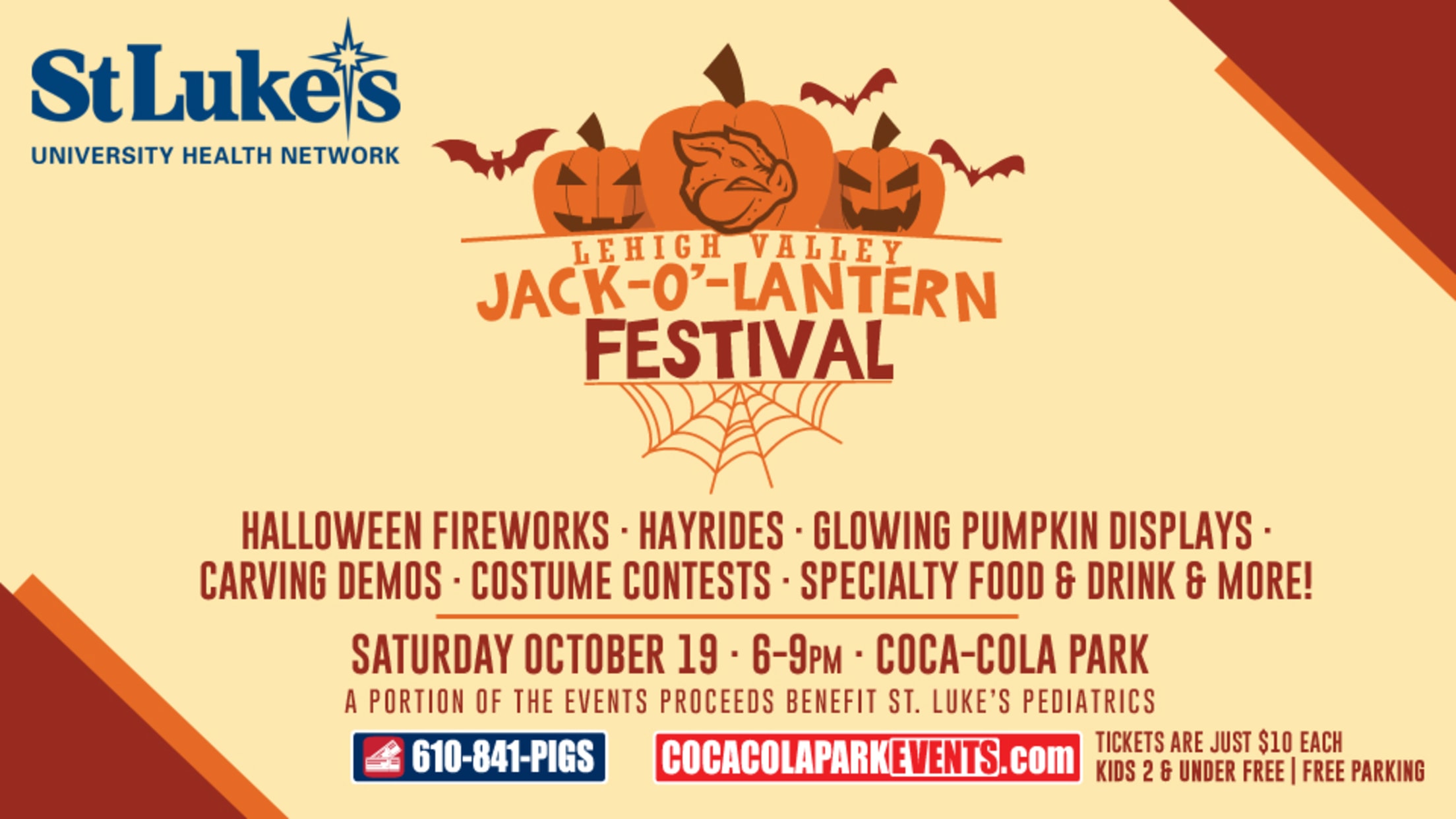 Follow @IronPigsThe Lehigh Valley IronPigs will be hosting their first ever Jack-O-Lantern Festival at Coca-Cola Park on Saturday, Oct. 19 from 6-9 p.m. The IronPigs are looking for community involvement as they are in search of multitudes of pumpkin carvings for their first annual Jack-O-Lantern contest. Tickets are available now
Follow @IronPigs
The Lehigh Valley IronPigs will be hosting their first ever Jack-O-Lantern Festival at Coca-Cola Park on Saturday, Oct. 19 from 6-9 p.m. The IronPigs are looking for community involvement as they are in search of multitudes of pumpkin carvings for their first annual Jack-O-Lantern contest. Tickets are available now for just $10 (children two and under are free).
| Sign up to compete
The event will feature many fun activities:
• Live Music
• Pumpkin carving demos by professional pumpkin carvers
• Children's costume parade and a costume contest
• Horse drawn hayrides
• The Lehigh Valley Reilly Children's Hospital KidsZone will be open
• Clowns and face painting
• Palm readings/Tarot card readings
Fireworks will take place at 9 p.m. and will be set to Halloween music. The entirety of the Jack-O-Lanterns will be lit throughout the evening as the night's primary spectacle.
There will also be a large offering of food items including:
• Cinnamon Sugar Pumpkin Funnel Cake
• Cinnamon Sugar Sweet Potato Fries
• Apple Crescents with dipping Sauce
• Apple Dumplings
• Pumpkin Cookies
• Apple tart with ice cream
• Pumpkin Pie
• Pecan Pie
• Beignet with pumpkin dipping sauce
• Caramel Apples
• Apple Cider
• Pumpkin Spice Latte
• A variety of pumpkin beers and specialty mixed drinks such as:
Apple Pie - pumpkin vodka, apple cider, club soda
RumChata Pumpkin Pie - RumChata Cream Liqueur, vanilla vodka, pumpkin pie filling
Coconog - white rum, coconut cream, coconut milk, condense and cinnamon
Seasonal Fruit Sangria
Various food trucks will be on hand as well. Dan Schantz Greenhouse and Cut Flower Outlet will be selling pumpkins.
For those bringing a pumpkin, Jack-O-Lantern drop-off begins on Friday, October 18 at the preview party from 6-8 p.m. IronPigs concessions will be open. The drop-off is free admission to the preview party. Prizes will be awarded to the best jack-o-lanterns within age groups on Saturday during the festival. The IronPigs are also asking local businesses and schools to participate! Cash prizes will be provided to the winners. Here are the different age groups and categories:
Jack-O-Lantern age groups

Under 7 years old
8-12 years old
13-18 years old
19+ years old
Halloween silhouettes groups
1st, 2nd and 3rd prize for the club/non-profit organization category
1st, 2nd and 3rd prize for the school category
1st, 2nd and 3rd prize for the company category
Multiple entries are encouraged!
Once nightfall bestows upon Coca-Cola Park, an eerie sight will be filled throughout with Jack-O-Lanterns galore! Spooky Halloween-themed silhouettes will line the concourse and field glowing in the night. Be a part of the fun and submit a Jack-O-Lantern or silhouette!
For more information on how to participate and or to purchase tickets for the Jack-O-Lantern Festival visit CocaColaParkEvents.com.
The 2019 IronPigs season is the team's 12th as the top affiliate for the Philadelphia Phillies and 12th at Coca-Cola Park. Follow the IronPigs on Twitter at @IronPigs and like them on Facebook via Facebook.com/LHVIronPigs.The 2019 IronPigs season is presented by Capital BlueCross.