July 5 Game Notes - Iowa vs. Memphis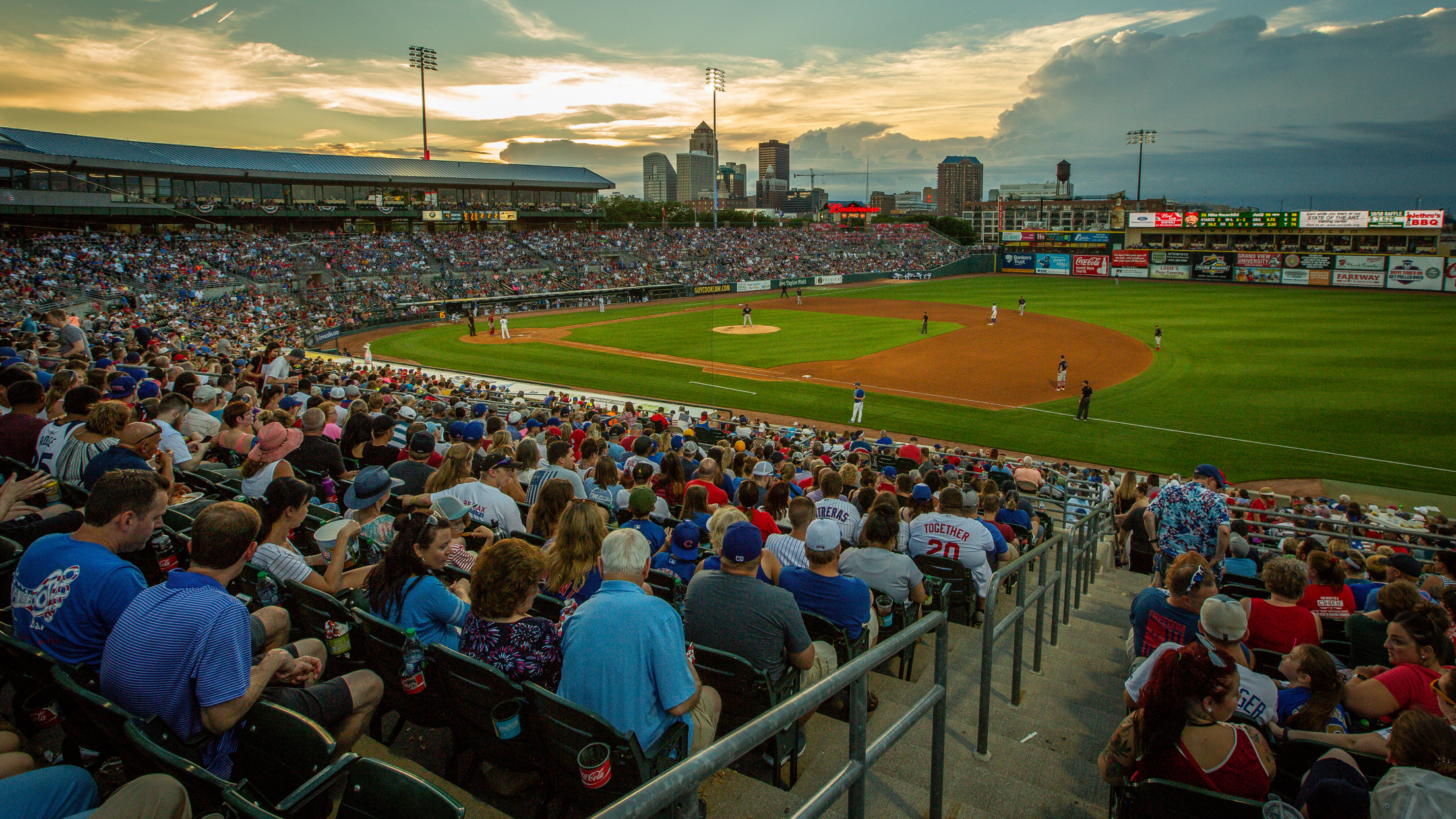 (Dylan Heuer)
Iowa Cubs (50-37) vs. Memphis Redbirds (35-52)Friday, July 5 • 7:08 p.m. • Principal Park • Des MoinesRHP Tyson Miller (0-0, -.--) vs. LHP Austin Warner (0-0, 7.50)
Iowa Cubs (50-37) vs. Memphis Redbirds (35-52)
Friday, July 5 • 7:08 p.m. • Principal Park • Des Moines
RHP Tyson Miller (0-0, -.--) vs. LHP Austin Warner (0-0, 7.50)
TONIGHT'S GAME: The I-Cubs and Redbirds meet for the second of four games on Friday night. Iowa has taken four of five against Memphis this season after a walk-off win on Thursday night. The win tied their season-best record at 13 games over the .500 mark.
COMEBACK CUBS: Iowa has taken four games this season while trailing after seven innings of play, but Thursday night marked the club's first win while trailing after eight innings. The 2018 I-Cubs collected two such wins, the last coming on June 6, 2018 against Albuquerque. Victor Caratini hit a two-run single in the ninth inning to earn a walk-off victory.
TRIPLE-A TYSON: RHP Tyson Miller is the projected starter for Iowa on Friday and is set for his Triple-A debut. He made Tennessee's roster out of spring training and collected a 2.56 ERA and a 4-3 record in his first 15 Double-A starts. Miller is rated as the 19th-best prospect in the Cubs organization by MLB.com. He will become the sixth MLB.com top-30 prospect to play for the I-Cubs in 2019 (Alzolay, Short, Giambrone, Underwood Jr., Mekkes).
LIGHTS OUT: The I-Cubs bullpen played a key role in holding the deficit at one during last night's comeback, spinning another 3.0 scoreless frames. The trio of Carl Edwards Jr., Craig Brooks and Rowan Wick were nearly perfect, save for a walk in the eighth from Brooks. The pen has pitched at a 1.96 ERA pace (9ER/41.1 IP) since June 22. James Norwood and Duane Underwood Jr. have not surrendered a run over the 13-game stretch, combining for 11.2 innings.
CLEAN UP TIME: Phillip Evans has started in the clean up spot for each of the last 10 games. Over the stretch, he has shown why his name has been penciled in the fourth spot in 52 of 87 games this season. He has recorded an RBI in each of the last 10 games for a total of 13 over that stretch and now leads the team with 45 in 2019. Evans is on a season high six-game hitting streak, with a .360 average (9-for-25) with three doubles and a home run.
DOMINATING DUANE: After collecting a 6.46 ERA through 10 starts to begin 2019, RHP Duane Underwood Jr. transitioned to the bullpen. Since May 31 when he made his first appearance of the year in relief, Underwood Jr. has earned a 2.51 ERA (4ER/14.1 IP) while collecting 17 strikeouts and walking six batters. Including Tuesday night's outing, the right-hander is on an impressive stretch of 8.0 consecutive scoreless innings over his last five outings with 10 strikeouts to just two walks.
AGAINST MEMPHIS: The first-place I-Cubs are 4-1 against the defending Triple-A Champions in 2019. Iowa struggled against Memphis in 2018 with a 2-14 record, including an 0-8 mark at Principal Park, but defeated the Redbirds at Principal Park for the first time since Aug. 25, 2018 with a 5-4 win on Thursday. Despite the slanted record, four one-run games in five contests has Iowa outscoring Memphis just 28-23 this season.
NEAR QUALITY: RHP Trevor Clifton was two outs away from his second quality of the season before Justin Williams knocked his second two-run homer of the night over the wall to end the bid. Clifton has two quality starts at the Triple-A level, both coming against the Redbirds. He had earned a decision in his previous nine starts prior to the no-decision on Thursday.
REDBIRD KILLERS: Dixon Machado and Phillip Evans have been excellent against the Memphis pitching staff this season. Machado holds a .385 batting average (5-for-13) and a .600 on-base percentage with seven walks in five games against the Redbirds this season. His triple on Thursday was his first extra-base hit, knocking in his only two RBI in the season series. Evans is hitting at a .333 clip (6-for-18) with a .500 OBP against Memphis, punching in a team-high six RBI.
DOUBLE TROUBLE: Only four Redbird hitters recorded a hit on Thursday, with only two of the six total hits going for extra bases. Unfortunately, the two extra-base hits both went over the fence off the bat of Justin Williams to score all four Memphis runs. He is the seventh player to hit multiple home runs in a game against the I-Cubs this season.
THE DIFFERENCE A YEAR MAKES: With last night's win, the I-Cubs matched their 2018 win total with their 50th of 2019. They are on pace for an 81-59 record, which would be the most in a season since an 82-win campaign in 2010. On the flip side, the Redbirds won the Triple-A Championship last year as they went 83-57 in the regular season. This year, Memphis is in last place of the division with a record of 35-51.
SHORT HOPS: The I-Cubs are 8-2 in their last 10 games, the best mark in the PCL...Iowa released OF Jacob Hannemann and activated RHPs Adbert Alzolay and Dillon Maples...through four games in July, the I-Cubs pitching staff leads the PCL with a 2.06 team ERA, the next lowest is New Orleans with a 3.21...starter Trevor Clifton hasn't won a game at Principal Park since his first win of the year May 1 against San Antonio.