June 21 Game Notes: Iowa @ Louisville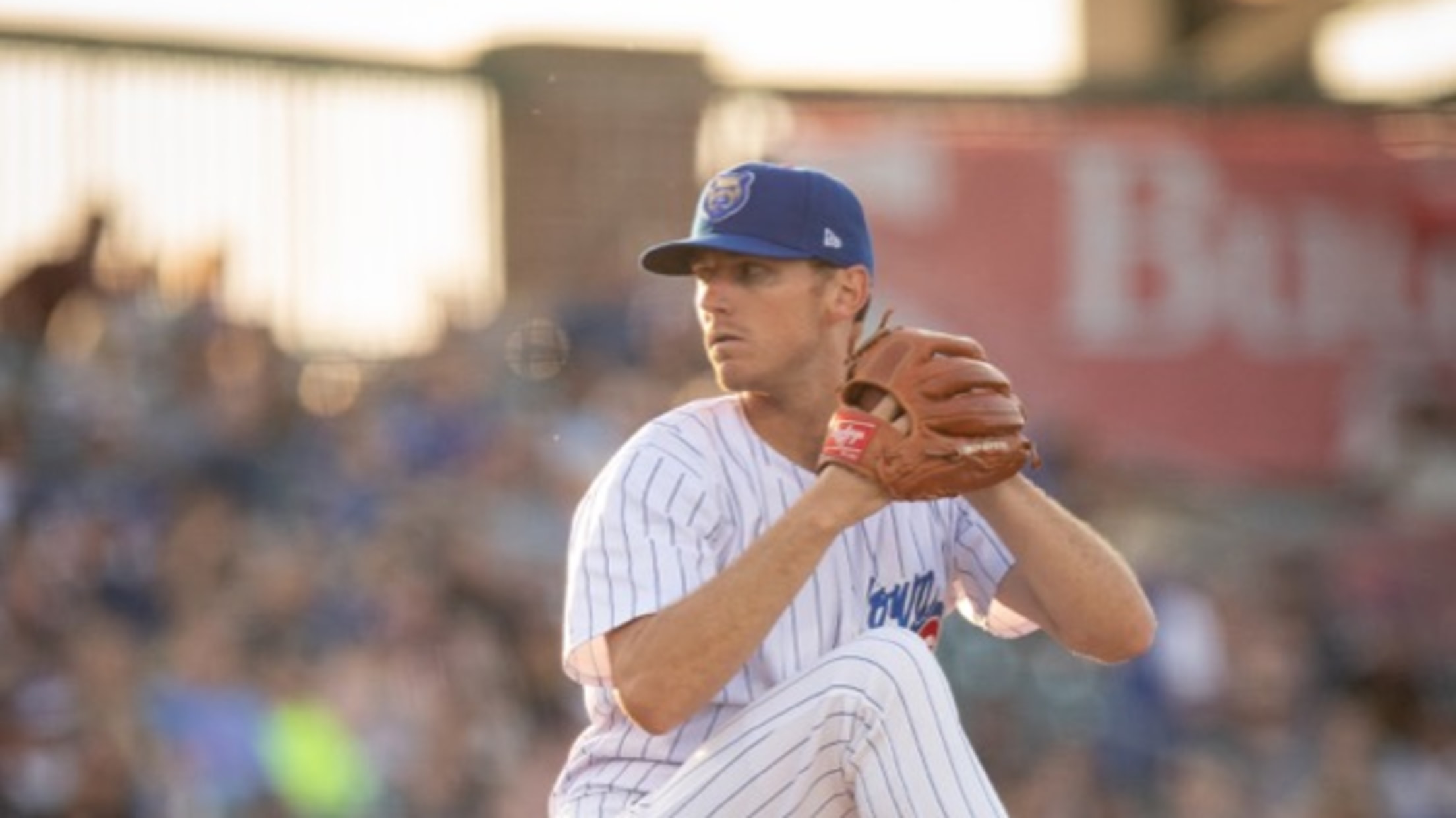 IOWA CUBS (30-35) @ LOUISVILLE BATS (24-41) Tuesday, June 21, 2022 • 6:05 PM CT • Louisville Slugger Field • Louisville, KY LHP Brandon Leibrandt (1-1, 7.56) vs. RHP Deck McGuire (0-1, 5.49)
IOWA CUBS (30-35) @ LOUISVILLE BATS (24-41)
Tuesday, June 21, 2022 • 6:05 PM CT • Louisville Slugger Field • Louisville, KY
LHP Brandon Leibrandt (1-1, 7.56) vs. RHP Deck McGuire (0-1, 5.49)
TONIGHT'S GAME: Iowa and Louisville will meet for game one of their six-game series tonight, with Brandon Leibrandt taking the ball for the I-Cubs. Leibrandt enters tonight's game with a 1-1 record and a 7.56 ERA through four games including three starts. He has allowed 14 earned runs on 24 hits over 16.2 innings pitched, walking seven compared to 12 strikeouts. Opponents are hitting .338 against the lefty, who is coming off a start in which he allowed six earned runs on nine hits over five innings to Omaha on Thursday. Opposite of Leibrandt will be Deck McGuire, set to make his fifth start of the year. McGuire is 0-1 with a 5.49 ERA this year, allowing 12 earned runs on 15 hits over 19.2 innings. He has walked nine batters while striking out 17 and is set to make his first start of the year against Iowa.
MAKING AN IMPACT: David Bote restarted his Major League rehab assignment with Iowa on Friday and has immediately made his presence felt in the I-Cubs' lineup. The infielder went 1-for-2 with a two-RBI double on Friday, followed by a 2-for-4 performance on both Saturday and Sunday. Through his first 12 games of his first rehab assignment this year from May 19 to June 2, Bote hit just .178 (8-for-45) with four runs scored, two doubles, two runs driven in and six walks compared to 11 strikeouts. Since getting pulled from his rehab assignment and getting cleared to be back, he has gone 5-for-10 with three doubles and six runs batted in.
SAVE THE DAY: Iowa is coming off a series in which they won four games against Omaha, with three of the four games requiring a save to get the win. It marked the first series this year that Iowa has had three saves over just one series, earning a save on June 15, 17 and 19. Entering the series, Iowa was just 9-for-20 in save opportunities, blowing 11 saves over the course of their first 57 games. In the series against the Storm Chasers, they went a perfect 3-for-3, raising their season save rate to 52% (12-of-23). Erich Uelmen recorded the first two saves of the series, closing out a 4-2 victory on June 15 and a 5-3 win on June 17. For Uelmen, the two saves marked his third and fourth of the year, giving him the team lead. Ben Leeper kept Iowa's one-run lead intact on Sunday, earning his third save of the year in a 6-5 win. The two pitchers now hold 58% (7-of-12) of Iowa's saves as a team.
HOUSE OF PAYNE: Tyler Payne raised his batting average to .344 with his 2-for-4 performance on Sunday, recording his eighth multi-hit game of the season. The catcher has played in 21 games this year, collecting at least one hit in 11 of them and two or more hits in eight now. He has gone 2-for-4 with a double in each of his last two games, on Tuesday and Sunday. In Tuesday's game, he also drove in three of the team's 11 runs.
GOT THE SERIES: Iowa scored six unanswered runs on Sunday to earn their 30th win of the year and take their third series victory as well. Two of the series wins have now come against Omaha, while all three of their series wins have come at Principal Park. It was their first series win since back on May 10-15 when they took five-of-six games against the Storm Chasers. The I-Cubs will look to end their losing ways on the road and earn their first series victory of the year away from home. Their current series record on the road this year is 0-2-3.
ROAD WOES: Entering tonight's game against Louisville, Iowa has played 46% of their games on the road this year. So far, they are 10-20 on the road while holding a 30-35 overall record, meaning that in just 46% (30-of-65) of their games, they have suffered 57% (20-of-35) of their losses on the year. They split two of their road series, back on April 19-24 here in Louisville and May 3-8 in St. Paul, but have since lost 10 of their last 12 road games, dropping five-of-six to both Memphis and Toledo. Prior to their win on Saturday in Toledo on June 11, the I-Cubs had dropped eight straight on the road.
NEW LEVEL, NO PROBLEM: Darius Hill started the season with Double-A Tennessee, hitting .308 (57-for-185) in 44 games with the Smokies prior to getting called up to Iowa on May 31. Since his promotion, all the outfielder has done is hit, recording eight multi-hit games through his first 14 games with the I-Cubs. Hill is currently on a seven-game hitting streak, with two or more hits in five of the games and three or more hits in four of the games. His seven-game hitting streak stands as the longest active streak on the team right now, as well as tying his longest streak of the season. Back from April 12-21 he had a seven-game hitting streak with Tennessee, going 14-for-29 during that stretch. During his current streak that started back on June 10th, the 24-year-old is hitting .548 (17-for-31) with six doubles, one run batted in and two walks compared to two strikeouts. His 22 hits for Iowa lead the active roster since June 1 and have boosted him to a team-leading .421 batting average (24-for-57) in 14 games with the team. With his 3-for-4 performance on Sunday, Hill is currently on the eighth streak of seven or more games in his three-year professional career, just one game away from his career-long eight game hitting streak set back on June 5-15 with the Smokies last year. Of Hill's 14 games at Triple-A so far, he has hit safely in 11 of them and did not record an at-bat in one, leaving just two hitless games with the I-Cubs. That compares to eight multi-hit games, including four with three or more hits. The performance is nothing new for Hill, who has collected more multi-hit games than no-hit games in each year of his professional career.
AGAINST LOUISVILLE: Iowa and Louisville met here at Louisville Slugger Park back on April 19-24, a six-game series in which the two teams split. The 3-3 split put Iowa at 16-14 all-time against Louisville in the last two years they've played, including a 6-9 record when the I-Cubs play here on the road. Despite a tied series in terms of the record, Iowa actually outscored the Bats by eight runs over the six-game series, 30-22. The three games Louisville won were all by one run, including a 7-6 extra-inning win in which they scored two runs in the ninth to tie and two runs in the tenth inning to win.
SHORT HOPS: Last series, Iowa struck out just 42 times, tying the fewest times they have struck out in any series this year; the first time they struck out 42 times in a series was back on May 17-22 against Columbus…the win in Sunday's game against Omaha marked Michael Rucker's first win in nearly a year, dating back to July 20, 2021, against Columbus.