Know Before You Go Homestand #2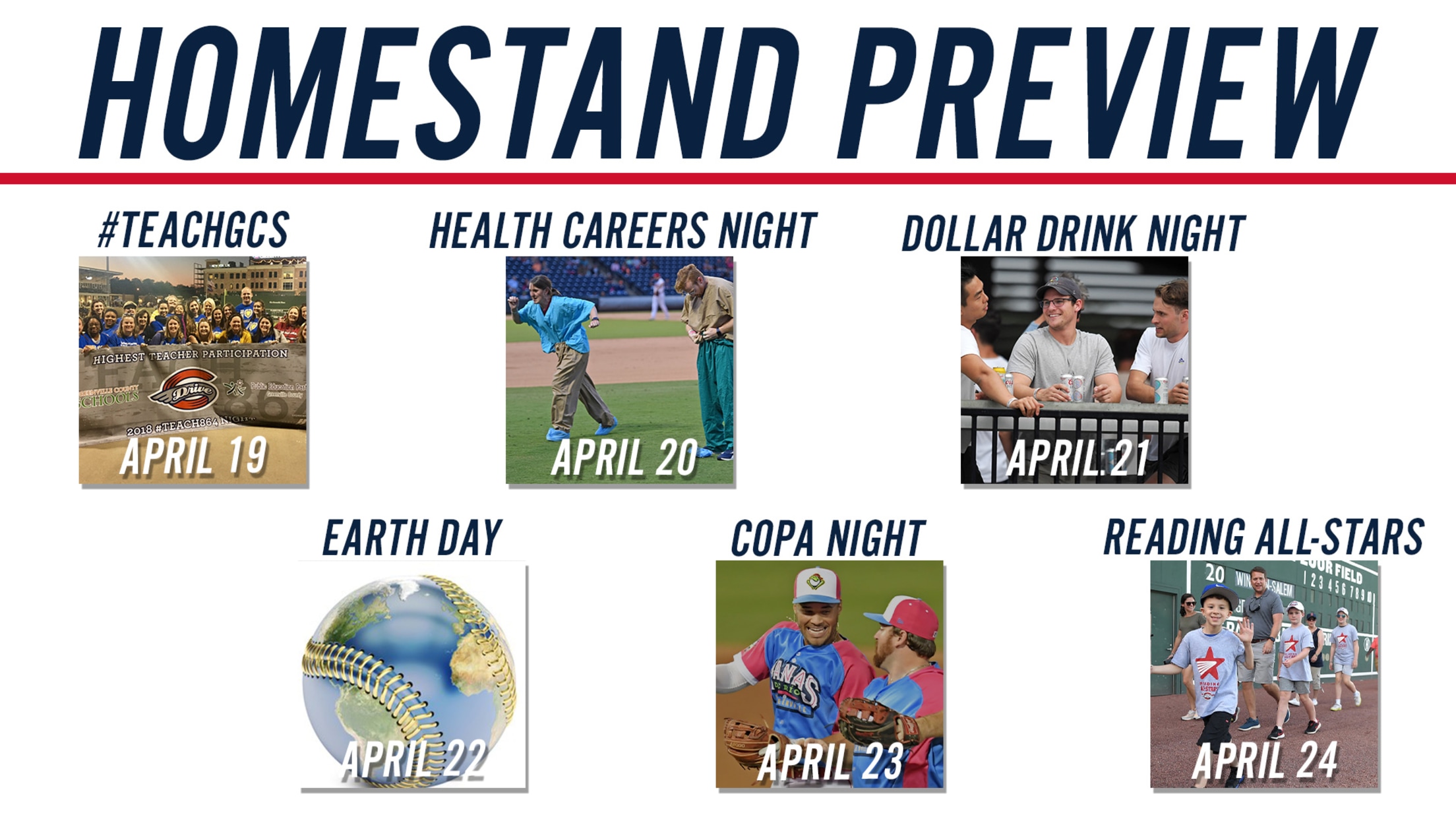 The Greenville Drive is back for homestand #2 against the Winston-Salem Dash (Chicago White Sox Affilaite) starting Tuesday, April 19. Every day of this homestand is packed full of fun events for the community to enjoy! Be sure to read the schedule below, so you don't miss any of the
The Greenville Drive is back for homestand #2 against the Winston-Salem Dash (Chicago White Sox Affilaite) starting Tuesday, April 19. Every day of this homestand is packed full of fun events for the community to enjoy! Be sure to read the schedule below, so you don't miss any of the fun! Tickets for the homestand available HERE
Tuesday, April 19 – Gates Open 6 PM, First Pitch 7:05 PM
Tuesday Night is #TeachGCS night. In partnership with Public Education Partners, and Herff Jones, this night is meant to highlight and celebrate not only teachers in Greenville County, but the entire teaching profession.
Anne Tromsness, the 2021-22 Greenville County Schools Teacher of the Year will throw out the Ceremonial First Pitch, while Matt DeHart and Caroline Black, two of Greenville County Schools "Emerging Teachers" will serve as the Honorary Captains. Christian Scott, Sarah Poole and Anna Hasenkamp, the Greenville County Schools Teacher of the Year Runners-Up will kick the game off as Honorary Play Ball Announcers!
In-game inning breaks will include live interviews with Superintendent Dr. Burke Royster, as well as GCS Trustee Chuck Saylors.
The following will also take place:
· Teacher Recognitions and Celebrations
· First Year Teacher Picnic in the 500 Club at 5 PM (Those attending this picnic should have received a special invitation from Public Education Partners!)
· Complimentary "My Drive to Teach" T-shirts courtesy of Herff Jones and $5 ballpark vouchers for all teachers given when gates open at 6PM.
Wednesday, April 20 – Gates Open 6 PM, First Pitch 7:05 PM
Wednesday night is Health Careers Night. Throughout the night, the Drive will be promoting careers in the healthcare industry to encourage and educate students interested in following this career path. The day begins at 2pm on Field St. with The Blood Connection blood drive. Donors can register at www.thebloodconnection.org/greenville-drive and will receive a raglan t-shirt, clear bag and a voucher for 2 tickets to a Drive game.
Take part in a free Root Cause community health services fair on Field St. starting at 5 PM brought to you by Prisma Health and University of SC School of Medicine Greenville. This interactive fair leading up to the first pitch will include information and activities from community partners such as Carolina Wellness, Greenville Technical College Dental programs, American Heart Association, New Horizons and more.
At 5:30 PM, there will be an informational panel discussion in the 500 Club geared towards middle and high school students and their parents. Experts and professionals from Prisma Health and Greenville County Schools will be onsite discussing their own personal pathways to a career in the healthcare industry. Enjoy complimentary ice cream following the discussion!
When gates open to the public at 6 PM, the concourse will be alive with different interactive exhibits from Prisma Health, Greenville Technical College, Furman University and more. Learn more at www.greenvilledrive.com/healthcareersnight.
Thursday – Gates Open 6 PM, First Pitch 7:05 PM
Thursday night is everyone's favorite night! It's Dollar Drink Night! Fountain Pepsi products will be $1 each (available in the concession stands), Coors Light will be $2, and SweetWater 420 will be $3 (both beer options available in the 500 Club) all night long. Cheers!
Friday – Gates Open 6 PM, First Pitch 7:05 PM
Not only is it Friday Night Fireworks, lit up by illumifin, but it's also Earth Day! Trees Upstate will be giving away 100 Live Oak and Red Maple trees to fans that would like one. Trees will be tagged as you choose them and can be picked up at the end of the game as you leave. Friends of the Reedy River will have their own giveaways, prizes and more that night as they educate fans of all ages on the needs within this community to help protect our own special natural resources, mainly the Reedy River.
Saturday – Gates Open 6 PM, First Pitch 7:05 PM
It's the first of four Copa de la Diversion games, where the Drive transform into the Ranas de Rio for the night. This monthly celebration of the Hispanic culture, traditions, food (such as churros), and entertainment will permeate the stadium as we cheer on the Ranas de Rio!
Sunday – Gates Open 2 PM, First Pitch 3:05 PM
The first of three Reading All-Stars games this season. Presented by Michelin, this program uses the fun and excitement of Greenville Drive baseball to encourage elementary and middle school students to read. If students achieve Reading All-Star status, they earn a complimentary ticket to the game. This game will see students from Anderson, Pickens, Laurens, and Spartanburg County schools. Each Reading All-Star will get the chance to walk in a pregame parade or attend a Meet the Team event prior to the game and get a new RAS t-shirt and book to take home with them. Students and teachers will be recognized throughout the game as we celebrate their accomplishments!
ADDITIONAL GAME INFORMATION:
· PARKING / TROLLEYS
o Complimentary parking is available for every game at County Square - located off of University Ridge and just a few hundred steps from the Field Street Gate at Fluor Field.
o Trolleys run complimentary from County Square beginning one hour before first pitch time. The trolleys make two stops at Fluor Field, dropping fans off close to the Field Street Gate and then at the Main Street Gate.
o The trolleys will make trips post-game until there are no longer fans waiting for them at Fluor Field.
o The trolley loop takes approximately 20-25 minutes before returning to County Square, due to the path it must take with construction traffic.
· CLEAR BAG POLICY
o Fluor Field has a clear bag policy in place. Make sure that you're not getting stopped at the gate and read the full policy here.
· TEAM STORE HOURS
o Gameday Hours: 10am - End of Game
o Non Gameday Hours: 11am - 5PM
BOX OFFICE HOURS
o Monday-Friday: 10 am - Until the 8th inning
o Saturday and Sunday: Noon - Until the 8th inning
We can't wait to see everyone at Fluor Field!