Lavastida Succeeding In Leadoff Spot After Position Change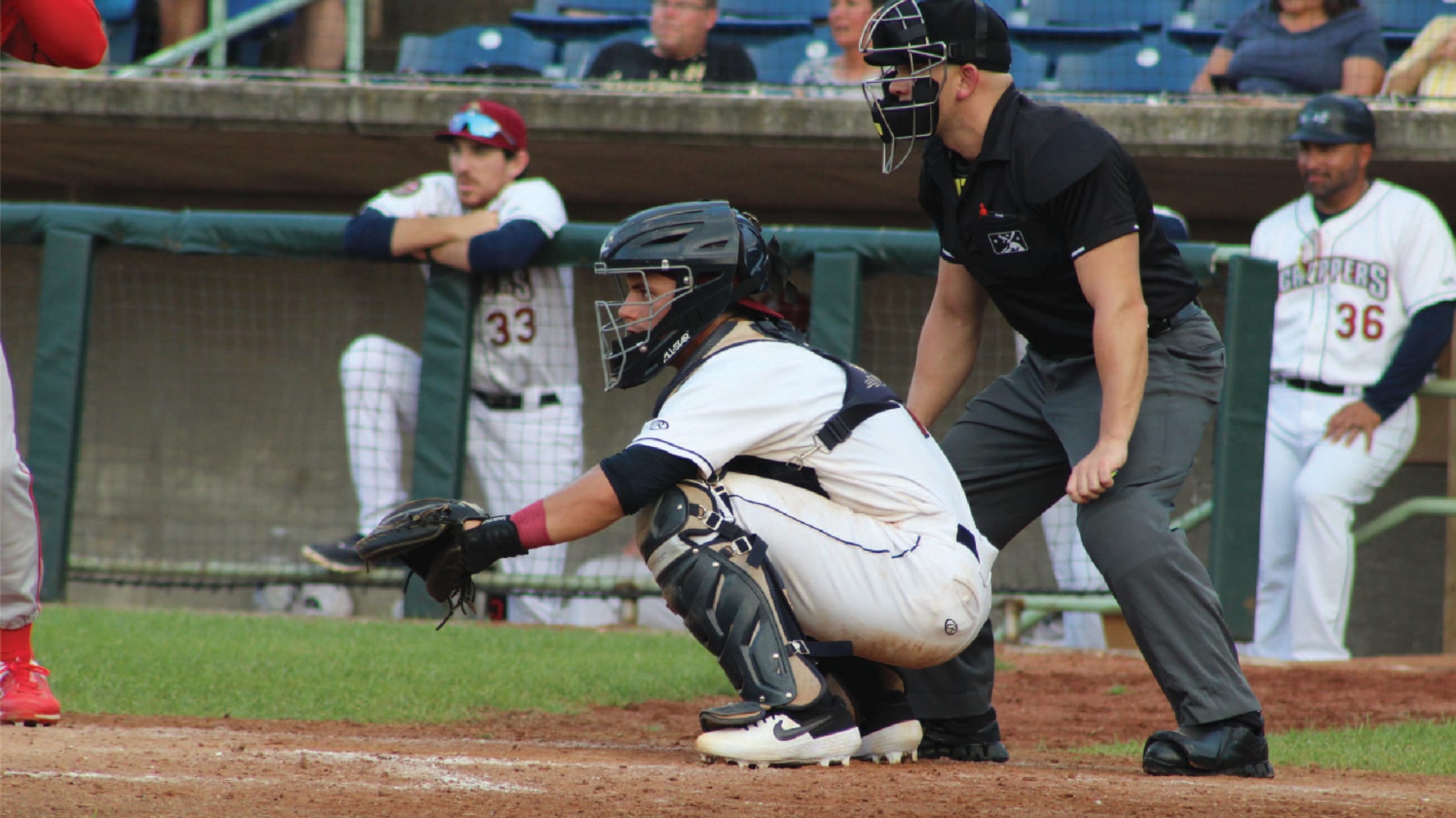 NILES, OH - Not often does a catcher serve as a teams' leadoff hitter. At the top of the order is usually a player who has a high on-base percentage and who has the ability to steal bases and wreak havoc on the base path with his speed. The Mahoning Valley Scrappers
NILES, OH - Not often does a catcher serve as a teams' leadoff hitter.
At the top of the order is usually a player who has a high on-base percentage and who has the ability to steal bases and wreak havoc on the base path with his speed.
The Mahoning Valley Scrappers have both, however.
Bryan Lavastida, a 15th round pick in 2018, has played in 26 games this season, leading off 12 of them.
Lavastida has the highest batting average on the Scrappers for players that have appeared in 10 or more games with a .281 mark. He also owns a .359 on-base percentage and .472 slugging percentage to go with 10 doubles, two triples, one home run, and 18 RBI.
"At the beginning, I'd say the first game or two, I thought it was just to try it out, to see how it works," Lavastida said. "I'm getting the hang of it, I like it."
His patience at the plate has allowed him to see many, if not all, of the pitchers pitches and has allowed him to wait back and hit the right pitch.
"I try seeing a lot of pitches to see what the pitcher has in his arsenal. I make sure to see every single pitch he has and that's a good thing for the rest of our lineup so they can go in there with a plan.
"Let me swing at my pitch, I'm not going to swing at the pitchers pitch, and if he doesn't throw it, I'm not swinging," he said. "A lot of times at this level, the pitcher will miss their spot. That's where a lot of walks will come from, is just from not swinging at their pitch and waiting for my pitch."
Lavastida is tied for fourth on the Scrappers, having drawn 11 walks. He also has just 12 strikeouts in 89 at bats.
Mahoning Valley has averaged just under four runs per game while Lavastida has been in the leadoff spot.
The Miami, Florida native thinks that the entire lineup gets better with him batting at the top.
"Sometimes we have two leadoffs. We have either Korey Holland or [Pedro] Alfonseca in the nine hole, or Billy Wilson. So the first inning of the game is really the only inning I truly leadoff," said Lavastida. "Because we have someone batting down there that's a great leadoff batter."
One of the biggest things that Lavastida worked a lot on in rookie ball last year was improving his strength and power numbers.
Of his 35 hits at the rookie level, just six of those went for extra bases (four doubles, one triple, one home run) and his slugging percentage sat at .367.
"It was mostly just singles," Lavastida said. "Not really a lot of power or slugging percentage.
"Let every swing be 100 percent. Instead of taking 200 swings at 70 percent, I'd rather take 50 swings at 100 [percent] to create muscle memory and bat speed."
While his hitting is there and has showed that throughout the season, his defense is going to be what sets him apart from the pack.
Lavastida is a converted shortstop and has only been catching for a year and some change.
Because of the position change, some things behind the plate come a bit naturally, such as arm strength and having quick feet and athleticism.
Lavastida is used to getting the ball out quick and accurately as well as moving his feet and getting to the spot he needs to be in from playing short.
"The biggest thing for me behind the plate was just runners on base, being a wall back there and not letting anything go by you," said Lavastida. "Keeping strikes, strikes. Looking just soft and gentle back there."
He noted that working with some high-level pitching prospects such as Matt Turner, Ethan Hankins, and Carlos Vargas are easy to work with saying that they have more control over the pitches they throw and that when they miss the plate, it is not by much.
"It gets tougher for me, let's say, some relievers, they have over powering stuff. Their focus is just getting it in the strike zone and blowing it by the hitter," said Lavastida. "That's when it gets hard for me, when they miss by more than three feet, more than an arms length."
Lavastida wants to be an athletic catcher who does not want to follow the guidelines and the mold of being a basic catcher.
"I don't plan on changing anytime soon."
For more information on the Scrappers visit mvscrappers.com.