Losing Streak Reaches Season-Long Six Games After 7-5 Loss
Martinez & Higgins Two RBIs Not Enough Against Rival Chattanooga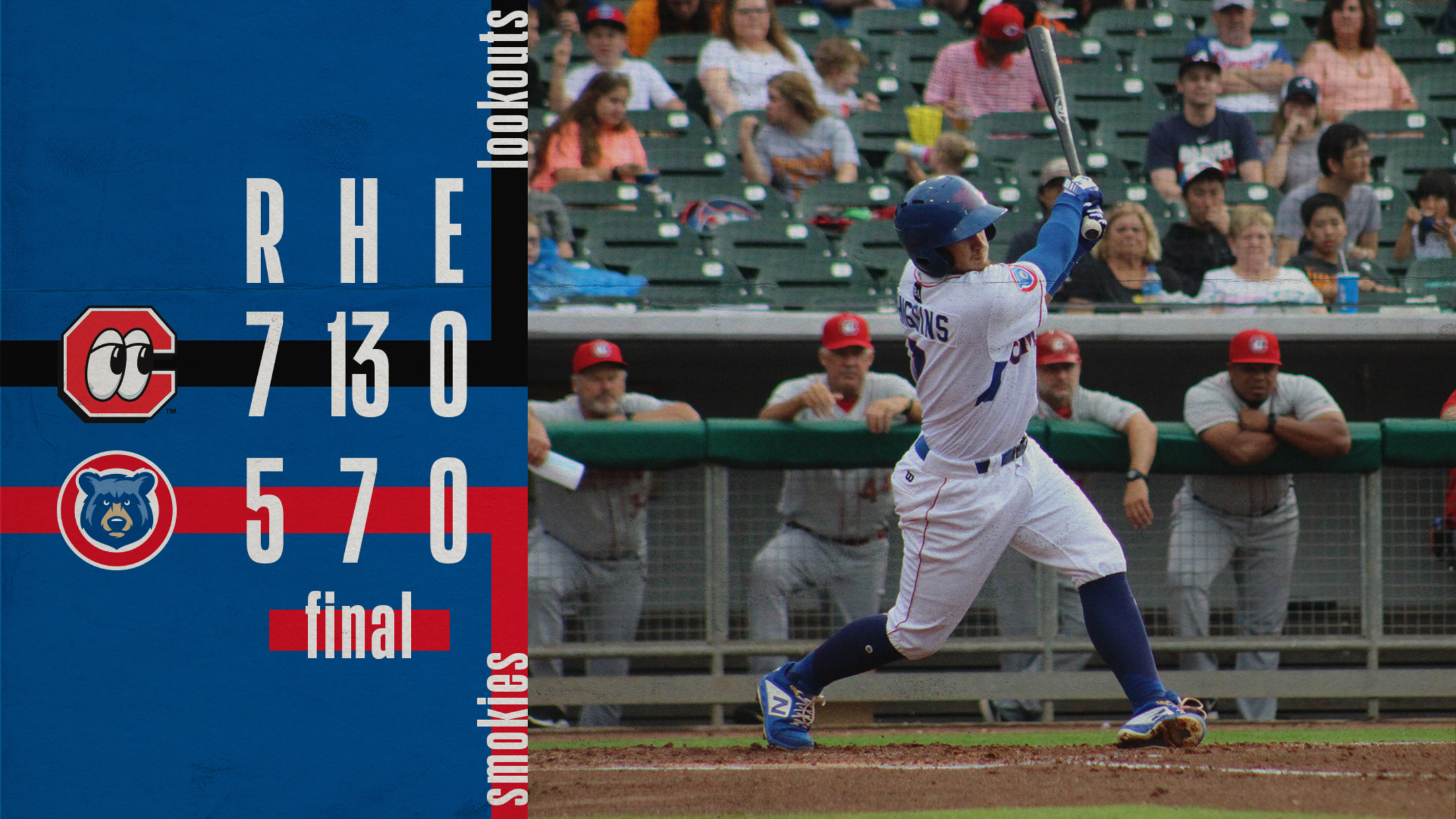 KODAK - A duo of two-run homers by Chattanooga in the seventh lifted the Lookouts (34-26) over the Tennessee Smokies (28-33) 7-5 at Smokies Stadium on Saturday night. In a back-and-forth contest, the Lookouts picked up the first run of the game in the first inning off a Jose Siri single
KODAK - A duo of two-run homers by Chattanooga in the seventh lifted the Lookouts (34-26) over the Tennessee Smokies (28-33) 7-5 at Smokies Stadium on Saturday night.
In a back-and-forth contest, the Lookouts picked up the first run of the game in the first inning off a Jose Siri single to center field to score T.J. Friedl.
A pair of Smokies runs in the bottom half of the first put the Smokies ahead. Charcer Burks walked to lead off and advanced to third courtesy of a Jared Young double. Eddy Martinez knocked the first run in with an RBI ground out. During the next at bat, P.J. Higgins handed the Smokies with a 2-1 lead after he singled to score Young.
After being named to the Southern League All-Star game, starter RHP Tyson Miller surrendered three runs on nine scattered hits over five innings. Fellow SL All-Star, Higgins went 2-4 with two RBIs.
Chattanooga responded with a pair of their own runs in the third. Taylor Trammell and Cassidy Brown both recorded RBI-singles to regain the Lookouts lead at 3-2.
Once again, Martinez and Higgins had an answer for the Lookouts offense. With two outs, back-to-back doubles from Young and then Martinez tied the game up at 3-3. Picking up where he left off in his last at bat, Higgins delivered another lead for Tennessee off a single to score Martinez.
Young added a fifth run on a ground ball RBI, which would be the first of 15 straight batters to be retired, in the bottom of the fifth to give the Smokies some extra breathing room.
The Lookouts did their damage in the top of the seventh. A two-run blast from off Mitch Nay, his sixth of the season, tied the game up at 5-5, and then Cassidy Brown went deep for the first time this season off LHP Jordan Minch (L, 5-3) to put the Lookouts ahead 7-5.
RHP Cory Thompson (W, 1-0) acquired his first win of the season with a perfect sixth inning while RHP Joel Kuhnel (S, 10) picked up his tenth save.
With LHP Justin Steele being placed on the IL, RHP Scott Effross (0-2, 6.91) gets his first start for Tennessee in the 2:00 EDT matinee match against LHP Packy Naughton (2-1, 2.81) for Chattanooga.