M-Braves Fall to Barons 4-3 in 12 Innings
Tarnok tosses five innings of one-run ball, Miller delivers two-run single in seventh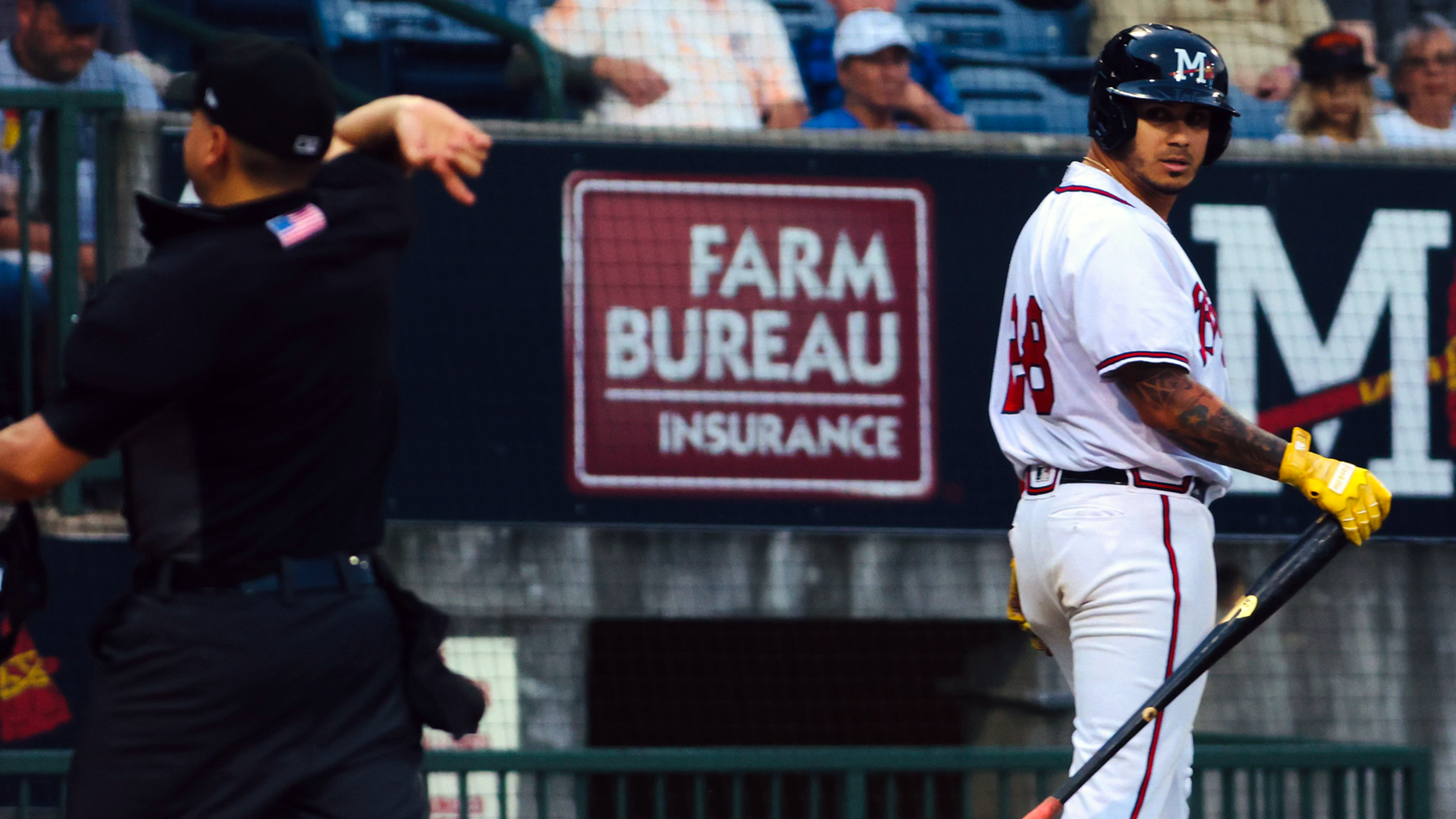 PEARL, MS - The Mississippi Braves (27-35) fell 4-3 in 12 innings to the Birmingham Barons (26-35) on Saturday night at Trustmark Park, the longest game of the season for the M-Braves. The Barons took the series with the win. The clubs combined to go 6-for-39 with runners in scoring
PEARL, MS - The Mississippi Braves (27-35) fell 4-3 in 12 innings to the Birmingham Barons (26-35) on Saturday night at Trustmark Park, the longest game of the season for the M-Braves.
The Barons took the series with the win. The clubs combined to go 6-for-39 with runners in scoring position.
RHP Freddy Tarnok turned in one of his best starts this season, tossing five innings of one-run ball with just one walk to eight strikeouts. Atlanta's No. 8 prospect dropped to a 5.21 ERA over 46 2/3 innings this season.
Neither team scored in the first four innings. In the fifth, Evan Skoug homered off the foul pole in right field to make it 1-0 Barons. Birmingham added another in the sixth to lead 2-0.
The M-Braves coaxed back-to-back walks in the sixth. Then, Yariel Gonzalez took a low pitch that was called strike three. Gonzalez started arguing with home plate umpire Josh Gilreath, causing manager Bruce Crabbe to come over from third base. Gilreath immediately ejected Crabbe, the first time the M-Braves have had someone ejected this season. The M-Braves ended the inning without a run.
In the seventh, Jalen Miller lined a two-run single into left field to tie the game 2-2.
As the designated hitter, Miller went 2-for-5 with two RBI and a walk. Miller is hitting .253 with five home runs and 24 RBI.
Justin Dean continued his superb series by going 2-for-5 with a walk and a run. Atlanta's No. 30 prospect is 9-for-19 with a triple, a double, six walks, three steals and six runs this series.
Neither team scored again for the next four innings.
RHP Tyler Ferguson came up big in 1 2/3 innings of work. He struck out three, with two of those strikeouts coming with runners on third base in the 10th and 11th.
In the 12th, Birmingham scored a pair of runs to lead 4-2. In the bottom of the inning, CJ Alexander grounded an RBI single through to center field to pull it to 4-3. He was left stranded as Drew Lugbauer struck out to end the game.
The series finale is on Sunday at Trustmark Park. RHP Darius Vines (3-4, 6.02) makes the start for Mississippi against a starter to be named for Birmingham. The first pitch is at 2:05 pm CT, with coverage starting at 1:50 pm CT on 103.9 WYAB, TuneIn Radio, First Pitch App, and MiLB.tv.