Rangel steers Braves to Double-A South crown
Right-hander strikes out eight, allows one run across six innings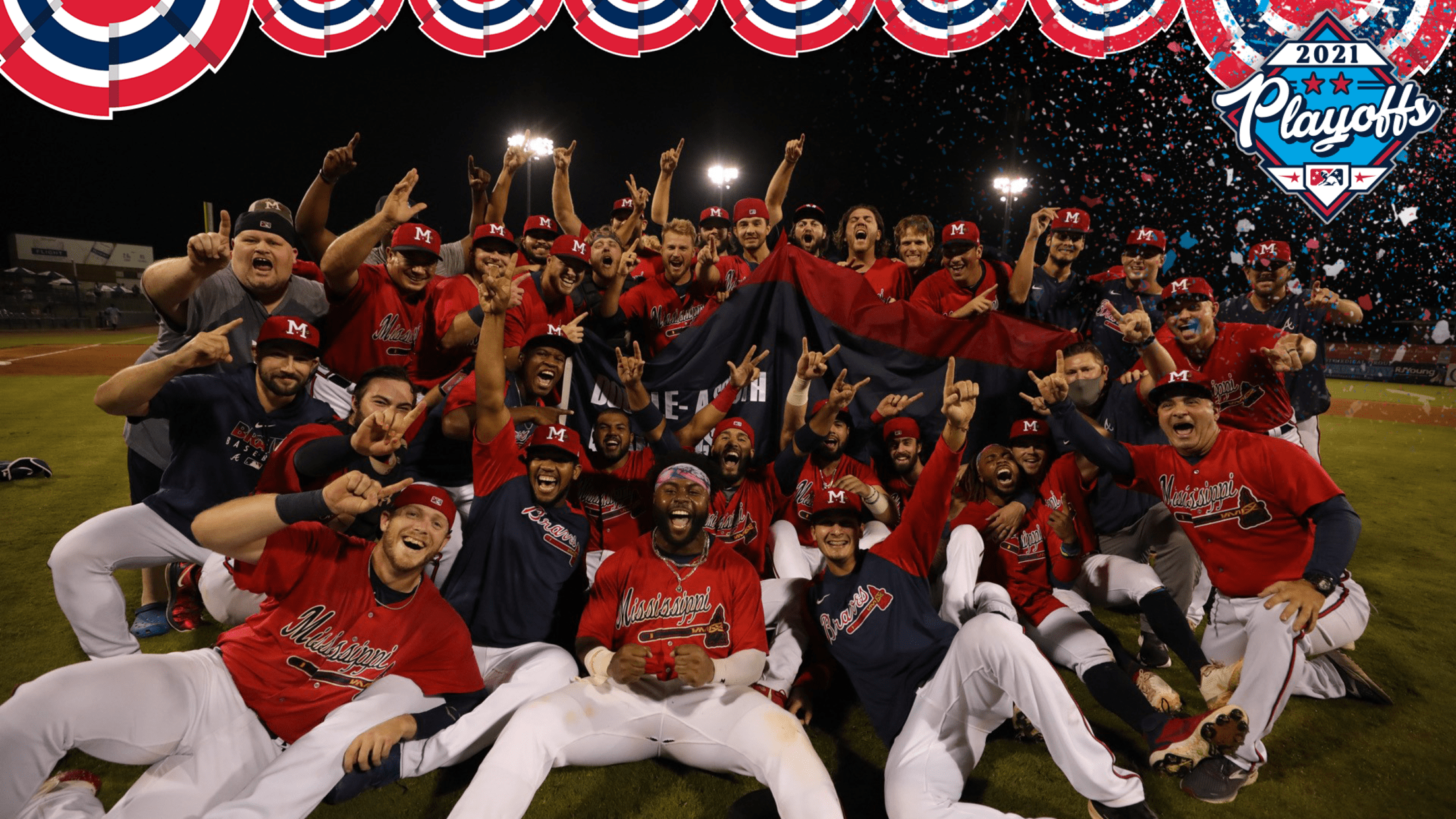 The Mississippi Braves defeated the Montgomery Biscuits 2-1 in Game 5 to win the Double-A South title. (Tate Nations/MiLB.com)
The Double-A South belongs to the Mississippi Braves. After the M-Braves and Montgomery combined to score 36 runs in Games 3 and 4, the decisive Game 5 ended up being a pitchers' duel. Led by Alan Rangel's six one-run innings, the M-Braves clinched their first league title since 2008 with
The Double-A South belongs to the Mississippi Braves.
After the M-Braves and Montgomery combined to score 36 runs in Games 3 and 4, the decisive Game 5 ended up being a pitchers' duel. Led by Alan Rangel's six one-run innings, the M-Braves clinched their first league title since 2008 with a 2-1 victory over Montgomery at Trustmark Park.
"It's special to be a part of. I couldn't be happier," Mississippi manager Dan Meyer said. "We've dealt with so much adversity this year, between missing some games because of COVID and dealing with some other issues. For these guys to come together the way they did, that's the only way you can really win a championship.
"One thing I love about the Braves, the whole organization's involved. [Big league manager Brian Snitker] called me today to wish me good luck. [Former players] Eddie Pérez and Terry Pendleton both called me. The organization is watching. We're Double-A, but they're aware of what we're doing. It's special to be a part of it."
Rangel was flat-out dominant on Sunday. The righty hurler fanned eight batters and scattered three hits, one walk and one unearned run in his 10th outing this year of six or more innings. After giving up a leadoff single in the third, he sent down the next 12 batters in order. The Biscuits would only tally one more hit for the rest of the game.
"I just think both pitchers did a really good job. [Montgomery starter Adrian De Horta] has always thrown the ball well against us. Rangel has been throwing the ball well for us. I really thought that Rangel's style of pitching matched up well with their hitters," Meyer said. "I kinda knew it would be a pitchers' duel in a way. I didn't expect something this nice. It was tough, it was fun, it was exciting, and it was great to end up on top."
Both teams got on the board in the second inning. After Montgomery's Jim Haley singled, a stolen base and a throwing error scored him from second to bring in the game's first run. Second-ranked Braves prospect Shea Langeliers responded with a leadoff walk in the bottom of the frame and advanced to second on a wild pitch. C.J. Alexander doubled him in to even up the score.
After both teams came up empty in the third and fourth, Greyson Jenista stepped up to the plate in the bottom of the fifth after Drew Lugbauer and Luke Waddell both struck out swinging. On the second pitch he saw, he launched a ball over the fence in right-center to give Mississippi a 2-1 lead it would never relinquish. All three hits that Jenista collected in the series were homers.
"I had to keep Jenista in the lineup. My 9-year-old son is named Grayson, and his favorite player is Grayson Jenista," Meyer said. "Before the game, my son was like, 'Make sure you tell Grayson good luck.' It's kinda fate that he hit the go-ahead home run for us."
Brandon White and Jake Higginbotham each fanned two in one inning of work, and Nolan Kingham retired the first two batters in the ninth before a Ruben Cardenas single and a passed ball put the tying run in scoring position for Montgomery. But Kingham, who posted a 2.08 ERA in 65 Double-A innings this year, got Cal Stevenson to pop out in foul territory to earn his third save of the series and seal the Braves' victory.
Kingham had only recorded two saves in the regular season for the M-Braves, with the last one coming in the club's final game of the season against Chattanooga. Mississippi scored two runs in the ninth to take the lead, and Kingham came in to shut the door.
"Nolan and I have had a special relationship for a couple of years now. I put him in that game against Chattanooga to close, and he just showed me something I was really comfortable with. It was like he was doing it for years," Meyer said. "Mentally, he's a bulldog. He wants the ball. Big moments don't scare him. He has everything it takes to pitch in the big leagues."
Three Montgomery pitchers combined for one walk, two runs, four hits and 10 strikeouts.