New year and look, but same hot bat for Dean
Off to a fast start, Dean keeps hitting in bid to return to bigs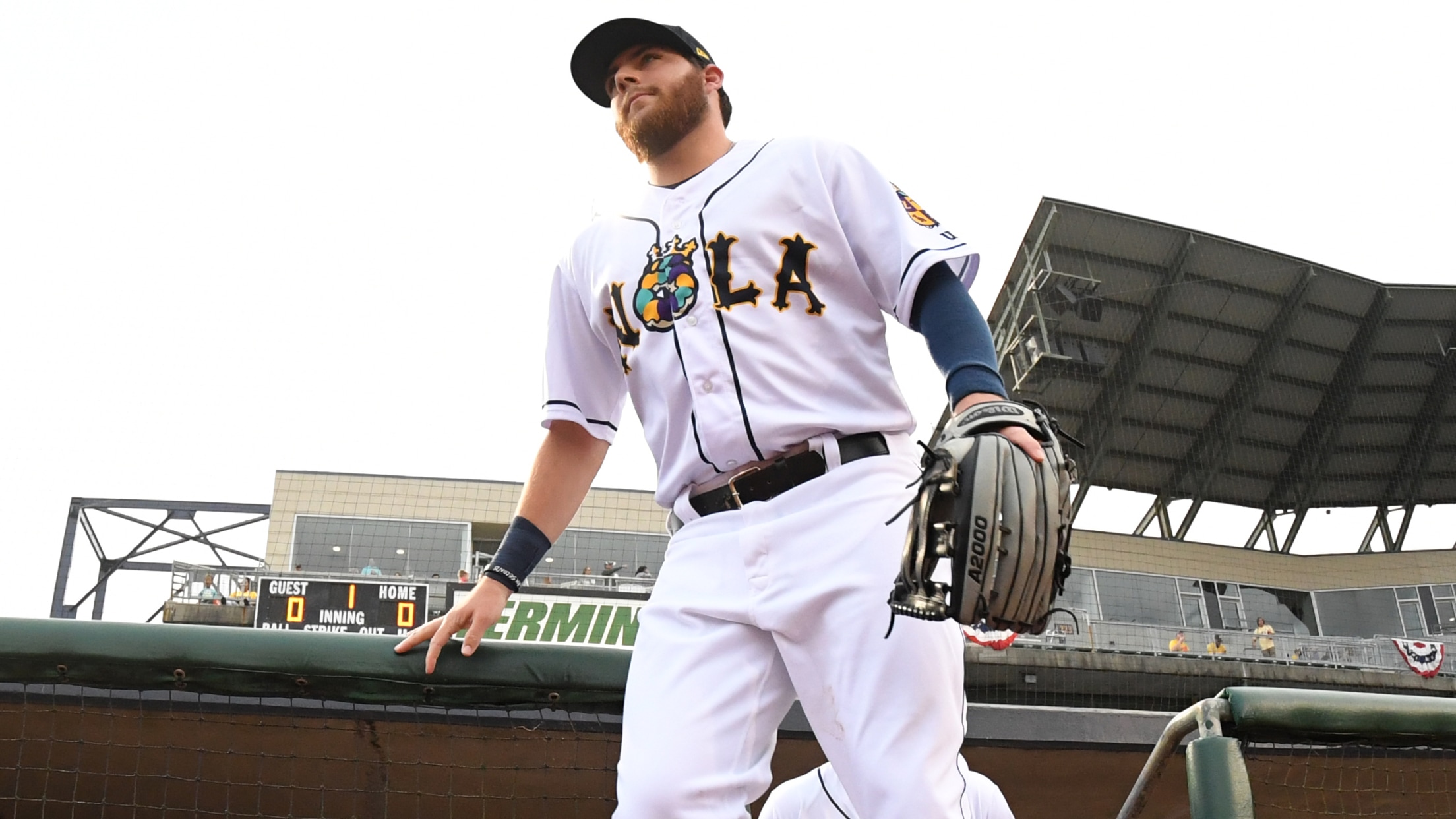 While hitting has come at a premium for most of the New Orleans Baby Cakes' lineup so far in 2019, the same cannot be said for incumbent three-hole hitter Austin Dean.The rambunctious right fielder's bat has been glowing as much as his renowned personality in the early stages, recording at
While hitting has come at a premium for most of the New Orleans Baby Cakes' lineup so far in 2019, the same cannot be said for incumbent three-hole hitter Austin Dean.
The rambunctious right fielder's bat has been glowing as much as his renowned personality in the early stages, recording at least one hit in each of the team's first six games, and is carrying a 12-game hitting streak at the Triple-A level dating back to last season.
He picks up right where he left off in spring training, where he had a .364 average and reached base 43 percent of the time in his first extended stint in MLB training camp, all while carrying his smile and loud persona. With the Marlins in a rebuilding stage and an outfield spot to be had, it wasn't outlandish to see a performance like Dean's rewarded with an Opening Day roster spot. But coming up short hasn't wavered Dean's confidence.
"I feel like I did really well this spring this year and showed well," Dean said. "Getting out of mind that I don't make the calls and whether I'm there or not, you put me wherever I'm going to play and my time will come, whenever that may be.
"I'm just a guy. I just like playing baseball no matter where it's at."
And playing baseball has liked Dean so far this season. The 25-year-old was one of only seven players in the PCL to collect a hit in each of his team's first six games, and he led the 'Cakes with five runs batted in.
Dean's been swinging a hot bat for a while, which earned him his first major league call up last year on August 15. He cooled down in his first Marlins stint, hitting only .221 in his 34 games. He also played exclusively in left field, where he's started in three-quarters of his minor league games. But this year, the Marlins and first-year New Orleans manager Keith Johnson have him in right, which could give him an edge the next time a corner outfielder is needed in Miami.
Through six games, he has tallied an error on an overrun fly ball, but feels prepared for the spot going forward.
"It's the same to me. I go out and practice both sides of the corners every day just to make sure I'm familiar with both sides."
Along with the new position is a new look, thanks to a change in policy allowing minor leaguers to grow out their facial hair. It's an opportunity that Dean has taken full advantage of, blowing away last year's clean shave.
"I've always loved growing my beard out. I think a lot of it reflects on guys and their personalities. When I'm home in the offseason, I don't shave. That's just who I am."
Dean also, at least for the time being, is the vocal and on-field leader for the Baby Cakes.