Omaha Mashes Nashville 11-3
Chasers plate 7 in 1st, 5 different hitters drive in 2 runs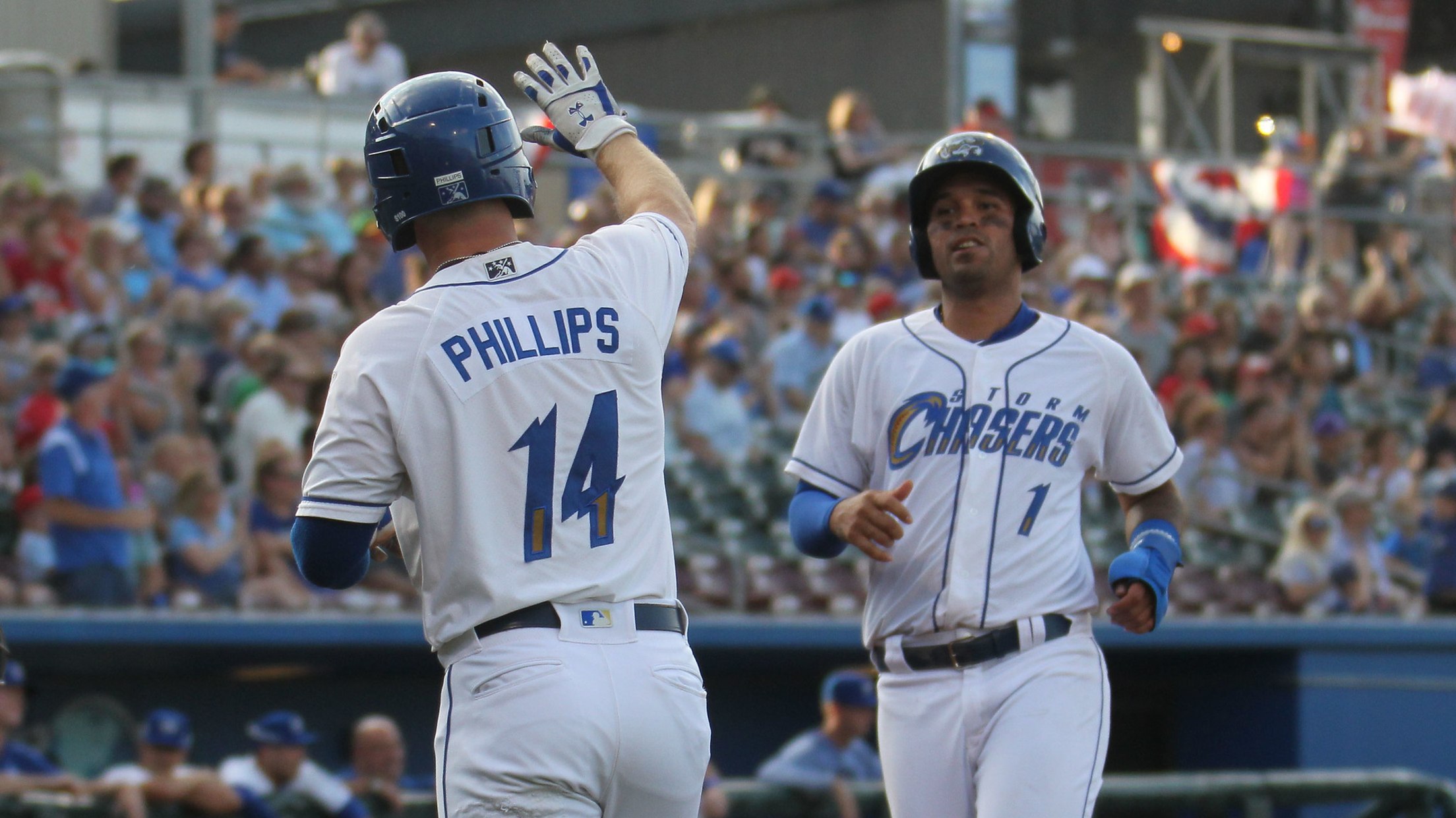 RF Brett Phillips and SS Humberto Arteaga each drove in two runs in Omaha's 11-3 win over Nashville on Saturday night. (Minda Haas Kuhlmann)
The Storm Chasers erupted for eight runs in the first inning, including a two-run single from shortstop Humberto Arteaga and a two-run triple by right fielder Brett Phillips, while right-hander Zach Lovvorn tossed six solid innings of relief in Omaha's 11-3 win over the Nashville Sounds on Saturday night at
The Storm Chasers erupted for eight runs in the first inning, including a two-run single from shortstop Humberto Arteaga and a two-run triple by right fielder Brett Phillips, while right-hander Zach Lovvorn tossed six solid innings of relief in Omaha's 11-3 win over the Nashville Sounds on Saturday night at Werner Park.
Arteaga and C Nick Dini each drove in two runs as part of the massive scoring spurt prior to 3B Erick Mejia capping the big inning with a two-run triple to right. Following Nashville C Jett Bandy's solo homer in the fifth, Phillips smashed his two-run three-bagger to left, his team-leading ninth triple of the year, to extend the Omaha advantage to 10-1. Sounds LF Scott Heineman would later crush a two-run homer to left in the sixth, though the Storm Chasers provided the final blow courtesy of Flores' run-scoring single to left in the seventh.
Bonifacio (3-5, 2 R, RBI) and Flores (3-4, 2 R, 2 RBI) paced Omaha's order with three knocks apiece, while Arteaga (2-5, 2 R, 2 RBI), Mejia (2-5, 3B, 2 RBI) and Phillips (2-3, R, 3B, 2 RBI, BB) added multi-hit efforts as well. Heineman (3-3, R, HR, 2 RBI) and 3B Matt Davidson each posted two hits for the Sounds.
Lovvorn (6.0 IP, 6 H, 3 R, 3 ER, BB, 4 K) earned the victory with six quality innings of relief after Kyle Zimmer (1.0 IP, K) opened with a perfect first frame. Chasers righty Yunior Marte finished off the final two innings, while Nashville starter Tim Dillard (6.0 IP, 13 H, 10 R, 10 ER, 2 BB, K) suffered the defeat.
The two teams are slated to complete their four-game set on Sunday afternoon, with Omaha going for the series sweep. First pitch at Werner Park is scheduled for 2:05pm CT.
Tickets for that game and all remaining Storm Chasers home contests can be purchased online at www.omahastormchasers.com, or by calling the Werner Park Ticket Office from noon until 6:00 p.m. Monday through Friday at (402) 738-5100.