Paige hits monster homer, Spikes fall to 'Cutters
Penn Stater Mellott makes debut on mound for Spikes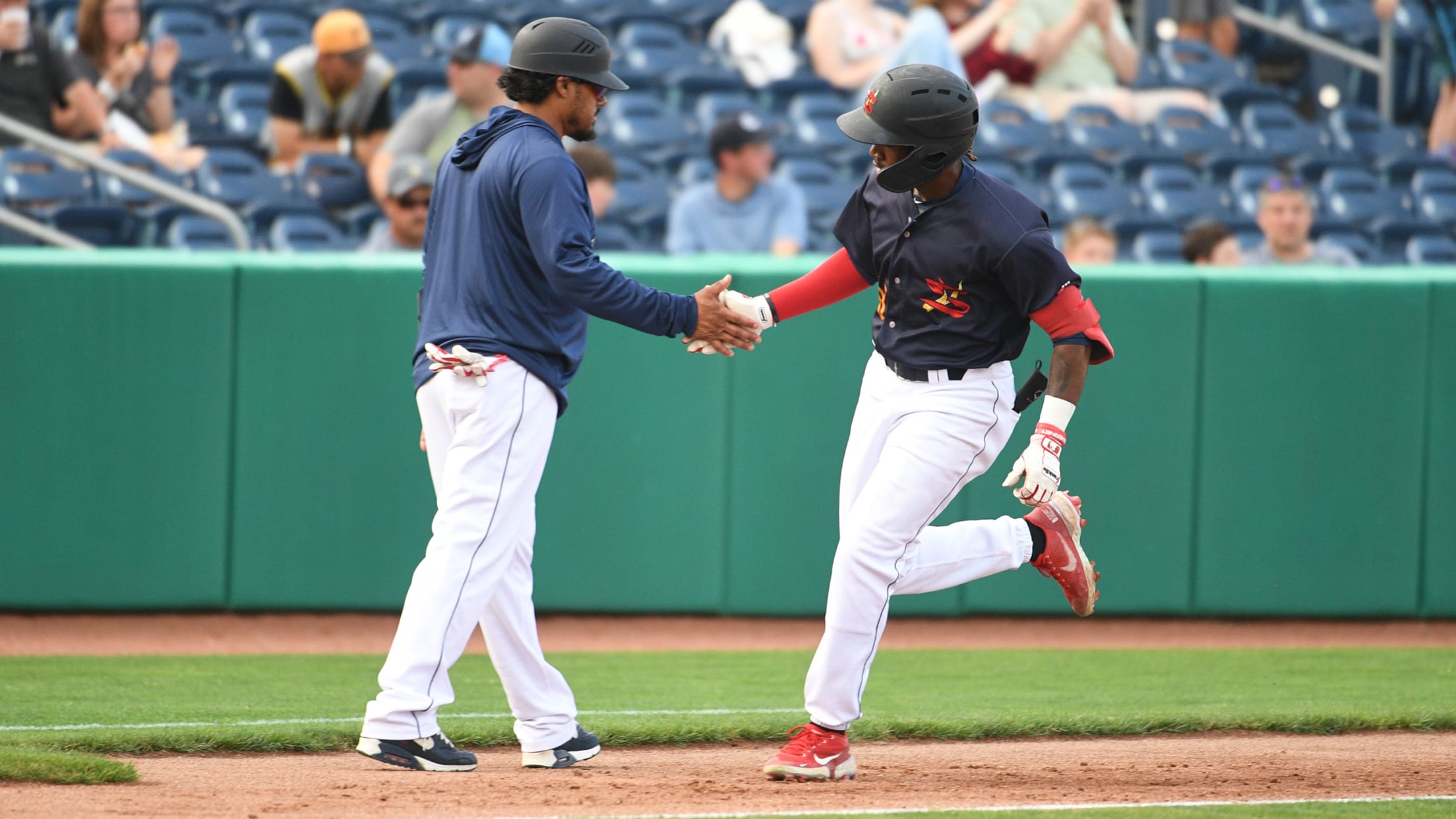 BOX SCORE/PLAY-BY-PLAY (via PitchAware) UNIVERSITY PARK, Pa. – Marques Paige smashed a tape-measure home run to key the State College Spikes offense on Tuesday night, and Penn Stater Mason Mellott made a historic debut, but the Williamsport Crosscutters got a big second inning and outlasted the Spikes to take a
BOX SCORE/PLAY-BY-PLAY (via PitchAware)
UNIVERSITY PARK, Pa. – Marques Paige smashed a tape-measure home run to key the State College Spikes offense on Tuesday night, and Penn Stater Mason Mellott made a historic debut, but the Williamsport Crosscutters got a big second inning and outlasted the Spikes to take a 6-3 victory at Medlar Field at Lubrano Park.
Paige stepped up in the second inning and crushed the first pitch he saw from Williamsport starter Troy Taylor (1-1) 439 feet over the batter's eye in center field. The long ball was just shy of the unofficial longest home run measured by the Trackman system at Medlar Field at Lubrano Park, trailing a 443-foot homer hit by major leaguer Brendan McKay for the Hudson Valley Renegades in the 2016 New York-Penn League Championship Series.
Mellott entered the game in the seventh inning to become the first Nittany Lion since Gary Amato in 2008 to play for the Spikes. The right-hander also joined teammate Kevin Karstetter as the only State College natives ever to play for the Spikes. Mellott tossed two scoreless frames in which he gave up one hit, two walks and a hit batsman while striking out one batter.
The Spikes (5-7) took the opening lead of the game in the first. Newcomer Curtis Washington Jr. beat out an infield single, then took second and third on consecutive wild pitches before coming home on Hylan Hall's infield single.
In the top of the second, though, Williamsport (8-5) plated four runs to take a lead it would not relinquish. Kyle Smith and Noah Hemphill delivered back-to-back two-run doubles to do the damage, and after Paige's homer, Nolan Wosman went deep to left field off Spikes starter Andrew Moore (1-2) for a solo shot in the third to extend the Crosscutters' lead to 5-3.
Kyle Smith then delivered a sacrifice fly later in the third to finish the scoring.
Moore took the loss after yielding all six Williamsport runs on nine hits and a walk while striking out six batters.
Taylor earned the win after going five innings and giving up three runs on six hits and a walk while recording five strikeouts.
Lance Logsdon added to the Crosscutters' production by going 3-for-3 with two walks and two runs scored.
Wednesday, the Spikes continue their six-game homestand with the second game of a three-game set against the Crosscutters at 6:35 p.m.. Right-hander Louis Davenport III (1-1), who earned the win in his Spikes debut last week at Medlar Field at Lubrano Park, gets the start for State College against Williamsport left-hander Jacob Smith (2-2).
The Spikes will start their FREE Wednesdays Series with a FREE Teachers Night. Any teacher can present their ID at the Spikes Ticket Office for a free Bullpen Box ticket to Wednesday's game. Plus, it's a Wine Wednesday, with $3 servings of wine from Seven Mountains Wine Cellars available from 5:30 to 7:30 p.m.
The stretch of games through Sunday, June 13 also includes Thirsty Thursday and 4 for $44 Friday, presented by 95.3 3WZ.
The weekend presents a pair of big nights, with June 12 featuring FIREWORKS presented by Boyles Insurance on a Super Saturday presented by PA Lottery and B94.5. Fans can also win big at Baseball Bingo, with the first 10 Bingo winners entered into a drawing on August 7 for the Baseball Bingo Ultimate Prize Pack, featuring a 70-inch Ultra HD Smart TV.
It all concludes on June 13 with a Sunday Funday presented by Bigfoot Country Legends featuring a Blair Thomas Bobblehead Giveaway for the first 250 fans.
Tickets for the five games remaining on the upcoming homestand, as well as every game remaining on the 2021 home schedule, are currently on sale through the Spikes Ticket Office. Tickets can be purchased by calling (814) 272-1711 or by visiting the Ticket Office in person from 9 a.m. to the end of the game on gamedays Monday through Friday, 10 a.m. to the end of the game on gamedays Saturday and Sunday, and 9 a.m. to 5 p.m. on non-gamedays Monday through Friday.
Fans can also buy and download single-game tickets by visiting StateCollegeSpikes.com.
Catch all of the action on Wednesday via the Spikes Radio Network, presented by Penn State Sports Medicine, Official Healthcare Provider of Penn State Athletics, starting with Spikes Live, presented by Mount Nittany Health, on the air from Medlar Field at Lubrano Park. The game can be viewed worldwide on the *MLB Draft League *streaming platform at MLBDraftLeague.com/streaming, along with the "Listen Live" link on StateCollegeSpikes.com and the *TuneIn Radio *app.
Time of Game – 2:47
Attendance – 1,954