Palacios, Lundquist Homer in Friday's Loss
NH starts series with 14-5 defeat to Flying Squirrels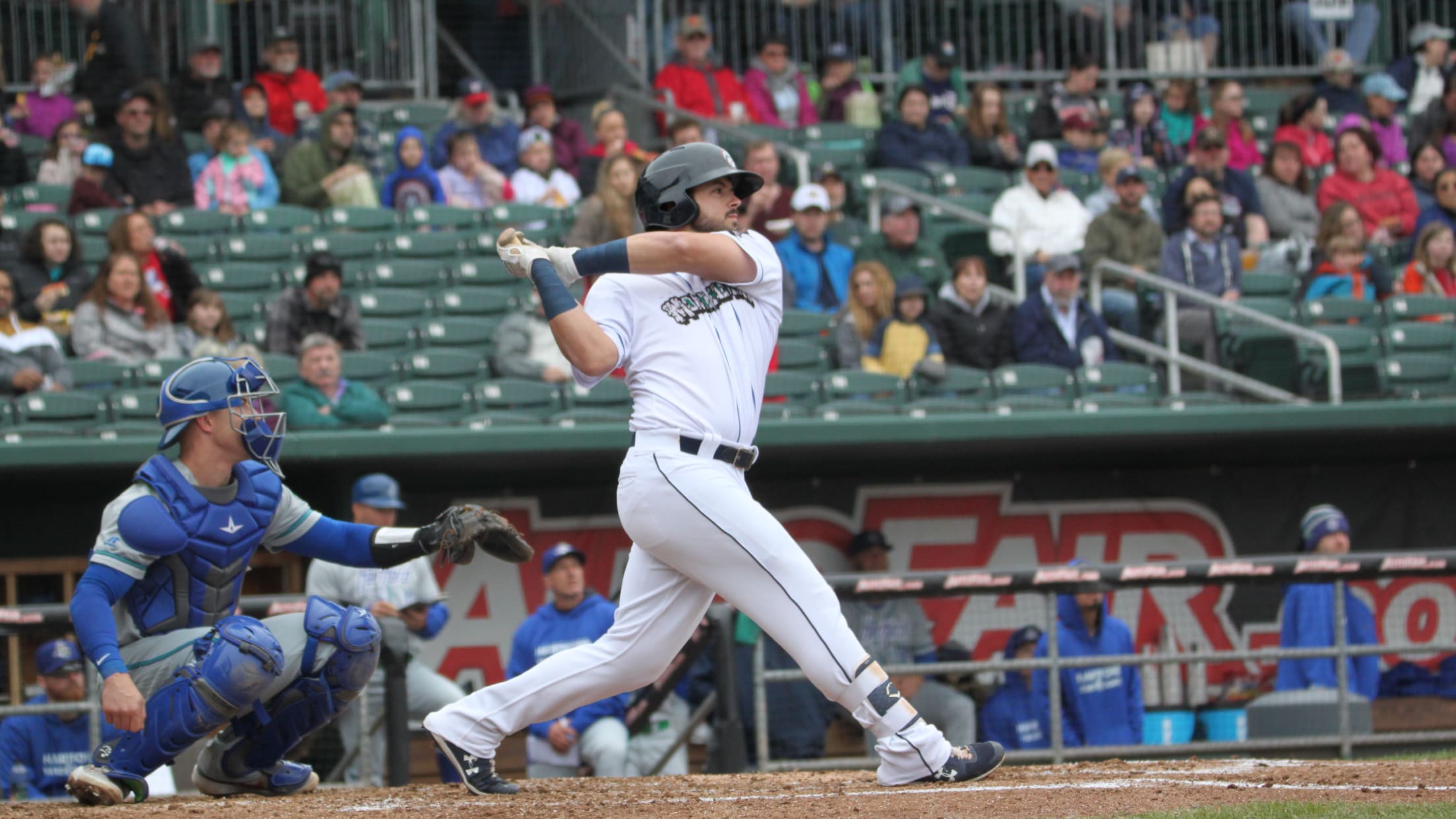 Brock Lundquist produced two doubles for New Hampshire on Monday. (Christina Carrillo)
Manchester, NH - Despite homers from Josh Palacios and Brock Lundquist , the New Hampshire Fisher Cats (Blue Jays Double-A affiliate) were outslugged by the Richmond Flying Squirrels (San Francisco Giants), 14-5, on Friday night at Delta Dental Stadium.Patrick Murphy (L, 4-6) struck out two batters with the bases loaded to get out of
Manchester, NH - Despite homers from Josh Palacios and Brock Lundquist , the New Hampshire Fisher Cats (Blue Jays Double-A affiliate) were outslugged by the Richmond Flying Squirrels (San Francisco Giants), 14-5, on Friday night at Delta Dental Stadium.
Patrick Murphy (L, 4-6) struck out two batters with the bases loaded to get out of a first-inning jam with only one run surrendered, but the Flying Squirrels rallied for four runs in the third and three more in the fifth to take an 8-0 lead halfway through the ballgame. Three Fisher Cats errors lead to four unearned runs.
New Hampshire cut into the deficit in the fifth inning with an RBI single from Chad Spanberger , a run-scoring double from Nash Knight , and a run-scoring wild pitch to make it 8-3.
Richmond would not be denied; the Flying Squirrels started the sixth inning with five consecutive hits, including two home runs and two doubles, to blow the game open. The five-run inning extended the lead to 13-3. An RBI double from Jonah Arenado, brother of Colorado Rockies superstar Nolan Arenado, plated Richmond's final run in the top of the seventh.
Palacios finished 2-for-4, and drilled a solo home run over the right field fence in the sixth inning. Lundquist belted a solo blast just under the video board in right center to cap the scoring at 14-5.
Ty Tice (1.09 ERA) was perhaps the best pitcher of the night on either side, retiring all seven batters he faced out of the bullpen from the seventh until the ninth inning.
The three-game series continues on Saturday night, with first pitch scheduled for 6:35 p.m. at Delta Dental Stadium. It's a Copa De La Diversion game, presented by Cricket Wireless, as the Fisher Cats suit up as Gatos Feroces de New Hampshire. A Caribbean Atlas Fireworks show will follow the game, presented by Hyundai.
For tickets and information, visit www.nhfishercats.com.