PawSox and Iron Pigs Suspended By Rain After Two Innings
Pawtucket leads 3-0, Game will Resume at 11:05am Sunday to begin a DH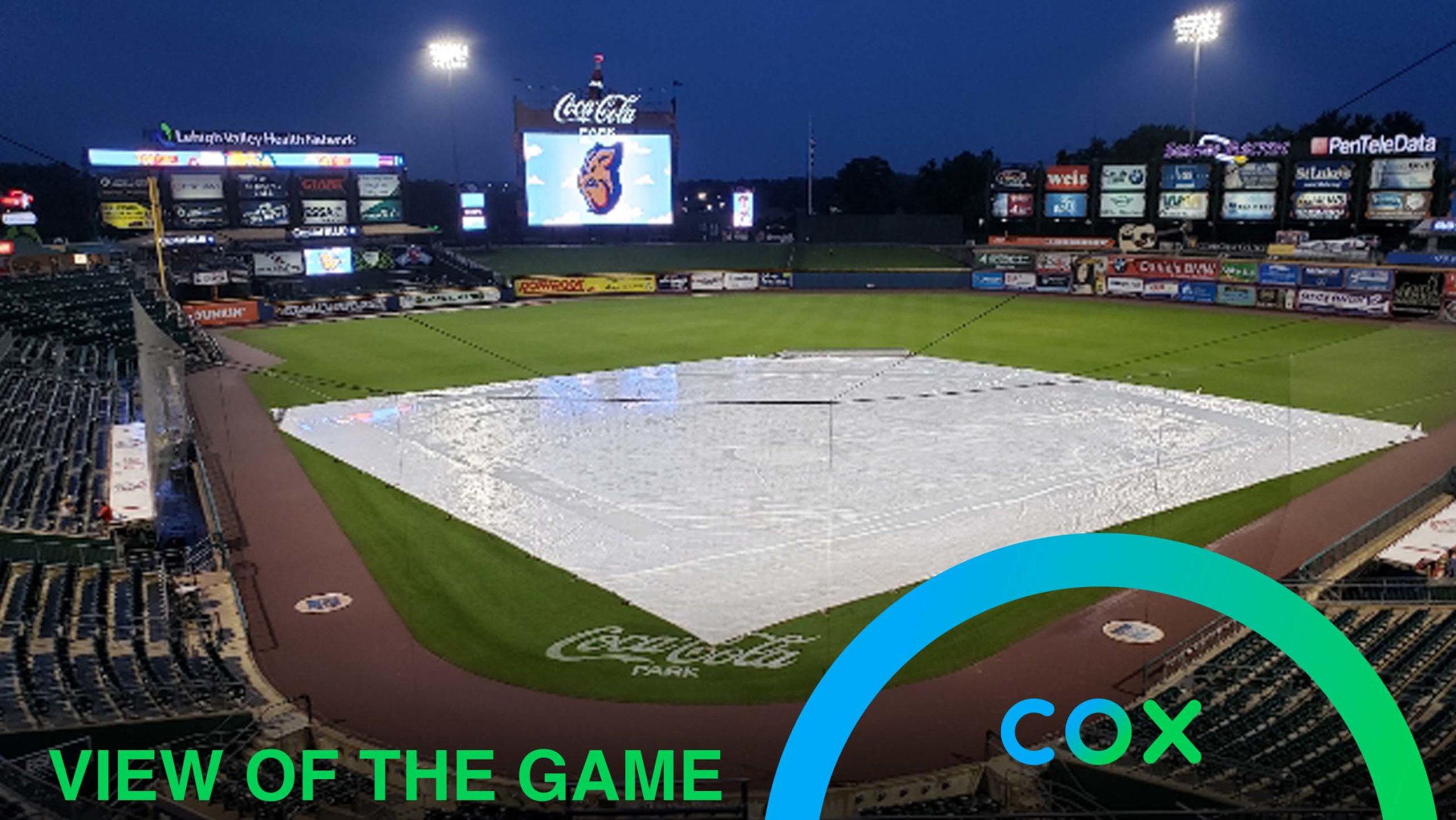 ALLENTOWN, PA - The Pawtucket Red Sox and Lehigh Valley Iron Pigs had their Saturday night matchup suspended in the third inning with Pawtucket ahead 3-0, and the teams will now play a doubleheader Sunday beginning at 11:05 am at Coca-Cola Park.The PawSox scored three times in the first two
ALLENTOWN, PA - The Pawtucket Red Sox and Lehigh Valley Iron Pigs had their Saturday night matchup suspended in the third inning with Pawtucket ahead 3-0, and the teams will now play a doubleheader Sunday beginning at 11:05 am at Coca-Cola Park.
The PawSox scored three times in the first two innings against Iron Pigs spot starter John Curtiss, who took the mound instead of scheduled starter Tyler Viza because of the threat of storms. Bryce Brentz ripped an RBI double in the first, then Cole Sturgeon smashed a two-run home run (4) in the second inning to make the score 3-0.
Tyler Thornburg, continuing his MLB injury rehab assignment for Boston, got the first inning for Pawtucket and allowed a leadoff single, then walked the second batter he faced. The right-hander then settled down and retired the next three hitters including a strikeout.
After Tzu-Wei Lin grounded out to begin the third inning, the game entered a rain delay as torrential rain and thunderstorms rolled through the area.
On Sunday the teams will continue the suspended game in the top of the third and will play a full nine-inning game. Then, they'll play a seven-inning game afterward leading into the Triple-A All-Star break.
Right-hander Josh Smith is slated to come off the injured list to resume Saturday's game. Then lefty Kyle Hart (3-3, 3.83) will pitch game two against righty José Taveras (1-0, 7.27). On Sunday, radio coverage on WHJJ (920 AM and 104.7 FM) and throughout the PawSox Radio Network begins with the pre-game show at 11:00 a.m.
Following this four-game set, the PawSox are off for the Triple-A All-Star break, then return home on July 11th. That will begin a 12-game homestand which represents the longest scheduled homestand for the PawSox in 27 years - since a 12-game homestand in 1992 (from July 29 - August 9).
The homestand begins with a 5-game series vs. Buffalo starting on the 11th at 7:05pm. The Sox and Bisons will play a make-up doubleheader on Friday, July 12 beginning at 4:35 pm on Jackie Bradley Jr. Gold Glove Bobblehead Night.
The teams will play single games on Saturday, July 13 at 6:15 pm (Prince & Princesses Night & Fireworks) and Sunday, July 14 at 1:05 pm (PawSox Cap Day on another Family FunDay at McCoy).
Louisville visits the following week for a 4-game series with 7:05 pm games vs. the Bats on July 15 & 16, a 6:05 pm start on July 17, and an 11:05 am morning affair on July 18. Finally, the Charlotte Knights come to town over the weekend of July 19-21 for a 3-game set highlighted by Saturday, July 20 at 6:15 pm on Alex Cora World Series Champion Bobblehead Night followed by Margaritaville post-game Fireworks.
Good tickets are available, and fans can visit the McCoy Stadium box office, which is open Monday-Friday from 10 a.m. through 5 p.m., and during all home games. Fans can also call (401) 724-7300 or log on to PawSox.com for tickets.