Playoff-Bound
Renegades Head to Postseason for Fourth Consecutive Year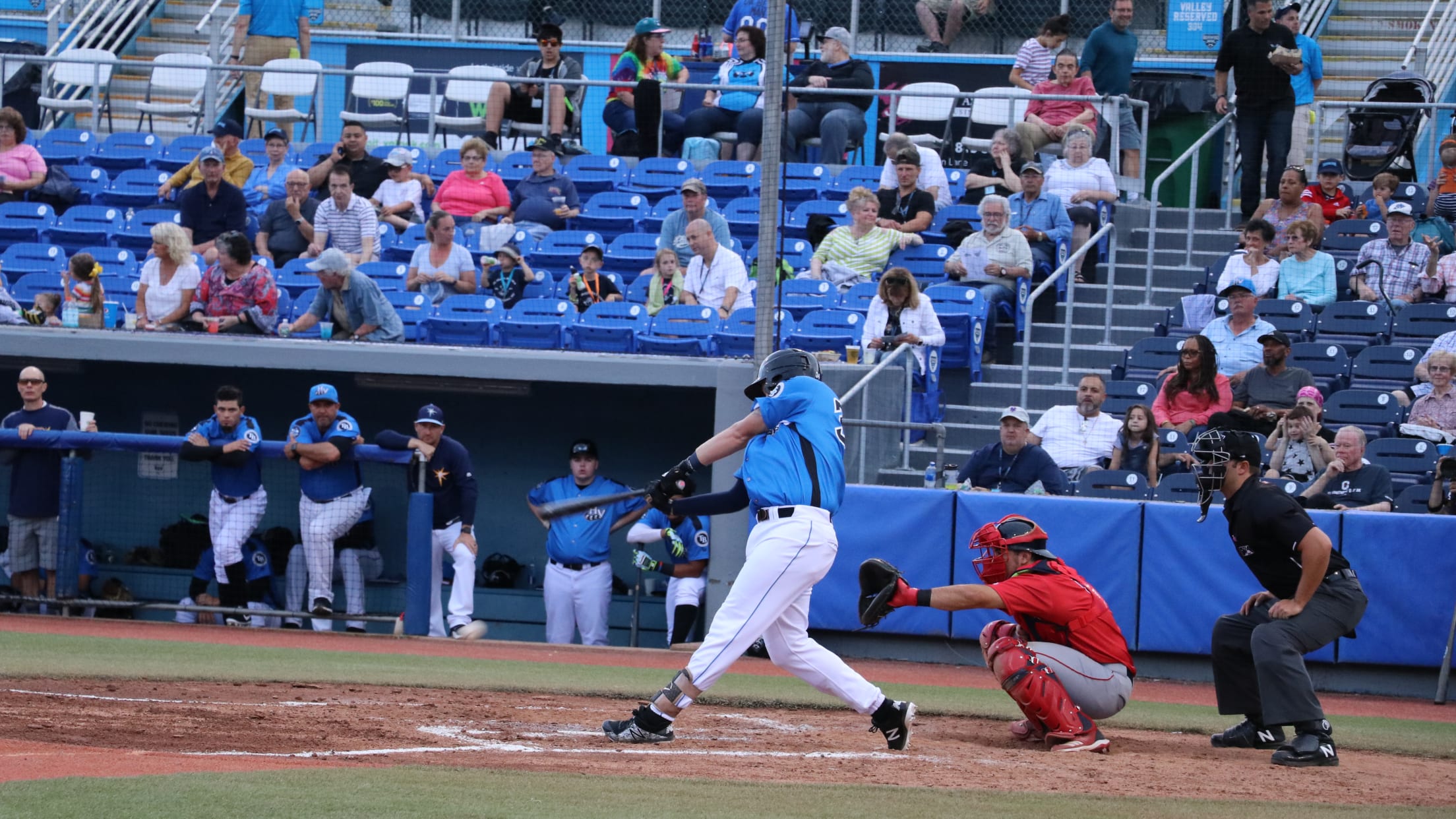 WAPPINGERS FALLS, NY- Hudson Valley first baseman Jacson McGowan lifted a one-out sacrifice fly to left to propel the Renegades to a 3-2, 10-inning win over the Aberdeen Ironbirds Sunday evening at Dutchess Stadium in front of 4,335 fans. The victory clinches at least a wild card berth for the
WAPPINGERS FALLS, NY- Hudson Valley first baseman Jacson McGowan lifted a one-out sacrifice fly to left to propel the Renegades to a 3-2, 10-inning win over the Aberdeen Ironbirds Sunday evening at Dutchess Stadium in front of 4,335 fans. The victory clinches at least a wild card berth for the Renegades who will have a chance to claim the McNamara Division title tomorrow with a win or a loss by the Brooklyn Cyclones.

Each team had several chances to score early in the contest as each squad left six men on base through the first half of the game. The deadlock was broken in the fifth when the Renegades pushed across two runs. Shortstop Greg Jones continued his hot-hitting with a leadoff triple down the rightfield line. He would score when the next batter, third baseman Nick Sogard, lofted a sacrifice fly to center to give Hudson Valley the lead. After that, rightfielder Hill Alexander drew a walk then went to third on a ground-rule double to left centerfield by designated hitter Luis Trevino. Leftfielder Beau Brundage came up next and skied to left for another sac fly and Hudson Valley owned a 2-0 lead.

Things stayed that way until the eighth when the Ironbirds used the bottom part of their order to tie the game. With one out and nobody on base, shortstop Joey Ortiz grounded a single to center to start the rally. He went to second on a lined single to right center by designated hitter Travis Yett. A wild pitch moved both men up a base before pinch hitter Ian Evans grounded to short to plate one run and move Yett to third. That set the stage for second baseman Clay Fisher who rifled an RBI single to right to bring in Yett and knot things up.

In the tenth, the Ironbirds started with a runner at second per international rules, however reliever Eleardo Cabrera shut the door on Aberdeen by striking out the side.

In the bottom-half, pinch runner Cristhian Pedroza started the inning at second. Brundage struck out to begin the inning, but Pedroza moved to third on a wild pitch from Ironbirds reliever Marlon Constante. That set things up for McGowan who served the next pitch to left to send Hudson Valley to the postseason.

Cabrera (2-1) got the win after he retired all six men he faced in two innings of work on three strikeouts. The loss fell to Constante (13) after he allowed the game-winning unearned in 0.2 innings. Hudson Valley's pitching was paced on another great start by Daiveyon Whittle who tossed six shutout frames and allowed five hits while punching out five.

Jones led the Renegades offensively with two of the team's eight hits. He singled, tripled, scored a run, and stole a base. Aberdeen had 10 hits, including a 3-5 effort by Ortiz who singled three times and scored a run. Leftfielder Jaylen Ferguson singled twice and stole a base, centerfielder Mason Janvrin singled twice more, and Yett finished 2-4 with two singles and a run.

The Renegades finish up their three-series with the Ironbirds tomorrow in a special 2:05 Labor Day start. Hudson Valley will send southpaw Ben Brecht (2-0, 2.49 ERA) to the hill, while Aberdeen will counter with right-hander Jake Lyons (2-5, 3.21 ERA). Tickets are on sale and can be purchased online at hvrenegades.com, at the Dutchess Stadium ticket window, or by calling the ticket office at (845) 838-0094.